The Tiger Orphnoch (タイガーオルフェノク, Taigā Orufenoku) was an Orphnoch who had evolved from his original human form, Momose (百瀬, Momose). He is only seen in Kamen Rider Decade as a major villain who had the joined the AR Faiz World's Lucky Clover. A copy of the Tiger Orphnoch was revived by Apollogeist to battle Kamen Rider Decade.

History
He is a student of Smart Brain High who is a member of Lucky Clover (ラッキークローバー, Rakkī Kurōbā), a group of top-ranked students who are actually Orphnoch. After learning the truth behind Faiz, Momose decides to take over the school and sire new Orphnoch from the student body. However, the Riders intervene and the Tiger Orphnoch is destroyed by Decade's Decade Photon.
World of the Rider War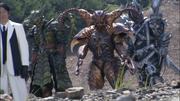 In the World of the Rider War, a copy of the Tiger Orphnoch was created by Super Apollogeist by combining Orphnoch. This Tiger Orphnoch is destroyed by Decade Complete Form's Enhanced Dimension Kick. [Destroyer of Worlds]

Tiger Orpnoch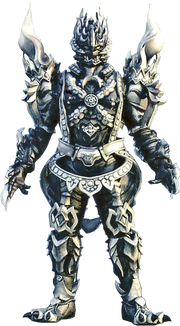 Height: 220 cm
Weight: 140 kg
Like all Orphnochs, the Tiger Orphnoch is physically much stronger than the average human. It has the unique ability to revive other Orphnochs that are on the edge of death.
Orphnochs who had been revived by such means become stronger than before, with their size increasing subtantially.

Behind the Scenes
Concept Art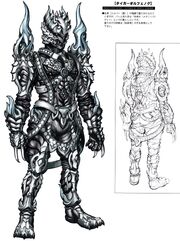 Tiger Orphnoch was designed by Tamotsu Shinohara (篠原 保, Shinohara Tamotsu).

Notes
Momose's actor, Ryosuke Miura, has previously portrayed the Beetle Sazer/Kane Lucano in Chousei Kantai Sazer-X and would later play Shingo Izumi and the human form of the Greeed Ankh in Kamen Rider OOO.
Appearances

Kamen Rider Decade
Kamen Riders
Primary: Tsukasa Kadoya - Daiki Kaito - Natsumi Hikari
A.R. Kamen Riders: Wataru Kurenai - Yusuke Onodera - Wataru - Shinji Tatsumi - Kazuma Kendate - Takumi Ogami - Shouichi Ashikawa - Momotaros - Ryotaro Nogami - Sohji - Asumu - Kohtaro Minami (Black RX) - Kohtaro Minami (Black) - X-Rider (A.R. World) - Daisuke Yamamoto - Kazuma Kenzaki - Joji Yuki - Yuriko Misaki
A.R. Evil Kamen Riders:

Chinomanako

- Mimihiko - Kuchihiko - Kamen Rider Abyss - Dark Kiva - Ryuga - Orga - Dark Kabuto - Alternative
Other A.R. World Riders: Ren Haguro - Scissors - Zolda - Femme - Verde - Tiger - Imperer - Odin - Raia - Gai - Sakuya Hishigata - Mutsuki Kuroba - Takahiro Furuya - Kotaro Nogami - Arata - Ibuki - Zanki - Todoroki - Akira - Junichi Kaito - Haruka Miwa - Shin Magaki - X - Ixa - Saga
Prime Universe Kamen Riders: Kotaro Nogami - Urataros - Kintaros - Ryutaros - Sieg
Arsenal
Drivers: (Neo) Decadriver - (Neo) Diendriver - Kiva-la
Transformation Gear: Rider Cards - K-Touch - Card Holder - Diend Belt
Weapons: Ride Booker - Final Form Rides - Kiva-la Saber
Vehicles: Machine Decader - Machine Diender
Hikari Studio
Natsumi Hikari - Kiva-la - Eijiro Hikari
Other Allies
Ai Yashiro - Kivat-bat the 3rd - Garulu - Basshaa - Dogga - Reiko Momoi - Ai - Mai - Mi - Yuri Tomoda - Toko Yashiro - Deneb - Teddy - Kohana - Naomi - Owner - Toki - Yu - Grandma - Mayu - Natsumi Hikari - Chinatsu - Hikoma Kusakabe

- Kuroko

- Kurando Tani

- Shinkengers

- Masahiko Okamura (A.R. World) - Ritsuko Okamura (A.R. World)
Dai-Shocker
Dr. Shinigami - Jigoku Taishi - Apollogeist - Jyumenki Yum Cimil - Shadow Moon - Kingdark - General Jark - Bishum - Yuki - Shvarian - Televi Bae-Kun
Worlds of Black & Black RX: Scorpion Imagin - Seamoon Fangire - Mantis Fangire - Rhinoceros Mutant - Ox Orphnoch - Worm Orphnoch - Frilled Lizard Orphnoch - Brachypelma Worm Aurantium - Brachypelma Worm Viridis - Tarantes Worm Purpura
World of Decade: Siomaneking - Ganikoumoru - Doras - Garai - Me·Vagis·Ba - Xu·Mevio·Da - Me·Ginoga·De - Go·Gadol·Ba - Leiurus Acutia - Formica Regia - Formica Pedes - Sheerghosts - Raydragoons - Psycorogue - Butterfly Orphnoch - Giraffe Orphnoch - Longhorn Orphnoch - Slug Orphnoch - Wild Boar Orphnoch - Pelican Orphnoch - Stinkbug Orphnoch - Arch Orphnoch - Elephant Undead - Giraffa Undead - Darkroachi - Kappa - Bakeneko - Hitotsumi - Coleoptera Worm Aeneus - Coleoptera Worm Croceus - Coleoptera Worm Argentum - Geophilid Worm - Subst Worm - Cassis Worm Gladius - Albinoleo Imagin - Mole Imagin - Rat Fangire - Sungazer Fangire - Bat Fangire
World of Amazon: Go·Jalaji·Da - Propheta Cruentus - Camponotus Worm Maxilla - Bakeneko - Yobuko
Dai-Shocker Combatmen - Dai-Shocker Scientists - Destron Combatmen
Super Shocker
Narutaki - Wasp Woman - Neo Organism
Zanjioh - Jaguarman - Beaded Lizard Man - Hilchameleon - Xu·Goma·Gu - Go·Jalaji·Da - Volucris Falco - Solospider - Scorpion Orphnoch - Titan Undead - Kodama - Sectio Worm Acuere - Cobra Imagin - Gecko Imagin - Sungazer Fangire
Super Shocker Combatmen
Gurongi
N·Gamio·Zeda
World of Kuuga: Me·Garido·Gi - La·Doldo·Gu - Go·Babel·Da - Go·Bemiu·Gi - Me·Byran·Gi - Go·Jaaza·Gi - Me·Garima·Ba
World of Agito: Me·Vagis·Ba - Xu·Mevio·Da - Me·Ginoga·De
The Lords
Taurus Ballista
Formica Regia - Formica Pedes
Mirror Monsters
The Contract Monsters
World of Ryuki: Darkwing - Volcancer - Destwilder - Gigazelle - Abyssodon (Abysshammer - Abysslasher)
World of Negatives:
Dragblacker
Wild Mirror Monsters
World of Ryuki: GuldThunder - Zebraskull Bronze - Megazelle - Negazelle - Omegazelle - Magazelle
World of Den-O:
Gelnewt
World of Negatives:
Raydragoons
Orphnochs / Lucky Clover
Momose - Shukawa - Genda - Shirogane
Butterfly Orphnoch
The Undead
World of Blade: Kamata - Hajime Shijo
Buffalo Undead - Elephant Undead - Capricorn Undead
World of Diend: Fourteen - Bossroach - Darkroachi
World of the Rider War: Deer Undead - Scarab Undead - Lizard Undead
魔化魍 Makamou
Gyuki - Bakegani
Kappa - Bakeneko - Ooari - Tengu - Ubume
Worm
Sou Otogiri
Coleoptera Worm Argentum - Geophilid Worm - Subst Worm
The Imagin
Alligator Imagin - New Mole Imagin
The Fangires
Beetle Fangire - Yuki
World of Kiva: Ryo Itoya - Swallowtail Fangire - Lion Fangire
World of the Rider War: Shark Fangire - Silkmoth Fangire - Horsefly Fangire - Warthog Fangire
View • Edit