The Micro Chain (マイクロチェイン, Maikuro Chein) is one of Kamen Rider ZX's weapons. A small black kusarigama with a long, thin chain attached to it. This may be thrown to lasso enemies and to send an electrical shockwave through the chain, stunning the foe in preparation for a finisher.
History
First used while fighting against Tiger-Roid. Birth of the 10th! Kamen Riders All Together!! It was later used by ZX to release the Rider Lockseeds from their casings so they could be absorbed by Kouta Kazuraba, opening cracks to let the other Kamen Riders return from the Helheim Forest. Heisei Rider vs. Showa Rider: Kamen Rider Taisen feat. Super Sentai
Kamen Rider Spirits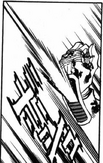 In Kamen Rider Spirits, ZX has a pair of Micro Chains hidden in his wrists that can be fired like grapnel guns to bind or drag/yank a target towards him or to grapple onto walls.
Appearances
Community content is available under
CC-BY-SA
unless otherwise noted.