Wiki Targeted (Entertainment)
Play Sound
Mei Sudo (須藤 芽依, Sudō Mei) is a 23-year-old[2] editor of Touma Kamiyama from Biblio Utopia Publishing, and a former ally of the Sword of Logos. After Touma left the Sword of Logos, she became part of Touma Kamiyama's team.
She was forcibly the Neko Megid (ネコメギド, Neko Megido), a cat-themed Megid created by Zooous, but saved by the efforts of Saber and Blades.
History
Mei Sudo is an editor working Biblio Utopia Publishing and helped Touma Kamiyama in publishing his novels, one notable in particular was Lost Memory. After Touma is almost overdue for submitting a manuscript for his next novel, she followed him delivering a book to a customer, only to be drawn into Wonder World with him. She was present to witness Touma's first transformation into Kamen Rider Saber and see him defeating the Golem Megid.
Mei joined with Touma in his ventures as he began to work alongside the Sword of Logos to combat with the Megid. Despite having no powers of her own, Mei's special talents of communicating with others proved useful as she became a support member to other swordsmen. When she directly involved with the swordsmen's battles, Mei ends up getting herself into more danger such as when she was captured by the Hanzaki Megid just to save Sora Ogami from captivity. Whenever Mei is asked to look over someone, that said person either runs off or go missing much to her displeasure.
After the Sword of Logos turned against Touma following a conspiracy framing him, Mei sided in favor for Touma upon learning that there is a traitor within the organization. The two would also meet with the mysterious swordsman, Yuri, who joined their efforts to defeat the Megid's new schemes as Kamen Rider Saikou. Mei would often teach Yuri about with modern society. Eventually, most of the Northern Base members have been growing dissatisfied with Sword of Logos, and chose to side with Touma instead and repairing their friendship.
Sometime after Rintaro joined with Touma in their efforts to fight against the Sword of Logos, Mei gets targeted by Zooous and is forcibly transformed into the Neko Megid. As Mei's life put on the line, this caused Touma and Rintaro's relationship to continue straining despite being on the same team. Rintaro had been lost confidence on himself as a swordsman and tried to have Touma save Mei himself, despite running into multiple issues trying to do the deed. However, Touma manages to teach Rintaro to rediscover faith in himself and allowing him to work together with Touma to separate Mei from the Neko Megid's influence.
When Storious embarked his destruction to the world, Mei discovered a Touma's manuscript of the Lost Memory sequel, Eternal Story. In an effort to help inspire people's hope as the world was crumbling before them, Mei ran to Biblio Utopia Publishing in order to retype what Touma had written onto her laptop. She manages to publish it and is elated to see people were able to read Touma's story, before she and the world were vanquished from existence.
One Year Later
One year later, Mei and most of the swordsmen were restored back to normal. After Eternal Story recieved the Ikkei Hasegawa Award, Mei would attend the award ceremony to accept Touma's award in his place. Upon hearing word that the missing victims that were unaccounted for had suddenly returned, Mei joined up with most of Touma's friends as they reunited with their missing friend once more.
Personality
Mei is driven and shows commitment to her job as an editor, although it appears to be just a job for her. Once she visited the Wonder World, she wanted to be involved in Sword of Logos affairs. She has proven to be resourceful and helpful to the organization, if naïve to how they function. After being rescued by Rintaro from both Zooous and Medusa Megid, Mei developed a crush on him.

Neko Megid
"Neko ni Accessory!"
―Summoning announcement via Alter Ride Book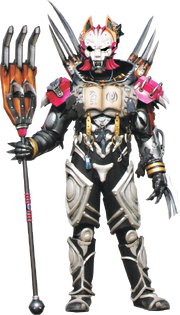 Statistics
Height: 206.5 cm
Weight: 99.8 kg
Abilities:
Agility: The Neko Megid can move with quick reflexes to the point it can maneuver and dodge its opponents' attacks in the blink of an eye.
Keychain Ensealment: The Neko Megid can seal humans into keychains and adorn them on its body.
Forced Transformation: The Neko Megid can revert and transform back to its human host at will.
Arsenal
Claw Gauntlet: The Neko Megid wields a three-pronged claw gauntlet on its left arm.
Claw Staff: The Neko Megid wields a claw-style polearm for combat.
Appearances: Kamen Rider Saber Episodes 30-31

Equipment
Smart Phone: Mei owns a smartphone and uses its camera to take pictures of Megid activity to post on social media.
White Book: A special book given by Sophia to detect any Megid presence.
Mysterious Key: An "important item" entrusted to her by Sophia shortly before Sophia's abduction by Reika. This item was lost to Storious after becoming the Neko Megid.
Raimeiken Ikazuchi - Temporarily borrowed from Northern Base.
Book Gate Wonder Ride Book: She is only seen holding one in the ending dance scene.
Relationships
Friends
Enemies
Super Sentai
Behind the Scenes
Portrayal
Mei Sudo is portrayed by Asuka Kawazu (川津 明日香, Kawatsu Asuka).
As the Neko Megid, she is voiced by Romi Park, who previously portrayed Eras

in Kishiryu Sentai Ryusoulger

and Syrup in Yes! Pretty Cure 5. Her suit actor is Satoshi Fujita (藤田慧, Fujita Satoshi).
Etymology
The first syllable of Mei's surname, Sudo (須藤, Sudō), contains the kanji of Page (頁, Pēji), which is reminiscent to books.
Notes
According to TV-Asahi website, Mei is described as a "Gyaru working to be a member of society".[3]
According to her actress, Asuka Kawazu, the inspiration for Mei's personality came from the YouTuber and comedian, Fuwa-chan.[4]
In the end credits dance sequence, Mei is holding the Book Gate Wonder Ride Book.
Appearances
References