Wiki Targeted (Entertainment)
Play Sound
"Wait, this Shift Car is not yet complete!"
This article is a stub, meaning it needs more info. You can improve this Kamen Rider Wiki article by expanding it.
Mei Sudo (須藤 芽依, Sudō Mei) is a 23-year-old[2] editor of Touma Kamiyama, and a former ally of the Sword of Logos. After Touma left the Sword of Logos, she became part of Touma Kamiyama's team.
She later becomes the Neko Megid (ネコメギド, Neko Megido), a cat-themed Megid created by Zooous.
Character History
She is the editor of Touma's novels, when she saw him reading to children, she criticized him for not advancing his next novel. She witnessed Touma's first transformation.Chapter 1: In The Beginning, There Was a Flame Swordsman.
Personality
Mei is driven and shows commitment to her job as an editor, although it appears to be just a job for her. Once she visited the Wonder World, she wanted to be involved in Sword of Logos affairs. She has proven to be resourceful and helpful to the organization, if naïve to how they function. After being rescued by Rintaro from both Zooous and Medusa Megid, Mei developed a crush on him.

Neko Megid
"Neko ni Accessory!"
―Summoning announcement via Alter Ride Book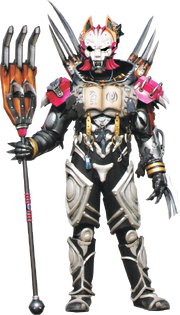 Statistics
Height: 206.5 cm
Weight: 99.8 kg
Abilities:
Agility: The Neko Megid can move with quick reflexes to the point it can maneuver and dodge its opponents' attacks in the blink of an eye.
Keychain Ensealment: The Neko Megid can seal humans into keychains and adorn them on its body.
Forced Transformation: The Neko Megid can revert and transform back to its human host at will.
Arsenal
Claw Gauntlet: The Neko Megid wields a three-pronged claw gauntlet on its left arm.
Claw Staff: The Neko Megid wields a claw-style polearm for combat.
Appearances: Kamen Rider Saber Episodes 30-31

Equipment
Smart Phone: Mei owns a smartphone and uses its camera to take pictures of Megid activity to post on social media.
White Book: A special book given by Sophia to detect any Megid presence.
Mysterious Key: An "important item" entrusted to her by Sophia shortly before Sophia's abduction by Reika. This item was lost to Storious after becoming the Neko Megid.
Raimeiken Ikazuchi - Temporarily borrowed from Northern Base.
Relationships
Friends
Enemies
Behind the Scenes
Portrayal
Mei Sudo is portrayed by Asuka Kawazu (川津 明日香, Kawatsu Asuka).
As the Neko Megid, she is voiced by Romi Park, who previously portrayed Eras

in Kishiryu Sentai Ryusoulger

and Syrup in Yes! Pretty Cure 5. Her suit actor is Satoshi Fujita (藤田慧, Fujita Satoshi).
Notes
Appearances
References
Community content is available under
CC-BY-SA
unless otherwise noted.