"It's Decade's fault. This switch needs adjusting."
This article is in need of cleanup. You can help us out by editing it!

Reason: too many grammar errors
Medusa Legendorga (メデューサレジェンドルガ, Medūsa Rejendoruga) is one of the Legendorga. She armed with a gun and able to use the snakes on her head as weapons, also able to enslave humans like the Mummy Legendorga. She was destroyed by Yuri and Megumi Aso using both Ixa Systems on her while she was blinded by Wataru Kurenai's freedom of her master's baptism.
History
Kamen Rider Kiva: King of the Castle in the Demon World
to added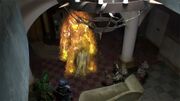 Kamen Rider × Super Sentai: Super Hero Taisen
When Dai-Shocker and Dai-Zangyack reveal their alliance and fight against the combined Super Sentai and Kamen Rider forces, the Medusa Legendorga is among a group led by the Bat Fangire and Crime Minister Yogoshimacritein

of the Gaiark

, is seen leading a group of Fangires, Banki, and also the Samurai World Yoma Rairaiken

to fight against the Go-Ongers

and Kamen Rider Kiva. However, they're all destroyed again at once by a combined finisher attack from the Go-Ongers and Kiva.
Video Game appearances
Kamen Rider Riderbout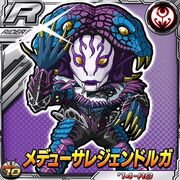 Medusa Legendorga appears as an of the many Bosses, with the other Heisei and Showa kamen Riders in Kamen Rider Riderbout.

Statistics
Medusa Legendorga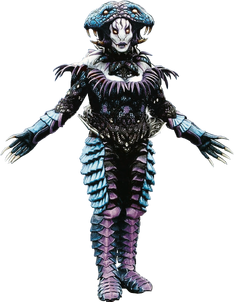 Height: 187 cm[1]
Weight: 130 kg

Appearances: King of the Castle in the Demon World, Momotaros's King of the Castle in Burning Red Episode 1, Super Hero Taisen

.

Behind the scenes
Portrayal
Sakaya is portrayed by Gal Sone (ギャル曽根, Gyaru Sone), while Medusa Legendorga is voiced by Emi Shinohara (篠原 恵美, Shinohara Emi).
Concept Art
Notes
She is the second villain to be called "Medusa". The first was Medusa from Kamen Rider X and the third Medusa Phantom from Kamen Rider Wizard.
She is the only Legendorga member that in the movie.
Unlike the other Lengendora's general she is the only that she has a human form.
Appearances
References
External Link
Community content is available under
CC-BY-SA
unless otherwise noted.