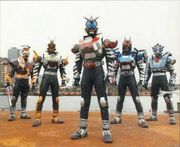 "Henshin!"
―Transformation announcement
"Put On!"
―Transformation announcement from Rider Form
The bulky armored cocoon-like Masked Form (マスクドフォーム, Masukudo Fōmu) is one of two main forms, along with the sleeker Rider Form (ライダーフォーム, Raidā Fōmu), accessed by ZECT Kamen Riders of the Masked Rider System. However, the two Hopper Riders and the three Kabutech Riders only have one form. While strong and heavily armored, Masked Form has less offensive capabilities than Rider Form.
There are only six Riders that can assume this form: Kabuto, TheBee, Drake, Sasword, Gatack and Dark Kabuto. For all of them the Masked Form is their initial form in which they transform directly.
Individual Masked Forms
Kabutech
The Kabutech Rider trio from the movie Kamen Rider Kabuto: God Speed Love were not shown to have a Masked Form on-screen. However, toy versions of a possible Masked Form was made for the Cast-Off Rider line.
Community content is available under
CC-BY-SA
unless otherwise noted.