Masahiro Inoue (井上 正大, Inoue Masahiro) is a Japanese actor and martial artist (Tae Kwon Do practitioner) best known for his role as Tsukasa Kadoya, the titular protagonist in Kamen Rider Decade. He would later reprise this role in Kamen Rider Wizard and Kamen Rider Zi-O.
He voiced Kamen Rider Decade in the video game Kamen Rider: Battride War.
Outside of Decade, he portrayed the villainous role of Jinga in Garo: Gold Storm - Sho

and the good counterpart as the protagonist in Kami no Kiba: Jinga.
Biography
Inoue debuted as an actor in 2008, where he played Keigo Atobe in the Prince of Tennis musicals. One year later, he landed the lead role of Tsukasa in Kamen Rider Decade, where he would continue to play the role in several future crossovers of the character.
From 2015 to 2018, Inoue starred as Jinga in the Garo franchise, portraying the main antagonist in the Yami o Terasu Mono timeline.
Filmography
Film
Television
TV Commercial
Video Games
Discography
Notes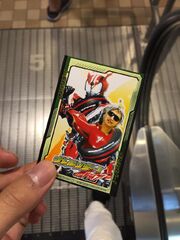 References
External Links
Community content is available under
CC-BY-SA
unless otherwise noted.