Wiki Targeted (Entertainment)
Play Sound
The Mantis Fangire (マンティスファンガイア, Mantisu Fangaia), whose true name was The Deads' Miscalculation equals The 4:36 Lie (亡者の誤算=4時36分の嘘, Mōja no Gosan wa Yoji Sanjūroppun no Uso), was a member of the Insect Class.
History
He carried a scythe and a casket that held the remains of Fangire, which he resurrected as mindless slaves to with the intent of killing Maya for her transgressions against Fangire law. After Kiva destroyed his army, the Mantis Fanigire attempted to revive more Fangire, only to be impaled by the Zanvat Sword as it pierced the casket.
Kamen Rider Decade
The Mantis Fangire appeared as part of a group of several Fangire which wrecked havoc as Natsumi Hikari was trapped within the changing dimensions during the destruction of the worlds. 「Rider War (episode)」
The Mantis Fangire later appears as a member of Dai-Shocker, accompanying Apollogeist in the World of Black RX. He is destroyed by Decade as Form Ride: Faiz Axel. 「RX! Dai-Shocker Attack」 「Black × Black RX」

Statistics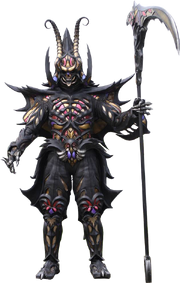 Height: 247 cm
Weight: 210 kg
Behind the Scenes
Concept Art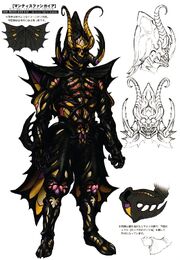 Mantis Fangire was designed by Tamotsu Shinohara (篠原 保, Shinohara Tamotsu).

Notes
The Mantis Fangire's true name references the Bible verse John 4:36, which mentions a reaper who harvests crops for eternal life. This alludes the the Mantis Fangire's Grim Reaper motif and his ability to revive deceased Fangire.