The Machine Meteorstar (マシンメテオスター, Mashin Meteosutā) is Kamen Rider Meteor's personal satellite-based motorcycle which is compatible with the Power Dizer. The bike's official name is MBM3000X. It is similar to the Machine Massigler, in that it uses hydrogen as fuel. However, it is faster and lighter compared to the Massigler. It can also fire beams of Cosmic Energy from the face and be controlled remotely by M-BUS. Despite being remotely controlled, but it can also be easily manned and "hijacked" by anyone. In one episode, Tachibana used it against Fourze in a training match but the latter quickly used it against him.
Video Game appaearances
Kamen Rider: Battride War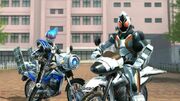 Meteor appears riding the Machine Meteorstar in the video game Kamen Rider: Battride War.
Community content is available under
CC-BY-SA
unless otherwise noted.