Boba Fett Returns - The Loop
Play Sound
Spartan (スパルタン, Suparutan) was one of the Four Sages of the Sword of Logos council, who were killed by Isaac. After being revived by Storious, Spartan turned into Lord of Wise Spartan (ロード・オブ・ワイズ スパルタン, Rōdo Obu Waizu Suparutan) and unwillingly became his own puppet.
History
Main article: Four Sages
Battle against Kenzan and Slash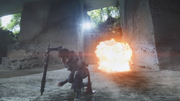 The four Lords of Wise later appeared on each level of Storious' tower to confront the Riders as they stormed it, leaving Ren Akamichi and Tetsuo Daishinji behind to battle Lord of Wise Spartan while the others went ahead. While Spartan managed to overwhelm Slash and knock Tetsuo out of his transformation, it was actually a distraction, as Kenzan was able to defeat him with help from the late Desast's power via combining the Mumeiken Kyomu and his broken Alter Ride Book to perform a dual combo version of the Calamity Strike, though this resulted in him being the only one to continue on, leaving the weakened Tetsuo behind.
Stats
Lord of Wise Spartan
Arsenal
Abilities
Master Swordsman: Spartan is able to use the skills of large sword and axe to the extreme.
Strength: Spartan possesses immense strength that allows him to easily defeat Blades' Tategami Hyojuu Senki form within a few strikes.
Seismic Pulse: Spartan's strength allows him to generate a seismic pulse through his hands.
Appearances

Saber Episodes 44-45, Kamen Rider Saber: Final Stage
Behind the Scenes
Portrayal
Notes
The sword Spartan uses is the repainted version of the Polarbear Fangire's sword, while the axe he uses is the repainted version of the Ono Gamma's axe.
Appearances
References