Spider-Man: No Way Home Trailer Dropped - The Loop
Play Sound
Leiurus Acutia (レイウルス・アクティア, Reiurusu Akutia)[1] is the Scorpion Lord (スコーピオンロード, Sukōpion Rōdo), his method of killing is using his stinger/ponytail to inflict a liquid metallic poison on the victim on the neck, with a delayed effect that overtime kills the person, in the fashion of fatal freeze burn, within 24 hours. Armed with an ax named the Infernal Ax (冥府の斧, Meifu no Ono) and Darklord's Shield (冥王の盾, Meiō no Tate), which is hard. When Acutia goes after Mana, Agito covers her escape while assuming his Flame form. However, Acutia succeeds in poisoning Shouichi when his Rider Kick had no effect of the Darklord's Shield, with G3 arriving to save him and Mana. When Acutia attempts to finish the job the next day, Agito breaks through Acutia's defense with his Rider Break, killing him and neutralizing the poison in himself.
All Riders vs. Dai-Shocker
Leiurus Acutia was part of the advance guard of the Dai-Shocker army in the World of Decade, led by General Jark. They appear to pursue Diend and Natsumi before they are confronted by Tsukasa who transforms into Decade. When the grunts are defeated, Acutia tries to protect General Jark alongside Ganikoumoru and the Longhorn Orphnoch, but to no avail as all four are destroyed by Diend's Dimension Shoot. 「Kamen Rider Decade: All Riders vs. Dai-Shocker」
Video Game appearances
Kamen Rider Agito video game
Leiurus Acutia is one of several Lords who are playable in the Kamen Rider Agito video game.

Statistics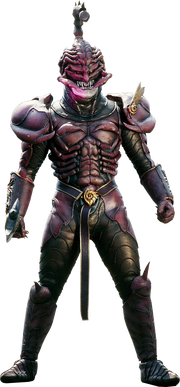 Height: 213 cm
Weight: 155 kg
Behind the Scenes
Concept Art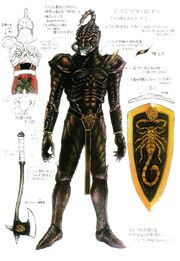 Notes
With a design, coloration, ax, and shield that are very similar to those of the earlier villain, this Lord bears a strong resemblence to Kani Laser, the monster form of Doctor G from Kamen Rider V3. Coincidentally, Acutia also debuted in episode 13 of Agito, which was the second series of the Heisei era, just as Doctor G first appeared in episode 13 of V3, which was the second series of the Showa era and the overall franchise.
Appearances
References