Wiki Targeted (Entertainment)
Play Sound
"Destroy...mess up everything."
―Kuwagata Yummy's first line
The Kuwagata Yummy (クワガタヤミー, Kuwagata Yamī) is a stag beetle Yummy that appears from the Kabuto Yummy's body during his fight with Kamen Rider OOO due to Rei's true desire to get rid of her kendo teacher's bride after becoming strong enough to get the job done. Other than having body armor like the Kabuto Yummy, the Kuwagata Yummy can create lightning. Both Yummy overpower Kamen Rider OOO until Kamen Rider Birth arrives to even the odds. While Kamen Riders Birth and OOO destroy the Kabuto Yummy, the Kuwagata Yummy manages to escape and proceeds to make his way to the chapel to kill the bride. But slowed now by Rie, the Kuwagata Yummy ends up fighting the Kamen Riders with Uva before Kamen Rider Birth quadruples the Cell Burst in his Breast Cannon to completely obliterate the Yummy.
Kamen Rider Wizard
It is destroyed alongside a Bakeneko and New Mole Imagin by Den-O's Extreme Slash. Neverending Story

Forms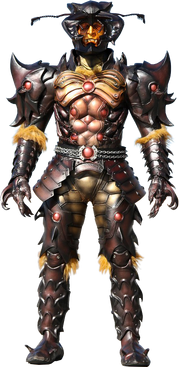 Height: 205 cm
Weight: 109 kg
Behind the scenes
Portrayal
The Kuwagata Yummy is voiced by Nobuyuki Hiyama (檜山 修之, Hiyama Nobuyuki).
Concept Art
Kuwagata Yummy was designed by Yutaka Izubuchi (出渕 裕, Izubuchi Yutaka).
Notes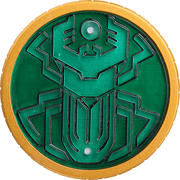 External links