Obi-Wan Finale - The Loop
Play Sound
Kuroto Dan (檀 黎斗, Dan Kuroto) is the 30-year old 2nd CEO of Genm Corp. who transforms into Kamen Rider Genm (仮面ライダーゲンム, Kamen Raidā Genmu). As the mastermind behind Zero Day and the creation of the Bugsters, he aimed to complete the ultimate game Kamen Rider Chronicle, manipulating the Kamen Riders and Bugsters for this purpose before he was killed.
In a plot to revive himself following his death, Kuroto temporarily transformed into Kamen Rider Blade (仮面ライダーブレイド, Kamen Raidā Bureido), having assumed the form of Kazuma Kenzaki. He was later revived as a Bugster and became an ally to CR, later helping Kiriya Kujo develop a vaccine to the Bugster Virus.
Long after his true defeat, he was temporarily revived by the Ark until samples of his virus was loaded into a Humagear by Gai Amatsu.
History
Background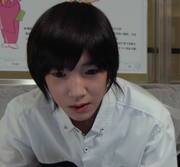 Kuroto Dan is the son of Masamune and Sakurako Dan. He was a prodigy in game development at his father's company, Genm Corp., and created numerous bestselling games. During the Y2K crisis, he discovered a strange errors in his computer, which took on the form of the Bugster Virus. One day, he received fan mail from Emu Hojo who shared ideas for new games. Kuroto was impressed, but envious that someone else was just as talented as him, and he sent back to Emu the in-development Mighty Action C game, containing the Bugster Virus. Kuroto also inadvertently infected his mother with the Bugster Virus. Desperate to save her, he enacted Zero Day and envisioned the concept of the ultimate game, Kamen Rider Chronicle.
Since adulthood, Kuroto observed Emu Hojo for a decade and observing the Bugster virus' progress. He hired the Next Genome Institute to abduct him and harvest the now-mature Bugster virus from Emu's body. After the operation, the matured Bugster, later became known as Parado, was separated from Emu, while the members of the institute vanished. With the virus now in his hands, Kuroto triggered Zero Day and the Bugsters emerged from the glitches in ten in-development Genm Corp. games. He avoided punishment for the outbreak by framing his father Masamune for it.
After being appointed CEO of Genm Corp., he collaborated with the Ministry of Health to develop the Rider Gashats and Gamer Drivers as a countermeasure against the Bugsters. Kuroto recruited radiologist Taiga Hanaya to become the first Doctor Rider, but the latter would lose his medical license after a brutal loss against Graphite. Hiiro Kagami becomes Kamen Rider Brave during the intervening time and Kuroto would also grant Kiriya Kujo a Gamer Driver to keep him silent regarding Zero Day.
The Mysterious Black Ex-Aid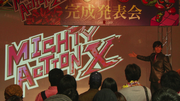 Five years after Zero Day, Genm Corp. had finally completed one of the ten games, Mighty Action X. Kuroto Dan appeared at the press release for Mighty Action X, where the Salty Bugster emerged from Sota Suyama, but was contained by Emu Hojo after transformed into Kamen Rider Ex-Aid. Kuroto continues to work close with CR to provide the Doctor Riders with the equipment they need to become Kamen Riders and fight the Bugsters. While he continued to create more Gashats, Kuroto would finally meet face to face with Emu Hojo to inform him to not easily be trusting despite him wanting to save his patients.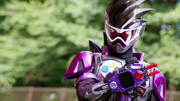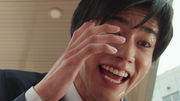 Unbeknownst to everyone, Kuroto would often menace the Kamen Riders by transforming with the Proto Mighty Action X Gashat. Because of his resemblance to Ex-Aid, he was referred as the "Black Ex-Aid" under this form. As the Black Ex-Aid, Kuroto colluded with the Bugsters to gather data on the Kamen Riders, before they could advance into Level 3. After his first defeat to Ex-Aid, Graphite questions if he was fearful of Emu, but Kuroto psychotically proclaims that his genius is the only thing to be feared. Parado then christens Kuroto under his true name "Kamen Rider Genm".
None were aware of Kuroto's true nature as the Black Ex-Aid, even misinterpreting Graphite and Parado to be possible identities. However, Kiriya Kujo eventually realized that Kuroto Dan is the Black Ex-Aid. He continued using the Proto Mighty Action X Gashat, with Parado warned Kuroto that prolonged use of the Proto Gashats would damage his body. After a battle against Lazer, Kuroto clues Kiriya that Emu is the only person among them who haven't underwent compatibility surgery. Following Graphite's inital demise and the Drago Knight Hunter Z's completion, Kuroto had gathered enough data from the Kamen Riders.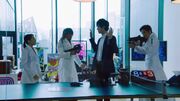 After the doctors of the Next Genome Institute had returned back from the Game World, they stormed Genm Corp. and entered Kuroto Dan's office, much to his surprise that they are revived. The leader, Michihiko Zaizen, had assumed the persona as "Dr. Pac-Man" and took the Bugvisor and Proto-Gashats, leaving Kuroto unable to act as Kamen Rider Genm for the time being. He aids CR as the Next Genome Institute unleashes the Pac-Man Virus, even creating the Kaigan Ghost Gashat based on Takeru Tenkuji to combat the threat.
Following the Dr. Pac-Man incident, Kuroto succeeded in finishing the seventeen Heisei Rider Gashats but desired to gather more data. While Emu was on his way to Genm Corp. with Asuna to return the Kaigan Ghost Gashat, he uses the Collabos Bugster wielding the power of the Proto Gashats to have Ex-Aid fight it using the Full Throttle Drive and Toukenden Gaim. Wanting more data, Kuroto joined the battle as Genm using the Magic the Wizard Gashat. With Genm seemingly completing his collection of Legend Rider Gashats, he completed the Ganbarizing Gashat and summoned manifestations of Kamen Riders Double, OOO and Fourze.
Much to his shock, Dr. Pac-Man appeared with a collection of Bandai Namco Gashats. While Genm leads his Kamen Riders to a parking garage to confront Ex-Aid, Brave, and Snipe, Genm chased after Dr. Pac-Man while the Doctor Riders fought the Legend clones. After cornering him, Genm is shocked by his true identity and "Dr. Pac-Man" reveals to him the Taiko no Tatsujin Gashat.
After Ex-Aid used the Taiko no Tatsujin Gashat and claimed the Ganbarizing Gashat, Dr. Pac-Man takes all four Bandai Namco Gashats and the Ganbarizing Gashat having sided with Genm. It is this point where the Kamen Riders realized they are being manipulated by Dr. Pac-Man and Genm. Genm defeats the Kamen Riders using a Critical Strike using the seventeen Heisei Rider predecessors, allowing him to defeat all three Riders with a single Rider Kick. Genm then took his leave with the Gashats. Kuroto returned back to his base where he met with Dr. Pac-Man, revealed to be Parado. After completing what he gathered, it is time for their next phase in their plan.
The Dark Christmas
Kuroto began launching the next phase of his ultimate game. During Christmas Eve, he absorbed the data of his empty Rider Gauge and finally unmasks himself to the doctors as the "Black Ex-Aid", and his true name "Kamen Rider Genm". Using the data of his "death", he completes the Dangerous Zombie Gashat. Kuroto later learns Kiriya had met his father and learned his true goals. To keep him silent, he tricked Kiriya into using the Dangerous Zombie Gashat before transforming with it himself to become Genm Zombie Gamer Level X. With the massive advantage, Genm destroyed Lazer in battle, seconds before the Doctor Riders arrived.
The Patient Zero Conspiracy
Following the death of Kiriya Kujo, Kuroto remained on the run for causing Zero Day and colluding with the Bugsters. With the "test players" no longer needed, he went on the hunt to take back all the Gashats from the Kamen Riders. Genm Level X showcases his ability of surpassing death as all attacks are useless against him. Kuroto later gives Parado a blank Gashat, which was later given to Emu to access Mighty Brothers XX, evolving Ex-Aid to Level X and can split into two separate bodies as Level XX, giving Genm a disadvantage. He would later confirm to Taiga Hanaya that Emu Hojo is indeed Patient Zero of the Bugster Virus.
Kuroto became intent the data of Emu's Gashat, branding it as a bootleg. He would later create the Gashat Gear Dual for Parado to become Kamen Rider Para-DX. Vowing to complete Kamen Rider Chronicle, Kuroto christens himself as a "Game Master" and infected civilians with the Bugster virus to obtain their data. After securing Brave and Snipe's Gashats, Kuroto creates the Gashat Gear Dual β. However, his partnership with Parado would falter due to his poor treatment towards the Bugsters.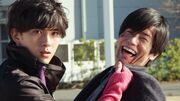 After Parado turned on him with a humiliating defeat, Kuroto later shouted in front of Emu about his status as Patient Zero to rob Parado of his wish to fight him by erasing his target. Kuroto's victory was short-lived as rather than vanishing, Emu simply fainted. Genm would also lose the stolen Gashat and the Gashat Gear Dual β to Heero and Taiga. After announcing his goal to create Kamen Rider Chronicle to the doctors, Kuroto later took advantage of Emu's kindness by becoming the Charlie Bugster's host to avoid prosecution by the authorities. During the penultimate battle against Ex-Aid, Kuroto destroy Emu's Gamer Driver.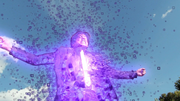 After returning to Genm Corp., Kuroto infected more civilians with the Bugster Virus of DoReMiFa Beat and Drago Knight Hunter Z to complete Kamen Rider Chronicle. Emu arrives with Kiriya's Gamer Driver and later completes the Maximum Mighty X Gashat to become Ex-Aid Maximum Gamer Level 99, using it to reprogram his immortality and later removing the Bugster antibody in Kuroto's DNA, rendering him no longer able to transform. Before he could be detained, Parado immobilizes him and infects Kuroto with a lethal dose of Dangerous Zombie's data. While he screams in immense pain, Parado taunts him by declaring Kamen Rider Chronicle now belongs to him before leaving. Kuroto bellowed that he's a god and that his ambitions would last forever, screaming madly as he disintegrates into data.
The Hidden Level 0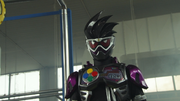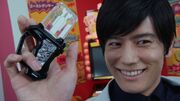 After being free from her brainwashing, Poppy recieved visions of Sakarako Dan's memories of Kuroto. She uncovers from Kuroto's abandoned hideout a treasure chest containing a Gamer Driver and the Proto Mighty Action X Origin Gashat. Believing that she can separate the Emu from Parado's dominance with "Level 0", Poppy enters the realm of Proto Mighty Action X Origin and finds a Bugster Virus grunt containing Kuroto's data. After Poppy restored Kuroto's memory, he madly declares he was truly immortal. Returning to the real world, Genm Level 0 heads to the Next Genome Institute facility to vehemently save Emu from Para-DX and prevent him from possessing Emu due to Level 0's Bugster-nullification effects.
Although Kuroto had resurfaced, nobody at CR was willing to trust him, with the man even showing no remorse for his past actions. He continues to relish his genius and orders everyone to call him "New Kuroto Dan". While his level is weaker in comparison, he can also resurrect himself with 99 additional lives. His antics were mostly moderated by Poppy, often absorbing him into her Bugvisor as a punishment. Kuroto's original intention for Kamen Rider Chronicle is to create a battle for the victims of the Game Illness, to ensure humanity to prevail against the Bugsters to revive those that had vanished, more specifically his mother.
While participating in an alliance with CR, his father Masamune Dan reveals himself to be the true mastermind and transforms into Kamen Rider Cronus. Because of his exploitation of Pause and holding the Proto Gashats that held the Game Over victims, Hiiro Kagami was blackmailed into working with Cronus, and Kiriya Kujo was revived as Lazer Turbo. Kuroto began to create Hyper Muteki for Emu to counter Cronus. With the help of Kiriya's tactics and reinfecting himself with Parado's virus, Emu was able to transform into Ex-Aid Muteki Gamer. Kuroto would continue to provide his services in preventing Hyper Muteki from being rendered unusable against Cronus.
When Cronus displayed his ability to reset the world, Kuroto was forced to recreate the Hyper Muteki Gashat due to Masamune erasing its creation. This forced Kuroto to work all night, as well as sacrificing a few more of his lives to recreate it, this time with a "Save" function to save their progress. After some trials and tribulations, the Kamen Riders advanced to the final stage of Rider Chronicle, preparing to confront the last boss Gamedeus.
The Gamedeus Pandemic
With Gamedeus and his Bugster Virus pandemic spreading rapidly, this led to Kuroto and Kiriya infecting themselves with Gamedeus' virus and fighting each other until one of them could develop an immunity to the virus. While most of Genm's lives were burned through, Genm and Lazer Turbo finally reached the needed point and Kuroto completed the Doctor Mighty XX Gashat. Although Kuroto's crimes had caught up to him, because of his role in the vaccine's creation, he sentenced to house arrest in CR's custody and only to be let out in emergencies. Since creating Doctor Mighty XX, Kuroto requested to be called "God Dan Kuroto", much to CR's dismay.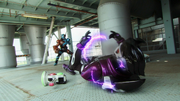 However, Masamune Dan merged with Gamedeus into Gamedeus Cronus, proclaiming himself to be Chronicle's true final boss. When Genm faced off against a horde of Bugster Viruses, he encountered Kamen Rider Build who demanded his powers but left after realizing he found the wrong person. However, the remaining Kamen Riders were able to neutralize Super Gamedeus's virus and separate him from Masamune Dan, with the cost of Parado's life and Emu rendered unable to transform.
While all hope seemed lost, Kuroto participates with the remaining Kamen Riders the final stand against Cronus by reverting back to Action Gamer Level 0 to defeat Cronus once and for all. However, in their final confrontation, Masamune kills himself with the Master Gashat, this removing the only way to rescue the data of the patients within the Proto Gashats. Afterwards, he overhears Emu presenting his televised speech on behalf of the Ministry of Health and in which Kuroto himself was listed among those who succumbed to the Game Disease following Zero Day along with his mother and father.
Soon after, Kuroto successfully restored Poppy using a virus sample absorbed into his hand. He also revealed to Emu that he could transform because he reinfected himself with Parado's sample in his hand, at which point Parado returned from within Emu. Kuroto was absorbed the Bugvisor II for talking too much. Afterward, Kuroto created a new game called Kamen Rider Build inspired from the early encounter with the individual.
Set after the Kamen Riders defeated Kamen Rider Cronus, a new outbreak of the Bugster virus occurs one rainy day as Kamen Rider Fuma storms Seito University Hospital with his Ninja Gamers. Kuroto is free from his confinement to investigate Fuma's connection with Machina Vision. He creates the Mighty Creator XX Gashat for Ex-Aid to free the people trapped inside the Game World, while distracting Fuma and his Ninja Gamers with Para-DX.
While confronting Kagenari Nagumo on his actions, the true threat arises when Johnny Makishima reveals himself as the "true, last boss" and transforms into Gamedeus Machina. Kuroto and Parado were absorbed into Gamedeus Machina's body for the duration of his activities. After being expelled, Ex-Aid Muteki Gamer manages to vanquish Gamedeus Machina and peace has finally returned.
One year later, while Kiriya and Asuna were working on Bugster Vaccines to patients, Kuroto is back in his arcade cabinet prison, laughing madly as he has developed an unbeatable game. Asuna changes into Poppy and shuts the cabinet off as punishment for Kuroto trying to cause trouble again.
Kuroto Dan faces the Nebula Bugsters using the new Kamen Rider Build Gashat he created from the data when Build attacked him. The new Gashat would allow him to insulate their gear from the negative effects of Nebula Gas exposure, albeit temporarily. Kuroto is asked to make more, but he refuses until Onari Yamanouchi panders to his god complex and successfully convinces him to do so.
From his prison inside a tablet, Kuroto provoked Emu and Parado into playing a new mystery game he had created; Nazo Toki Labyrinth, where they were to solve riddles and mysteries in a mansion to rescue Poppy Pipopapo. Notably, Emu's made him realize that former Genm Corp. CEO Ren Amagasaki, and indeed the majority of Bugsters, were the sons of Kuroto Dan. After Emu and Parado cleared the game using the Knock Out Fighter 2 Gashat, the two found Poppy safe and sound. Coming to believe that Kuroto was testing their bonds, the three wished to thank the Game Master for creating a game that actually brought smiles to those playing it, only to discover, much to their surprise, that Kuroto had escaped his confinement, having used the game as a distraction.
Two years after the Enigma crisis, Kuroto had escaped from CR's custody by distracting Emu and Parado with his new game, Nazo Toki Labyrinth, and begin to enact his agenda to create a new "ultimate game". Kuroto later revived the Loverica Bugster, Ren Amagasaki, along with Saki Momose in order to battle Hiiro Kagami and Taiga Nobori. After Lovelica's defeat and Saki's second death, Taiga was unable to find Cronus' Master Gashat, in which unknown to Taiga that it had been stolen by Kuroto.
Kuroto worked alongside with Saiko Yaotome, Michihiko Zaizen's daughter, not only to revive Kuroto's father, Masamune, but also to extract Black Parado out of his body. Kuroto also imprisoned Masamune into an unknown location as well as he and Saiko took Poppy hostage in order to add troubles to Parado. After Para-DX defeated his evil doppelganger, Kuroto used his Bugvisor II to extract Another Parado and later betrayed Saiko as he no longer needed her services, which left her to despair, feeling betrayed. Somewhere at the top of the falls, Kuroto, barely naked, created his own ultimate Gashat, God Maximum Mighty X, as he crazily declared himself to be a "god of all gods".
He created his own game, Zombie Chronicle, to summon Genms in their Zombie Gamer Level X forms as well as providing his own NPC to instruct everyone about his ultimate game: defeating every Genm Zombie Gamer to revive their loved one as a Bugster. Kiriya swore to defeat Kuroto. Kuroto showed Kiriya his God Maximum Mighty X as he transformed into his Level Billion form. He defeated Kiriya at first and later Masamune. While Cronus seemingly frozen Genm, but was eventually brutally vanquished by his own son. In Masamune's dying breath, he gave Kiriya his Bugvisor II. Kuroto and Kiriya battled for the last time. His God Maximum Mighty X was finally negated, due to Masamune imbuing the Buggle Driver II with the Reset ability. Kuroto was finally defeated by Kiriya as well as the Zombie Chronicle was negated and restoring the infected Zombie Bugsters back to normal. As his sanity went back to normal as he simply called himself Kuroto Dan as he vanished. Kiriya, later restored into human thanks to God Maximum Mighty X Gashat by Saiko, paid his respects to Kuroto, saw the vision of Kuroto and he told him that his games never ended.
In the digital world, Kuroto Dan was reassembled by an A.I. called the Ark. He then infected Gai Amatsu and tried to make his victim succumb to the Game Illness to fully materialize himself in the real world. He also kidnapped Gai's Secretary Humagear, Rin, to a riverbank. Kuroto remarked how far technology had advanced, expressing his eagerness to live again and rebuild his company. Gai caught up with him and transformed into a black Kamen Rider Thouser, a side effect of the game illness. Kuroto transforms into Kamen Rider Genm and easily defeats Thouser, knocking him out of transformation. As he was about to finish Gai off, time was suddenly paused. His father, Masamune Dan, showed up, much to Kuroto's surprise.
Masamune transformed into Kamen Rider Cronus and engaged Genm in combat to fight for Genm Corp.'s presidency. Kuroto defended that his games was what made Genm Corp. surge in popularity as Cronus contested him and said he was its best president. Both Kamen Riders continued to throw punches and kicks at each other. They were both knocked out of transformation but continue to growl at each other. Gai, who had found his own resolve, stepped in and stated that both of them had the wrong idea about being a president. It was never about the position itself, but about the love for their work, for their company, for their employees. The father and son duo realized their error, so they reconciled and disappeared together, freeing Gai of his illness.
Later, in the digital world, Kuroto was still surrounded by the reddish codes of the Ark. He revealed that things are not over yet, and he would return, manically laughing in the process.
When Gai Amatsu commissoned a Humagear to learn Genm Corp.'s business history, the Humagear is infected with Kuroto's Bugster Virus, reviving him in the process. After Kuroto escapes to the city, he realizes the limitations of his new body after running out of battery life. After he was recharged by Rin at a parking garage, Kuroto encounters Gai again, who intends to invite him to Thouser-Intellion. Kuroto transforms into Genm to battle Thousand Ark, and manages to absorb the Ark's malice. This allows him to print out the Genm Musou Gashat to evolve as Genm Musou Gamer. After defeating Thousand Ark, Kuroto takes over the Thouser-Intellion building as part his deal with Gai. While entering his new office, Kuroto was observed by a mysterious woman.
When Emu Hojo received the Mighty Novel X Gashat, the activation results in him being affected by the virus. The Bugster Virus materializes into Kurotopi (クロトピー, Kurotopi), revealing himself to be Kuroto Dan. Kuroto explains that Mighty Novel X is a fictional adventure game. Later, Kuroto appears and points out that Mighty Novel X is a story of Emu's life and by completing the game, it will reach the end of Emu's life. He also points out that, even with Emu's everlasting passion for saving the sick, buried deep in his heart, is his grave secret regarding his father, Kiyonaga Hojo.
Emu would discover the truth regarding his father being responsible for the creation of the Bugster Virus, even allowing Emu to be used by Kuroto. Kuroto's body reverts into a human form and reveals that his plan to anger Emu was part of his plan to resurrect himself, and now calls himself Dan Kuroto II (檀 黎斗II, Dan Kuroto II). Kuroto Dan II is actually a backup made by God Maximum Mighty X, and Mighty Novel X is a game born from it. During Emu's fight against Kiyonaga, Kuroto had Kiyonaga eliminated before begining to battle Ex-Aid. Although he gains the upper hand as God Maximum Gamer Level Billion, Genm is defeated by Ex-Aid accessing the Mighty Novel X Gashat to rewrite reality. Kuroto disintegrates into thin air.
At the CR, Emu promises to treat Kuroto back to health, depending on the future to decide Kuroto's eventual return. Kuroto is revealed to be dwelling in Proto Mighty Action X Origin's Game World. There, after his memories merged with memories of Kurotopi. He talks about Emu, learning about his self-sacrificing fearless attitude, as well as his new form. Kuroto remarks that the form's ability to predict the future simulates his talents and will be used in future game creations.
Other Events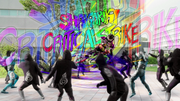 As the Great Eyezer launched an attack to the city and created a horde of Gamma Commandos and Superiors, Kamen Rider Genm arrived to Specter and Necrom's attention. Believing the Gamma to be a hindrance to his plans, he joins in the fighting and helps the two Kamen Riders, summoning the Sports Gamer with the Shakariki Sports Gashat, before performing a Critical Strike to clear away the Gamma, immediately riding away in the bike.
After noticing a Gamma Portal, Kamen Rider Genm triggers the Shakariki Sports Gashat to engage it. However, the item was snatched by a boy named Ayumu. While Genm attempts to take it back, he is stopped by Makoto and Alain, forcing him to draw back. The sketch Ayumu drew of Genm later leads Ghost to mistakenly attack the near-identical Ex-Aid. When Ex-Aid and Ghost save Ayumu from a group of Bugster Viruses, a sudden attack by Genm shows Ghost his mistake. The attack knocked away the Gashat back into Genm's hands, before fading into thin air.
An iteration of Kamen Rider Genm Zombie Gamer would fight in the Game World's Chou Super Hero Taisen, leading his own team of Kamen Riders and Sentai Rangers

to compete for the title of Kamen Sentai Gorider. Ultimately, this Genm fell just short of achieving the form of Aka-Rider as he was defeated in the final round by Team Ex-Aid, bested by Ex-Aid Robot Action Gamer Level 3.
As a backup contingency plan, Kuroto created an unbeatable game that would malfunction and take over the world with constantly reviving Bugsters. In the actual game itself, he took the guise of Kazuma Kenzaki, masquerading as an ally amongst other dead Riders such as Kiriya.
This impossible game was designed to feed on the despair of the dead Riders after giving them hope so it could revive him in the real world. However his plan was stopped by the real Kazuma Kenzaki and Emu Hojo, who both entered the Game World. He ultimately dies when all of the Dead Riders sacrifice themselves to allow Emu and Kazuma to exit out of the Game World.

Video Game Appearances
Personality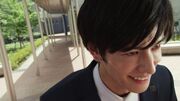 When he was young, Kuroto was a good-hearted individual who had a genuine passion for developing games. However, he would gradually develop a superiority complex, believing no one could be as talented as him. He had a loving relationship with his mother, and it was her death that would ultimately send him spiraling down into insanity during his adulthood, as Kiriya later revealed that he did not put his trust in the medical world in saving his mother, and believed that only he could accomplish it with his own talents.
During his initial tenure as CEO of Genm Corp, Kuroto appeared to be a polite and humble man, both with a sense of sympathy and compassion. Despite this, some of his decisions were of questionable morality.
Behind closed doors, Kuroto is shown to be psychotic, worsened by over usage of his Proto Gashats. He slowly becomes more and more deranged over time, eventually indulging himself with a God complex, believing that survival of the fittest is the only thing that matters in battle.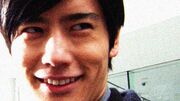 He remains prideful in regarding his skill as being the best, taking pride in the creation of Gashats as something that only he can make. When Emu and Tsukuru created the Mighty Brothers XX and Ju Ju Burger Gashats respectively, Kuroto lashes out, by attempting to retrieve it to destroy them, displaying this form of behavior to the most extreme when Emu attempted to use the Maximum Mighty X Gashat in its incomplete form, even going as far as calling both Mighty Brothers XX and Maximum Mighty X "bootleg games". Despite this, he uses the data he collected from fighting Emu, who used this Gashat to complete the Gashat Gear Dual for Parado, and the Gashat Gear Dual β, which is currently in the hands of Hiiro Kagami and Taiga Hanaya.
His malignant narcissism is also taken to the extreme when he attempts to kill a patient to obtain data on death needed to complete a Gashat he was developing, before using data on his own death to complete it. Despite his instability, Kuroto appears to have some form of self-control after constant usage of the Dangerous Zombie Gashat. However, his obsession with immortality through his personal Gashat made him even more unhinged.
Kuroto also views those who are no longer in the scope of his plans to be disposable as he murders Kiriya Kujo and Motors once he saw that they were no longer useful in his plans. This has seemingly led to Parado severing ties with Kuroto as the death of Motors was not from playing the game, but from Kuroto indulging in his god complex as the "Game Master" and thus being used as bait.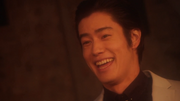 His delusions would become his fatal flaw, as Parado takes advantage of this when he murders Kuroto after his defeat by Emu and claimed Kamen Rider Chronicle for his own purpose. The same fatal flaw is also present in Kamen Sentai Gorider, and not only he rubs it in to the deceased Riders his desire to resurrect himself, but he also inadvertently attracted the attention of the real Kenzaki, not knowing that the presence of a Joker Undead can destroy his game world. Ever since he is properly revived, Kuroto becomes fully aware that his excessive pride of his own talents is proven to be his greatest weakness, as shown when he is creating (and later attempting to use) the Hyper Muteki Gashat.
After his resurrection, Kuroto's insanity is still intact, but with a vindictive streak; now hellbent in making Parado pay for his treachery. The only person he holds dearly to ensure he never loses his humanity is his mother Sakurako Dan, who was the host of Asuna Karino/Poppy Pipopapo. As a result, Kuroto regains traces of his sanity, but continues to boast himself as "New" Kuroto Dan, along with his "godly" talent. His love towards his mother would eventually result in him developing a familial relationship with Poppy as well, to the point that Poppy's eventual sacrifice to save everyone from Gamedeus' infection saddened him to tears.
In spite of his apparent viciousness and insanity, as well as others' perceptions of him, Kuroto's actions did have purpose, as the goal of Kamen Rider Chronicle was to bring back every human who succumbed to the Bugster Virus by defeating all of the Bugsters, especially his own mother, whom he infected by accident. Through this, Kuroto, while antagonistic, had good intentions, albeit descending into insanity due to the prolonged effects of the Proto Gashats. After his father, Masamune emerged as Kamen Rider Cronus, Kuroto realizes that his actions was part of his father's ploy to claim the Kamen Rider Chronicle Gashat. Kuroto himself is visibly horrified at his father murdering Lovelica, and would also develop a hatred towards his father, who took the products that Kuroto himself created.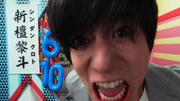 Though his insanity was once regarded to be intimidating, after his revival, this devolves into nothing more than just making himself look foolish, with the Riders no longer taking his viciousness seriously. When his insanity is pushed to the extreme, Kuroto often ends up either laughing maniacally or screaming incoherently like a madman. On occasion, he would also resort to impulsive actions, like banging his head on a wall after learning his father had become Cronus, and pestering Emu by shaking his legs violently while in a rush to recreate Hyper Muteki.
However, all of this was later revealed to be an elaborate ruse, as Kuroto remained adamant on his plan to create the ultimate game, only helping CR defeat Masamune just so he could get rid of another obstacle in his plan. When his true schemes were uncovered, he clearly showed no remorse for deceiving the Riders, his god complex being pushed to the extreme upon the completion of the God Maximum Mighty X Gashat. However, behind all of this, the pain of losing his own mother still remained. After getting reassured by Kiriya Kujo that he could finally count on the advancements of the medical world, he departed upon losing his final life, seemingly at peace with himself, while still wondering if society would develop to be more accepting of his talents if he were to ever be reborn. This also showed that despite Kuroto's madness, he still kept his promise to help anyone who cleared his mad game unlike Masamune who continued to manipulate people for his own business accomplishment.
As New/Kuroto Dan Shin, Kuroto has his own catchphrase after transforming, which is an inverted version of Emu's. I'll clear this even if it means using continues! (コンティニューしてでもクリアする, Kontinyū shite demo kuria suru)
Powers and Abilities
Powers
Acquired Game Illness Immunity: As a result of a secret compatibility surgery not unlike the standard one for CR candidates, Kuroto Dan is immune to the Game Illness, and able to transform into a Kamen Rider. This immunity is later negated due to Ex-Aid Level 99's reprogramming ability and when he revived as a Bugster, he installs his human DNA to use said Driver.
Immortality: There are two versions of Kuroto's immortality.

Dangerous Zombie version (formerly): When Kuroto stabbed the Gashacon Bugvisor into his emptied Rider Gauge, he gained the immortality ability of the Dangerous Zombie Gashat, causing his Rider Gauge to become frozen at zero and allowing him to recover without injury from almost any damage. This power was removed after Ex-Aid reprogrammed him, with his Rider Gauge returning to normal working condition.
Bugster version: Being a bugster, Kuroto able to revive himself as long as there is a glimpse of his virus data. While normally this will need someone to be attached to the virus, Kuroto will have his data virus to be contained inside Ark in years later on. Despite claiming peace after he recoinciled with his father, he lives inside Ark, claiming that he will find another way to revive himself.

Cloning: After gaining the true power of Level X, he is able to produce many data clones of himself, allowing him to be at many places at the same time. According to Kuroto, this power is based on a fictional zombie's ability to self-reproduce through their own cells.
Data Saving: Using the Proto Mighty Action X Origin Gashat, Kuroto was able to create a "save data" version of himself, allowing himself to be revived again as a Bugster.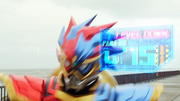 Bugster Ability Restriction: One of the functions of Level 0 Gashats. Kuroto can seal certain abilities of Bugsters who are in his game area, such as host possession.

Level Regression: Thanks to Level 0's power being over nothingness, by touching a Bugster, Kuroto can degrade their Levels to reduce their powers.

Data Mimicry: One of the abilities of a Bugster, he can travel through the cyberspace by transforming into computer data. This is exhibited when he began using Poppy's arcade room as his own living space, much to her dismay.
Teleportation: After being revived as a Bugster, Kuroto can teleport himself for simple travel or evade incoming assaults.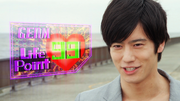 Continue: Using the alpha version Proto Mighty Action X Origin Gashat, Kuroto will revive and "continue" his personal life after being killed once and twice, reappearing from a purple pipe labeled "Continue". The Gashat gives him 99 lives.
Abilities
Genius-Level Intellect: Kuroto has a formidable mind. He is responsible for the creation of all but six Gashats (Mighty Brothers XX, Ju Ju Burger, Maximum Mighty X, Toki Meki Crisis, a second copy of Bakusou Bike, and Taddle Legacy). He has shown an ability to quickly adjust to new situations and predict the actions of other riders almost perfectly, allowing him to almost completely mastermind both Bugster outbreaks.
Expert Tactician: To be added
Skilled Manipulator: To be added
Skilled Deceiver: To be added
Skilled Combatant: He has proven himself to be a formidable combatant. As stated by him, Genm's parameters are originally the same as Ex-Aid's, so his overwhelming power didn't come from his equipment, but his own combat experiences and abilities. [Brave Chapter] This is shown when he easily defeated some of the Ex-Aid Riders, even veterans like Taiga Hanaya, many times.
Bicycle Proficiency: He is extremely skilled in bicycling, which allows him to effectively use his Sports Gamer bicycle as both a weapon and a transport to defeat a large group of Gamma Commandos and Superiors, as well as Brave and Snipe.
Expert Escapologist: Through unknown means, after he recovered his Shakariki Sports Gashat, he faded into thin air. This is also shown when he decided to save Aranbura and the Collabos Bugsters. He is also able to do so in his civilian form, escaping after he just revealed his true identity as Genm. Kuroto even escaped his confinement in the tablet, having used a game as a distraction.
Weaknesses
Gashacon Bugvisors: Being revived as a Bugster recently, Kuroto can be absorbed and preserved in a Gashacon Bugvisor in any time. This has only shown accessible in human form. However, this has also proven to be an advantage of some sort, as Kuroto can enter Bugvisors at will as well, allowing him to bypass Cronus's time stopping Pause ability while inside the Buggle Driver II of Cronus.
Level 0: As stated by it's name, Level 0 is the most lowest level among all the levels, making Kuroto extremely vulnerable to any type of attacks, even the orthodox attacks can deal great damage on him. This disadvantage can be covered by utilizing advanced-level Gashats, as well as his Continue ability.
Overworking: As shown in episode 41, Kuroto's fanatical obsession over his "genius" work makes him very vulnerable to Karōshi, or "overwork death". This obsession with finishing his games can lead to him losing huge chunks of his extra life stock.
Reset: Due to Kiriya having a Masamune's Buggle Driver II in order to transform into his Level X form, Kuroto is vulnerable to the Reset ability while on his Level Billion form, causing his God Maximum Gamer to be dissolved after clashing with their own Rider Kicks, as a result turning his own god-like powers back to normal.
Forms
Equipment
Devices
Weapons
Vehicles
Rouse Combos
Cards required: Kick Locust (5) + Thunder Deer (6) + Mach Jaguar (9)
This combo enhances the Lighting Blast combo with the Mach Jaguar card's speed and agility boosting.
(Used in Kamen Sentai Gorider)

(Jack) Lightning Slash
Cards required: Thunder Deer (6) + Slash Lizard (2)
This combo allows Blade to excute a deadly slash supplemented with lightning from his Blay Rouzer. In Jack Form, this combo's strength is increased by his flying ability.
(Used in Kamen Sentai Gorider)
Legend Rider Devices
Disguises
Family
Masamune/Kamen Rider Cronus: His father and the first CEO of Genm Corp before Kuroto. During his childhood life 16 years ago, their relationships were well. In 2010/2011, he become corrupted and betrayed his father by framing him that he started the Zero Day, although it was revealed that his father used him as a "pawn" upon his true nature of completing the Kamen Rider Chronicle. Despite that, all of Kuroto's efforts in helping the Doctor Riders worked very well to the point he outsmarts his father. Kuroto seems to talk to him disrespectfully calling his by his name instead of Dad. Four years later, Kuroto manage to revive and imprisoned Masamune to gain his dad Bugster Virus, Another Parado, thus completing God Maximum Mighty X. Masamune then decide to battle his son as Cronus, but utterly defeated by Genm Level Billion. Before his second death however, Masamune give Kiriya his Bugvisorzwei, imbued with Masamune Reset Power to stop Kuroto insanity for good, in which Kiriya accomplish as Lazer Level X.
Sakurako Dan: Kuroto was a loving son towards his mother while she was still alive. Even after her death, Kuroto seemed to never forget the memory of his mother.
Relationships
Allies
Parado/Kamen Rider Para-DX: Dan is often helped by Parado regardless of his mission as Genm. Parado also noted that Dan's necessary for his plan. However, his relationship with Parado appears to grow more bitter when Parado destroyed the Revol Bugster against Dan's deterrence.[The Paradox of Defeating M] It gets worse even further when Dan himself does the same deed to the Burgermon Bugster right in front of Parado, though he completely destroys him instead of leaving any remains to absorb into the Bugvisor like Parado did. Thus, driving a wedge on their partnership. Ultimately, this becomes the reason Parado is fed up with his delusions when he kills Dan with no signs of remorse. When Kuroto is revived, he swears revenge on Parado. However, upon finding out that Parado needs to remain alive for Emu to access Ex-Aid Muteki Gamer and clear Kamen Rider Chronicle once and for all by defeating Gemdeus, Kuroto and Parado join forces for the time being.
Enemies
Ministry of Health

Kyotaro Hinata: Dan helped Kyotaro in the Gamer Driver and Gashat development. As such, they seem to be on good terms, until Kuroto reveal his true colors to the four doctor Kamen Riders once he completed his first evil plan. After his revival, he gave Kuroto a non-severe punishment as a result of creating an anti-Gamedeus vaccine, by locking him inside Poppy's DoReMiFa Beat arcade booth.

Graphite: Dan seems to see Graphite as a tool for his goals, Graphite in return didn't like Dan either.
Lovelica: To be added
Kagernari Nagumo/Kamen Rider Fuma: To be added
Behind the Scenes
Portrayal
Kuroto Dan is portrayed by Tetsuya Iwanaga (岩永 徹也, Iwanaga Tetsuya). As a teenager, he is portrayed by Mitsumasa Sato (佐藤 光将, Satō Mitsumasa). Assuming the form of Kazuma Kenzaki in Kamen Sentai Gorider, he is portrayed by Takayuki Tsubaki (椿 隆之, Tsubaki Takayuki).
As Kamen Rider Genm, his suit actor is Satoshi Fujita (藤田 慧, Fujita Satoshi) in Level 1 and Yuya Nawata (縄田 雄哉, Nawata Yūya) in Level 2 to Level X. Nawata had to be substituted out for Yuji Nakata (中田 裕士, Nakata Yuji) in Episode 23 due to him working on a stage show (Seven Souls in the Skull Castle). Nawata resumed his role as Genm Level X-0. Kosuke Asai (浅井 宏輔, Asai Kōsuke) was the suit actor for Genm Level 0. Genm's bike action suit stunt actor is Keigō Arizono (有薗 啓剛, Arizono Keigō).
Etymology
Kuroto's given name is a play on the Japanese words for black (

黒

,

Kuro

) and proto (

プロト

,

Puroto

). This is a reference to Genm being a dominantly black-colored Rider that is also a prototype of the main Rider, Ex-Aid.
Genm's name when written in kanji is "幻​夢", which means "illusion" and "dream", reflecting his delusional desire to create the "ultimate game".

It is also named after Genm Corp., which foreshadowed Kuroto's true christened name back when he was referred to as the "Black Ex-Aid".
Memes
After Kuroto reveals to Emu's status as patient zero of the Bugster virus in Episode 18, one of the notable memes is him laughing madly at the sight of Emu's subsequent outbreak. This is the moment where he became more erratic and infamously started became a more popular character.

Originally Kuroto's laughter wasn't scripted and was ad-libbed by Tetsuya Iwanaga himself, upon coming up with the idea noticing Emu's character fighting for making everybody smile except Kuroto's character.
In particular, the term 宝生永夢ゥ!(Hōjō Emuu!) has been used to specifically refer to the signature line spoken by Kuroto during said scene, with the small "ゥ" kana placed at the end to represent Kuroto's emphasis on Emu's name while speaking. Tetsuya Iwanaga has made reference to this line in one of his YouTube videos, where he uses the line as an example to teach English to Japanese viewers.[9]

In Episode 23, Kuroto was lethally infected by the Dangerous Zombie virus at the hands of Parado. As he struggles, another viral meme is death and his line "I'm God! My dreams are...IMMORTAL!!!".
After his resurrection as a Bugster, a common running gag for Kuroto is insisting the others to be refered with his self-proclaimed name New Kuroto Dan (

新檀 黎斗

,

New Kuroto Dan

) and later Kuroto Dan Shin (

檀 黎斗 神

,

Kuroto Dan Shin

).

This also applies whenever he gets a Game Over, Kuroto will usually re-appear from a purple pipe, usually with hilarious theatrics.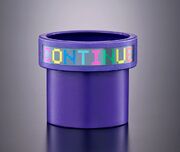 The warp pipe which the revived Kuroto Dan uses is named as Continue Claypipe (

コンティニュー土管

,

Kontinyū Dokan

) by fans and the blog of Bandai Candy Hatena Blog. [10] Because of the warp pipe's role to revive Kuroto after each Game Overs, it receive multiple memes from fans by reviving various characters, including those who received tragic deaths.
Notes
Although Kuroto arrogantly proclaims himself to be a genius, Iwanaga is actually a certified genius in real life where he is a member of Mensa, and holds a number of qualifications including a pharmacy license.
Kamen Rider Genm being a black and violet recolor of Ex-Aid is an allusion to palette swap characters.
In the original scans, it showed Kamen Rider Genm Sports Action Gamer Level 3 wearing blinkers.
Kuroto being the creator of the Gashats and being in the "game" could be a nod to some games with Game Master player characters, where they are the ones who made the powers of the heroes possible, but can also give themselves powers that the other people playing the game can't have, such as the Dangerous Zombie Gashat.
Kuroto being the creator of the Gashats and being in the "game" could be a nod to some games with Game Master player characters, where they are the ones who made the powers of the heroes possible, but can also give themselves powers that the other people playing the game can't have, such as the Dangerous Zombie Gashat.
Genm's Zombie Gamer "Level X" punching power of 66.6 tons and Zombie Action Gamer Level X-0 jump height of 66.6 m, are respectively a reference to the number 666, also called the Number of the Beast.
As of his death, Genm Zombie Gamer Level X has never demonstrated the ability to fire a hot stream from his Face Guard Shackle as mentioned on TV-Asahi's official website.

He would later show a similar ability as God Maximum Gamer Level Billion during a special where he breathed purple mist that disintegrated enemy projectiles.

While Kuroto's data was partially recovered in Proto Mighty Action X Origin, his physical appearance was covered in various markings and labels, including the label "GAME MASTER". This can be an allusion to the appearance of partially corrupted or incompletely rendered graphics in a game's data.
A running gag for Kuroto is the use of the Japanese numerical homophony: 9 (く, Kyū), 6 (ろ, Roku), 10 (と, To). It was originally used in Kamen Sentai Gorider as a message for Emu to flush out Kuroto Dan's identity. In Kamen Rider Ex-Aid: True Ending, the license-plate numbers in Kuroto's car are '96-10'.
Kuroto's final level is Level Billion (

ビリオン

,

Birion

), which can also be translated to Virion, with a meaning of a complete, infective form of a virus outside a host cell, with a core of RNA or DNA and a capsid.
Genm Musou's parallels to Hyper Muteki go beyond appearance, as the name also reflects Kuroto's desires to be acknowledged as superior, just as the power of Hyper Muteki reflects the nature of its user as a nigh-unbeatable gamer.
Appearances
See Also
References