Wiki Targeted (Entertainment)
Play Sound
"This is my/our stage now!"
―Gaim's pre-battle catchphrase
"This power exists to protect those who can't fight!"
―Kouta's unwavering resolve to stop Demushu
"It doesn't matter who's on my side! I'm still protecting the same people! Even if I completely change in the end!"
―Kouta talking to Redyue
Kouta Kazuraba (葛葉 紘汰, Kazuraba Kōta), alternatively spelt Kota Kazuraba, is a former member of Team Gaim who discovers a Sengoku Driver by accident and transforms into Armored Rider Gaim (アーマードライダー鎧武[ガイム], Āmādo Raidā Gaimu), later embracing the title Kamen Rider Gaim (仮面ライダー鎧武[ガイム], Kamen Raidā Gaimu, lit. "Armored Warrior") in his future appearances. As the Helheim Invasion looms, he becomes an OverLord and defeats Kaito Kumon to gain the power of the Forbidden Fruit to remake the world in his image. After fully stopping Helheim from invading Earth, he resides on the Helheim Planet alongside his queen Mai Takatsukasa.
Biography
Early Life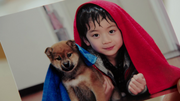 Kouta was born the second child of unnamed parents, however they passed away in an accident causing him to be raised by his older sister Akira Kazuraba. Throughout high school, Kouta was often "bullied" by Kaito Kumon due to his weak and polite demeanor that Kaito hated.
After high school graduation, Kouta joined Team Gaim as one of their dancers to express himself as the youthful young adult he was. However as both him and his sister were financially struggling, he quit Team Gaim to find a job. This caused his fellow dance mate Mai Takatsukasa to resent him as she views that Kouta left because he got bored and wanted "be an adult."
Beat Riders Saga
"Looking back on it, that was when the gears were just starting to turn. But, we didn't realize anything at all. We didn't know that our fates were already written in stone. We just wanted the power to reach our dreams. We thought that help shape us. That's what we all believed. In the endless war that was yet to come. We would discover that for ourselves."
―Kouta looking back on his actions and looking back at all of his friends and rivals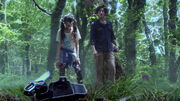 Kouta, as a young adult, was called by Team Gaim's leader, Yuya Sumii, who wants to show him something that can help their team. However, Kouta is unable to find his old friend and is pulled into a mysterious forest with his former teammate, Mai. There, Kouta finds a mysterious belt and used it with a freshly ripened Lockseed to fight an Inves that targets him and Mai. Quickly, Kouta realizes that the Sengoku Driver is not a toy after his near-death experience with Zangetsu. Trying to find a means to put the belt to its best use, Kouta uses his newfound powers to battle Inves in the Inves Games, earning Kouta the name of "Armored Rider Gaim" as he becomes Team Gaim's official member in Yuya's stead. Transform! The Orange from the Sky!? Shock! The Rival's Banana Transformation!?
Eventually, Kouta and Mitsuzane set up a new Inves Game that takes place within the Helheim Forest to lure out the puppet master behind the Sengoku Drivers and to uncover the identity and intentions of the White Armored Rider. During this event, Kouta and Mitsuzane manage to persuade the other Armored Rider teams to participate as a distraction (unknown to them) so that Kouta can investigate the humans present in the forest and the "White Armored Rider". From the games, Kouta learns that the Armored Riders are guinea pigs for the Yggdrasill Corporation and that the Sengoku Drivers feedback data to Yggdrasill. Learning that Sid has been using Kouta and the other Armored Riders, Kouta tells Sid that he isn't a rat in their maze. Kouta, along with Team Gaim later dance off during their Christmas event with Kouta reminiscing about being an adult and that one doesn't become one because they want to, but rather it just happens. The Monster Inves Capture Battle! Rider Great Assembly! Revealing the Mystery of the Forest! The Truth Behind the Christmas Game

Yggdrasill Saga and Helheim Saga
"What good is a future bought with the lives of that many innocent people? Don't be stupid! You can't bring hope in exchange for that kind of sacrifice! You'll just bring them despair instead!"
―Kouta clashes ideals with Takatora
Kouta finds himself along with his fellow Beat Riders as scapegoats for the rampant Inves attacks as they naturally find their way to Zawame City. Kouta is unable to save those who are injured by these Inves and struggles with killing a human-turned Inves and former rival, Ryoji Hase. Stripped of his Sengoku Driver alongside Kaito, he meets Ryoma Sengoku, the belt's creator. Later in Kouta's cell, Kouta receives the recognition and admiration of DJ Sagara and is granted the Lemon Energy Lockseed and Genesis Core and he combats Yggdrasill's efforts to take back the Prototype Sengoku Driver. New Generation of Riders Appear! Gaim and Baron, Tag of Friendship! The Man Who Developed the Belts

Kouta helps restore the Beat Riders' name by assuming his newfound powers, Gaim Jimber Lemon Arms, and learned the truth of the Helheim Forest and what Yggdrasill has in store for Zawame City. Kouta, despite knowing half of the truth behind Helheim, attempts to persuade Takatora to find a different way to save humanity. The New Arms! Jimber Lemon is Born! Farewell, Beat Riders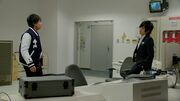 As Gaim wins and steals the Cherry Energy and the Peach Energy Lockseeds, he finds himself clashing with Zangetsu Shin and has a struggle between ideals of what's best for humanity. However, Takatora reveals to Kouta that his ideals are a contradiction as Kouta discovers that when he discovered the Sengoku Driver, he killed the friend he was looking for, Yuya Sumii, a human-turned Inves. Yggdrasill's Secret The Truth of One-Seventh

"I...I've been fighting because I couldn't live with what Yggdrasill was doing. But I did exactly the same thing. I claimed I was protecting people, but I had to sacrifice others to do it. Then what am I fighting for? Just to decide who would be saved and who would have to go? Can you call that protecting at all?"
―Kouta's conversation with DJ Sagara who reveals himself in Kouta's time of need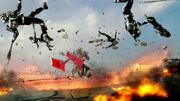 While he is still trying to figure out what to do with the revelation that he killed Yuya, Kouta's spirit is shattered along with the ideals borrowed from both Mai. Entrusted by DJ Sagara, Kouta receives the Kachidoki Lockseed along with a new purpose, to destroy the iron rule of the world. Through his newfound purpose, Gaim Kachidoki Arms annihilates an armada of Kurokage Troopers and is able to trade blows with Zangetsu Shin. He ultimately destroys the Scalar Weapons that threaten Zawame City. Now Depart for the Front Line! Kachidoki Arms!

Kouta and Mai witness Kaito actually smiling and dancing, having a great time before deducing that something is off with Kaito.
Later he is forced to reveal what he has been hiding from Mai, thinking he no longer has the right to be near Team Gaim and his friends. However to his shock, Mai comforts Kouta, telling him that he doesn't need to keep the burden to himself and that she's there for him. Gaining a job at Drupers, Mai does his shifts for him as the two start to spend more time with each other. In one of these times spent together, the two find a robot by the name of Jiro. Kouta lets Jiro stay at his apartment showing Jiro that they need to protect people. However, Jiro is overwhelmed by two conflicting processes and wishes to protect those he cares about and wants to regain his lost memories. Gaim reboots Jiro, allowing Jiro to regain his lost memories and become Kikaider, and the two gang up against Hakaider (Ryoma). In the aftermath, Kouta bids his farewell to Jiro, the latter unable to recognize Kouta, which saddens him. Baron's Genesis Transformation! The Red and Blue Kikaider

Over Lord Saga
"Right now, I need more power! Kaito...and the rest are still fighting. I can't just leave everything to them! Whether it's enough or not...can't be known. Right now...all I can do...is think about what I can do, right now!"
―Kouta's explanation to DJ Sagara while struggling to obtain Kiwami Lockseed
Aware of the Over Lord's existence, Kouta seeks out to find them, only to realize that they have become disillusioned after centuries of boredom. As the Over Lords view the human race as apes, Kouta struggles to gain their attention to stop the invasion of the forest. However, Kouta's journey to gain the Over Lord's support runs dry as he stops the fight between Demushu and Baron. Kouta teams up with Oren as the two aid Yggdrasill from Demushu's rampage, and Kouta's unwavering resolve allows Takatora to realize that the Over Lords are the key to saving humanity rather than culling humanity through Project Ark. The New Formidable Enemy: Over Lord When You Know the Truth...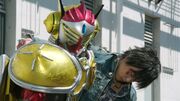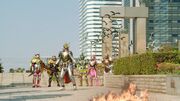 Through a long chain of events to encourage the Over Lords to stop their invasion of Helheim, Gaim is faced to battle Zangetsu Shin numerous times, who in reality is Mitsuzane masquerading as Takatora to destroy their newfound friendship and trust. When a battle breaks out in the Helheim Forest with Baron, Zangetsu Shin, Sigurd, and Over Lord Demushu. Demushu escapes into the city and starts to wreck Zawame. Gaim and Baron enter the city to stop him, but the two are overpowered and Kouta is gravely injured in the ensuing battle through Marika and the Kurokage Trooper's interference. With the help of Kaito, Kouta makes his way back to Team Gaim's garage where he listens to Kaito's reasoning for wanting to be strong before Kouta collapses due to heavy injuries and exhaustion. Coming to his time of need is DJ Sagara, prepared to give Kouta the means to become stronger with the key-like Lockseed created from the Forbidden Fruit. However, even though he heals Kouta's wounds with his abilities, he still tests Kouta to see if he really wants the power. Kouta struggles to surpass Sagara's otherworldly abilities and obtains the new Lockseed, the Kiwami Lockseed, and thus joining Baron, Knuckle, Marika, Bravo and Gridon in fighting an Enchanted Form Demushu. Kouta transforms into Gaim Kiwami Arms in battling Demushu overpowering him with ease and destroys Demushu. The Betrayal of Zangetsu The Over Lord King Whereabouts of the Forbidden Fruit The Strongest Power! Kiwami Arms

Forbidden Fruit Saga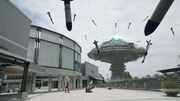 With Zawame in tatters, the remaining Riders form a group that constantly patrols the outskirts of Zawame. Kouta comes to learn Yoko's allegience and realizes that he doesn't know what he will do after the Inves Invasion. He eventually fights Zangetsu Shin once more and helps destroy Dyudyuonshu and learns that Zangetsu Shin is an imposter. While trying to figure a way to save the remaining survivors of Zawame, he loses his sister as she gets captured with the remaining survivors. Gaim and Baron defeat Grinsha after witnessing the powers granted by the Forbidden Fruit as Rosyuo redirects warhead missiles aimed at Zawame. Beat Riders' Great Gathering The King's Power and the Queen's Resurrection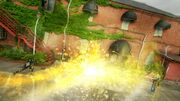 Kouta eventually learns that Mitsuzane envies his optimistic, naïve nature and that he has found him unworthy of being with Mai before promptly attacking him. When Takatora stops Mitsuzane, Kouta learns that the two are siblings and Takatora later explains to Kouta that if Kouta was his brother in place of him, Mitsuzane wouldn't have become the person he is now. Kouta later tries to stop the siblings from fighting, but is interrupted by the Grasshopper Monster, a being from the future as Kouta witnesses through a Crack: his own future and his Over Lord counterpart, Lapis. When Kouta arrives at the pier, he sees Takatora's Sengoku Driver destroyed alongside the Melon Lockseed. Returning back to the Garage, he faces off against Ryoma Sengoku and appears to be on equal footing with the Professor, indicating Kouta's strength compared to their last encounter. Mitchy's Ark Brothers' End! The Return of the Professor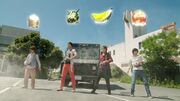 In a short conversation with Mai and Kaito about what they plan on doing after the Inves Invasion is over, Kouta reveals that he doesn't know what's in store for his future. This hesitation, along with the fact that he cannot accept Mitsuzane as the person he currently is now, allows the latter to defeat Kouta and Kaito in their next encounter when Mai is kidnapped and Peko is brutally beaten. Though, Kouta and the rest of the Armored Riders break into the Yggdrasill Tower through a secret passageway, the remainder of the Armored Riders are left behind as decoys to allow Kouta to gain entry into the tower. Kouta and Ryoma are the last ones left and the two are able to defeat Shinmugurun. The two rush to the site where the kidnapped citizens' life energy are being drained. Kouta and Ryoma encounters Redyue, but Ryoma abandons Kouta when the latter is thrown in a hallucination where Yuya's role as an Inves and Kouta's role as a Rider are reversed. In this hallucination, it reveals that the world will reject Kouta and his newfound power because he's no longer "human". Kouta, however, reveals to Redyue that he will fight, even if he's alone, for the future that he desires. Breaking through the hallucination, Kouta unintentionally generates Helheim flora around him, now finding his resolve and clearing his doubts. The Return of the Professor The Do-or-Die Tower Break-In Strategy! Awakening the Over Lord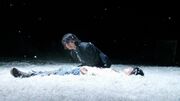 Once he meets up with Kaito, the two face off against Rosyuo, who tests their abilities and their resolve. Though, Gaim is able to prove his resolve to Rosyuo, his Kachidoki Lockseed is destroyed. Rosyuo is then backstabbed by Redyue and is brutally murdered by her when she discovers that he no longer bears the second Golden Fruit. Kouta, in a fit of rage of witnessing Rosyuo's death, rejuvenates the Kachidoki Lockseed and transforms into Gaim Kiwami Arms, utilizing the power to control Helheim's flora against Redyue and kills her with an Orange Charge with the Hinawadaidai-DJ-Ju. Kouta later fights off against Mitsuzane as Ryugen Yomi, unable to injure Mitsuzane due to their past friendship. Kouta resolves to not fight against his former friend and gets himself impaled while breaking the Yomotsuheguri Lockseed. Kouta forgives Mitsuzane once more before collapsing, supposedly dying from his wounds. His body was found by Chucky and Peko as the two went to take him back to the garage. He then had a vision of Mai as the Woman of the Beginning, who told Kouta that she is no longer human and about Kaito planning to change the future once he gains the Forbidden Fruit. Clash! The Over Lord King Mitsuzane! The Final Transformation! Baron's Ultimate Transformation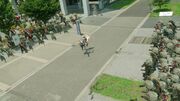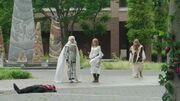 Revived, he heads out to face Kaito, who in turn transforms into Lord Baron and fights Gaim Kiwami Arms. Kouta is defeated due to his wound not being fully healed, but an ally-turning Zack tells him to run, having him to be curious about his plan. After Kouta's wound has been fully healed, he would eat one of the Helheim's fruits and told Akira that he would help others despite him losing his humanity until the rescue team arrives. Taking his sister to the team, Kouta decides to remain in Zawame to confront Kaito. Before that, Mai appears to him and having Kouta realize his future to fight for his friends. Arriving at where Kaito was, he told Kouta that he wants a world where the weak are never trampled. He would protest about it, seeing that many people have fought to protect their world as Kaito believes that it leads them to death. Kouta reiterates that true strength is not based on power alone and engages Kaito in an all-out war between the two Inves factions. In the outcome in the alternate and main timelines, Gaim defeats Lord Baron and accepts the Golden Fruit from Mai, evolving into a new form with blonde-hair and dons Kiwami Arms-esque armor. Kouta reveals his intent to Sagara that he plans on eliminating the Inves and the Helheim invasion by relocating them to a different world, far from Earth. By doing so, he grants Kaito's wish of creating a world where the weak must suffer to become strong. Kouta, along with Mai and Sagara, departs to a new world. Two People Aiming At the Future The Fated Two's Final Battle! Fate's Victor

"I told you before. You're only gold on the surface."
―Kouta rebutts Kohgane's claims of being the Golden Fruit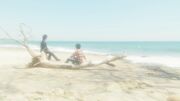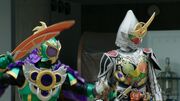 Now as a Man of the Beginning, Kouta has the ability to speak to others through their dreams. He intercepts Takatora's dream to wake up from his coma, before talking with him about supporting Mitsuzane's future and redemption from now on. Kouta appears before Mitsuzane four months later to aid him against Kohgane and frees the girl from Kohgane's control. The two kill Kohgane with a Double Rider Kick. After a brief talk with Mitsuzane, he then leaves Earth. Kouta watches Mai talk to Kaito one last time before the two depart to their new world, which has been terraformed and resembles Earth. Fate's Victor Transform! And to the Future

Other Events
The following events take place sometime after Episode 6, but before Episode 10.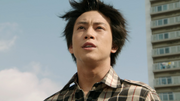 Kouta later appears in the World within the Magic Stone. Summoned by Haruto and assuming Orange Arms, Gaim helps Kamen Rider Wizard and Haruto against Amadum's minions. Later, he is summoned once more by Haruto, this time, joining forces with all his other titular predecessors and inheriting the name of Kamen Rider Gaim. After this event, the Beat Riders have a dance off in a stadium filled with tons of fans, competing against each other. However, the Nepenthes Monster attacks, causing Ryugen, Baron, and Gaim to follow it via a Crack into the Sengoku Period World. Kouta and Mitsuzane become Ieyasu's replacement Bujins. With the "death" of Mitsuzane, Kouta finds himself broken, resolving to never fight again. However, he is confronted by Mai and Haruto Soma that to fight also means to protect something you care about. Taking these words to heart, Kouta uses this as his newfound inspiration to fight, gaining the resolve to beat Baron and earn his allegiance in defeating Bujin Gaim and the Nepenthes Monster. Freeing Mitsuzane from the Nepenthes Monster and Bujin Gaim, Kouta teams up with the other Armored Riders, Wizard, and Beast, destroying the two villains. In the aftermath, the group returns to Zawame, leaving the Sengoku Period World, and Helheim Forest, resuming their tournament.
The following event takes places between Episode 11 and 12.
During the Hyper Battle Video, Kouta's Lockseeds become rusted. Going through a great effort to revitalize the Lockseeds with Kaito and Mai, his Orange Lockseed eventually becomes fresh. Kouta uses the Fresh Orange Arms against Ryugen Pine Arms - defeating him with a Fresh Orange Squash (Rider Kick). He also defeats Baron Kiwi Arms with a Fresh Orange Au Lait (Rider Slash) and even manages to gain the upper hand against Zangetsu Mango Arms, defeating the unrivaled White Armored Rider with a Fresh Orange Sparking (Rider Slash), shocking the latter and marks the first time Kouta defeats Takatora. In the aftermath, he reveals that his Pine Lockseed also turned fresh, despite that it was Kaito who finally has a fresh smile, a nod to the fact that Kaito's first Fruit Lockseed was the Pine that Kouta now has, not Banana.
The following events take place sometime after Kouta obtained the Kachidoki Lockseed in Episode 23 and Kaito's defeat to Demushu in Episode 24, but before he gets his Genesis Driver upgrade in Episode 26.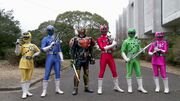 Kouta attempts to send Mai away with the ToQgers, but she is captured by the Badan Underground Empire. He successfully saves her. During the events of Kamen Rider Taisen, he joins Mai into an abandoned construction site and meet a boy named Shu, who has otherworldly powers. The boy is targeted by both Badan and the Showa Riders, causing Kouta to watch over the boy. Eventually he faces off against the boy's father, Ren Aoi, who uses the Fifteen Lockseed and Heisei Rider Lockseed to transform into Kamen Rider Fifteen. Kouta also joins forces with the remainder of the Heisei Riders against the Showa Riders. With just Gaim and ZX left as the only two riders, ZX obtains all the Rider Lockseeds and flings them at Gaim, causing Gaim to surge with power and summon the defeated Riders causing the Showa and Heisei Riders to team up against Badan. Kouta uses the 1go Arms from the Showa Rider Lockseed to defeat Fifteen. Despite defeating Badan, Kamen Rider 1 still believed that the hate between the Showa and Heisei Riders are real. The two sides commence battle once more, but the battle ends when 1 admits defeat after seeing Gaim protecting a lone flower in the battlefield, acknowledging Gaim's will to protect life as true strength, and Gaim as a real Kamen Rider. The Riders call a truce and the Showa Riders congratulate the young Riders.
An alternate ending to this film exists where Kouta admits defeat to Hongo, realizing that Hongo had been holding back the entire fight. The battle ends, and Kouta learns from it that real strength is kindness. He is then recognized by Kamen Rider 1 as a true Kamen Rider.
The following event takes place sometime after Episode 37 before Mai is kidnapped.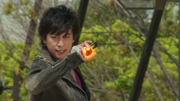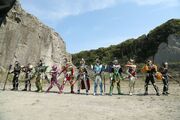 Kouta patrols the now Inves-infested Zawame City and meets Lapis, a mysterious boy who is intrigued by soccer. Kouta and everyone in Zawame City is thrown into a different Zawame City that replaces dancing and the ongoing Helheim Invasion with soccer. Though, confused, Kouta accepts the new world he's in until his fellow Riders start attempting to kill each other and vanish into thin air. Kouta gets to the bottom of this and learns the truth that his formerly deceased friend Yuya (actually Kohgane in disguise), is actually the culprit and is actually the embodiment of the Golden Fruit. Kouta is defeated by Kohgane and is corrupted into Kouta Yami. However, he breaks free of this brainwashing and is able to revive the fallen Riders to aid him against Kohgane. Though, he is successful in defeating Kohgane, the new Zawame City crumbles apart as he is now back in the original Zawame City with Lapis fading away.

The following takes place after the 47th episode.
Kouta and Mai's planet are attacked by a mysterious enemy known as Megahex, who assimilates Mai and defeats Kouta, robbing him of his Man of the Beginning form. Kouta is later killed after losing the Kiwami Lockseed.
When Takatora manages to retake the Kiwami Lockseed, the Lockseed's secondary function activates, restoring Kouta to a version before he was killed by Megahex. Kouta then fought alongside the Kureshima brothers against Megahex. Afterwards, Kouta joins forces alongside Shinnosuke Tomari against Megahex, who has now merged with the Cyberoid ZZZ to become ZZZ Megahex. However, the combined forces of the Riders prove to be no match against the latter. Kouta, with the help of Mai, halves his own omnipotent power, transforming himself and Shinnosuke into Gaim Drive Arms and Drive Type Fruits respectively to even the playing field. Together, they are able to destroy Megahex ZZZ. Kouta intends to return alongside Mai back to his planet, but Mitsuzane and co. appears and ask them to give a proper farewell to their friends in Zawame City.
Kouta is subdued by Maja and the revived Armored Riders and Over Lords and subsequently loses his memories. However, Kaito breaks from Maja's control and seeks to aid Kouta and regains his memories and fights against Maja (who assumes the Gaim Yami form). Kouta later revives and summons all of the previous Armored Riders to aid (with Duke and Sigurd included) to face off against Maja and the Over Lords.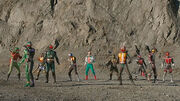 Gaim became one of the brainwashed Riders in that timeline, donning the name of Shocker Rider Gaim. Riding a Sakura Hurricane, Gaim was one of several Shocker Riders who volunteered in the Rider Grand Prix under Shocker Rider 3, who had been personally challenged by Kamen Rider Drive. During the race, Gaim, along with Double, was knocked out of the race when his Rider Machine was destroyed by the pile drivers of Rider 3's TriCyclone. Gaim ultimately fell short of the Top 2 in which Drive prevailed over Rider 3.
Once Rider 3 was integrated into the Great Leader of Shocker's Rider Robo form, Skyrider was among the Riders who attacked the trio of Black RX, Faiz and Mach. Ultimately, the Double Riders 1 and 2 made their appearance having survived their apparent demise from within the Rider Robo, and broke Shocker's brainwashing on the fallen Riders, enabling all Riders to unite in a final battle against Shocker.
Surviving the onslaught of the History Modifying Machine, Gaim fought and destroyed Shocker's Over Lord Inves Demushu with the Orange Squash Rider Kick shortly before the Rider Robo was destroyed along with the machine by Shurikenjin Tridoron

. Among the remaining Riders who witnessed the farewell of Kyoichiro Kuroi as the perversion of history was reversed, Rider's place in history was restored.

Kamen Rider Ghost: Legendary! Riders' Souls!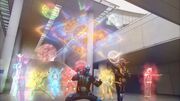 Kamen Rider Ex-Aid
Dr. Pac-Man vs. Ex-Aid & Ghost with Legend Rider
In light of the Next Genome Institute crisis, Gaim would join the battle with his fellow Kamen Riders. Returning to Earth from his new homeworld, Gaim reunited with his old allies Haruto and Shinnosuke, the latter of whom he allowed to become a Kamen Rider again having retrieved Mr. Belt from the Drive Pit. Appropriately engaging the samurai-motifed Giril Bugster, Gaim eventually defeated her through an advancing succession of his Arms culminating in Kiwami. Taking his leave after the destruction of Genomes brought about the fall of the Institute, Kouta returned to the Helheim planet, returning to Mai's side as Man of the Beginning. Kamen Rider Heisei Generations: Dr. Pac-Man vs. Ex-Aid & Ghost with Legend Rider

Kamen Rider Ex-Aid "Tricks": Kamen Rider Genm
Despite not appearing in the web-exclusive series, Gaim and 13 Heisei Riders were the projections of the Ganbarizing Critical Strike.


Chou Super Hero Taisen
A Game World version of Gaim participated in the game Chou Super Hero Taisen as part of Team TAKAIWA. The team faced Team JIRO and had already been knocked out by the final round.

Kamen Sentai Gorider
Maze 1: Emu, is dead?
Kouta Kazuraba appears in a flashback when Kaito Kumon remembers how he died with the other riders to Emu Hojo.Maze 1: Emu, is dead?
Kamen Rider Heisei Generations FINAL: Build & Ex-Aid with Legend Riders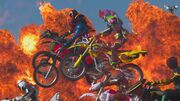 In the planet of Helheim, Kouta telepathically sensed the occurrence of two worlds about to collide, due to the machinations of Kaisei Mogami. Realizing Mogami's intentions and figuring out that the researcher would be making his move on the Helheim planet along with the Forbidden Fruit as well, Kouta arrived on the World of Build and revealed Enigma's presence to Sento Kiryu and Parado by kicking it. He assisted by fighting the army of X-Guardians summoned by Enigma, while Parado and Sento headed on their way inside the machine.
As Enigma was fully activated, setting both worlds for their collision, Gaim regrouped with fellow Riders OOO, Fourze, Ghost, Ex-Aid, and Build on the prime world and assisted in battling the army of X-Guardians as Ex-Aid and Build fought the BiKaiser. After BiKaiser's defeat and Enigma's destruction, Gaim, along with the other Riders, gave Build and Cross-Z their well wishes as they headed back to their own world.

Kamen Rider Build: Be The One
Among the first 18 Heisei Riders, Gaim fought against numerous monsters in a melee briefly witnessed by Sento Kiryu before being caught in the crossfire as Kamen Rider Zi-O BuildArmor used his Vortex Time Break to wipe out his enemies. Kamen Rider Build: Be The One
Kamen Rider Heisei Generations Forever
While on the Helheim Planet, Kouta sensed Takatora Kureshima in a pinch and possessed Aym's body on Earth. Takatora laments for not having changed from being the ruthless man he was once before, but Kouta assures him that he did change into a better person nonetheless. Kouta would then grant Takatora a personal Kachidoki Lockseed to use in a pinch before leaving Aym's body.
Video Game Appearances
to be added
Gaim appears with the rest of the Primary and Secondary Neo Heisei Riders.
Battride War
Gaim acts as the protagonist in Battride War II, which begins with him, Baron, and Ryugen being summoned by Cinema to create the "ultimate movie". Gaim's role in the plot covers Kamen Rider × Kamen Rider Gaim & Wizard: The Fateful Sengoku Movie Battle (Gaim's portions), with Bujin Gaim serving as the main antagonist. Gaim has access to Orange, Pine, Ichigo, and Jimber (Lemon) Arms, with Kachidoki Arms serving as his Ultimate Form. Kiwami Arms was later released as free DLC, but is treated as a separate character (as the previous game did with Wizard Infinity Style and Beast Hyper). Gaku Sano voices all variations of his character in the game.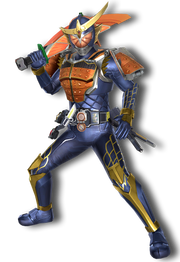 Gaim once again appears as a playable character in Battride War Genesis, this time with a few noteworthy changes to his movesets. Firstly, Jimber Lemon Arms has a more complete move set that draws from the Gaim Gaiden movies (in the previous game, it only had one special attack, the Sonic Arrow). Secondly, the player can choose which powered-up forms Gaim uses: Kachidoki Arms and Kiwami Arms, or Suika Arms (which acts as both Super and Ultimate Form, receiving a power boost for the latter).

Gaim appears in this game, with Orange Arms as the default form. His attack forms include: Pine Arms, Ichigo Arms, and Jimber Lemon Arms. His Skill is Kachidoki Arms, and his Evolution is Kiwami Arms.
Personality
Kouta is a cheerful person who concerns himself with helping and protecting everyone and due to this, "protecting people" is his very reason in fighting when it comes to his duty as an Armored Rider. This is shown when he rescues the Yggdrasill Corporation scientists from a horde of Elementary Inves despite holding a grudge against them for using the Beat Riders dance crews and their Inves Games as tests and lab rats (this also includes the Armored Riders).
Still learning to live as an adult, his world view is very limited and as such, he is very naïve and can be oblivious to consequences and the price that comes with having great power. He does not have any interest in battling other Riders, or anyone if he can avoid it for the matter and decides that he and other Riders should use their powers to save humanity.
Initially due to his inexperience and naiveté, he foolishly and recklessly used the power of Gaim for his own personal gain such as using it for his part-time jobs (and failed spectacularly to boot) and battling at the Inves Games. As such back then, he regarded himself as nothing more than being lucky to have found the Sengoku Driver and saw the whole thing as little more than a game. But after a short encounter with Zangetsu, Kouta felt stressed and traumatized but recovered and realized the price that comes with such power.
However, during the course of the series, Kouta undergoes numerous changes, becoming a lot more assertive and serious when it comes to innocent lives being taken. Although his naiveté has yet to change, he views himself more than what he was before. Because of this confidence in him, he resolves to become stronger and stronger. When he clashes ideals against Takatora during their second encounter, his resolve and beliefs overpower Takatora. However, Kouta undergoes a breakdown after realizing Yuya died by his hands, destroying his beliefs along with him.
Even after recovering from this breakdown, Kouta's naïve concerns of protecting others allows him to become a wild card in DJ Sagara's plans as he knows that Kouta's act can be almost unpredictable and Kouta himself has no ulterior motive compared to his fellow Armored Riders and New Generation Riders. Despite this unwavering resolve, Yoko asks Kouta what will become of him after he protects everyone to which he has no real way of responding to that.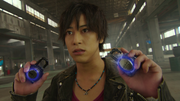 Despite Kouta wanting to protect people and stop unnecessary bloodshed, Kouta himself isn't without his dark moments. After defeating Sid in a fit of rage realizing that Yggdrasill intends to destroy Zawame City if they ever found out about the Helheim Forest, he intended to take Sid out after his transformation was canceled if it were not for Ryugen summoning an Inves to save Sid. However, since the realization of Yuya's death, Kouta resolves not to kill and not to have unnecessary bloodshed. This is most evident when he had multiple opportunities to kill Sid when trying to find the Over Lords along with the opportunity to kill Yoko Minato after he canceled out her transformation when he was in Kachidoki Arms. In both scenarios, he showed restraint and moved on to more important matters at hand. Along this fact, he tried to cancel the fight between Demushu and Baron and later the fight between Zangetsu Shin (Mitsuzane) and Baron Lemon Energy Arms (Kaito). However, his inner darkness overtakes him during Golden Fruits Cup! where he ruthlessly attacks Mitsuzane, Kaito, and Yoko in his "Black Jimber Arms" with his personality inverted compared to how he normally is.

In his final battle against Kaito, however, he is forced to kill the latter as the latter threatens to destroy the world by obtaining the Golden Fruit, thus making Kaito the only person Kouta kills intentionally.
In his final appearance in the series as the Man of the Beginning, Kouta's friendly, pacifist personality remains the same, but his bearing has changed to that of a ruler, with a constant aura of dignity, power and authority surrounding him. He is more soft-spoken and more mature, able to reassure the doubts of the Kureshima brothers after the events of the final battle strained their relationship. Despite how much he has grown, he still has something of an inner child and a bit of a silly side, as shown when he had to get help from Drive with his seatbelt while in Tridoron. Notably, Kouta seems to see himself as a god once becoming the Man of Beginning, having introduced himself as one to Shinnosuke Tomari/Kamen Rider Drive.
During battle, he would announce, "This is my (our) stage now!" (ここからは俺(たち)のステージだ!, Koko kara wa ore(-tachi) no sutēji da!). He would often take a horse stance before charging into battle.
Powers and Abilities
Powers
Imagination: Being one of the few adults possessing Imagination, he can see the Ressha of the ToQgers.
Over Lord Physiology: Being affected by the Forbidden Fruit's powers due to the usage of Kiwami Arms, Kouta gains some of the Over Lords' powers, which are then further enhanced after eating the Fruit of Helheim. However, he only utilizes his Over Lord powers whenever he needs to.

Helheim Plant Generation: He has demonstrated the ability to turn an empty lot into a field of Helheim plants.
Helheim Plant Control: He can freely control Helheim flora, and even override other Over Lords' manipulation over the flora.
Fruit Transmutation: He can turn a broken Lockseed back into its fruit form, before restoring its intact state.
Crack Creation: He can open countless Cracks to summon Inves from the Helheim Forest. Kouta gains this ability when he eats the Fruit of Helheim to stop Kaito's rampage.
Regenerative Healing Factor: He has increased health regeneration, allowing him to take lethal damage and still able to recover shortly afterward.
Man of the Beginning: After eating the Forbidden Fruit, Kouta becomes the Man of the Beginning and gained God-like powers, which can reimagine the world at will. Unlike Rosyuo, Kouta prefers close quarter combat, only utilizing his powers whenever he needs to.

Enhanced Crack Creation: He can open a huge Crack which leads to a planet at the edge of the universe.
Teleportation: He can turn himself into energy and travel to another planet via his huge crack.
Reality Manipulation: He can globally control any number of objects, bypassing all physical laws of science. He used this power to drag all Inves and Helheim flora around the world to the huge crack.
Telepathy: He can read other people's minds and thoughts and also telepathically communicate with them. This has shown when he read Mitsuzane's mind and responded to him after he felt helpless from being defeated by Kohgane.

Mind Control: He can take control of the body of any human in Earth. Kouta possessed Aym in order to speak to Takatora.
Dream Manipulation: He can penetrate anyone's dreams to communicate with them, even when Kouta himself is currently at the edge of the universe.

Telekinesis: He can effortlessly stop and cancel attacks. He showcases this ability by stopping a Darkness Squash from Kamen Rider Jam.
Transmutation: He is able to change his form to match what he looked like before becoming the Man of the Beginning. This ability will switch to his human form wearing normal clothes.

Instantaneous Transformation: He can transform directly into Kiwami Arms without the need of either a Sengoku Driver or having the Lockseeds on hand. The Driver with attached Lockseeds do still appear around his waist with full functionality though. With this skill in mind, it is possible he can transform into any other Arms of his choice. However, while he has this ability, he still has a choice whenever he wants to make the effort to actually insert his Lockseeds for a manual transformation.

Healing: He can heal someone with serious brain damage, even though Kouta himself is currently at the edge of the universe.
Exorcism: He can remove Kohgane from his human host effortlessly.
Mediumship: He can see and presumably communicate with souls.
Invisibility Awareness: He is able to detect an invisible Enigma and reveal it to his allies.
Limited Temporal Protection: As the Man of the Beginning, Kouta is able to preserve his current self from changes to the timeline for a limited period of time, as revealed when history was altered resulting in the creation of Another Gaim. His present self was then completely erased from time after Zi-O defeats Another Gaim.
Dimensional Travel: He is able to travel to the World of Build without using the Enigma.
Time Travel: Kouta can time travel, as such when he goes to 2013 to contact Sougo Tokiwa.
Abilities
Skilled Combatant: To be added
Master Acrobat: Kouta is proven very agile and evasive, able to fluidly dodge attacks from multiple directions with coordinated flips, twists, and sharp turns without losing balance. Hence, he dodged attacks from Duke with coordinated flips and twists, and dodged all the energy arrows using backflips as well as dodged attacks from Grasshopper Monster with coordinated flips and twists. However, he is unable to utilizes these talents in combat which can only for evasive purposes.
Indomitable Will: According to Takeshi Hongo/Rider 1 from Ryo Murasame/ZX, Kouta's heroic potential as a true Kamen Rider is much more powerful than other primary Riders. This ability is revealed when he released most of the sealed Riders from the Lockseeds' seals, turning him into a living magnet and absorbs them by unsealing the Riders who were sealed within Helheim, thanks to ZX's Micro Chain assisting him in breaking the glasses where the Rider Lockseeds were held.
Arms
Like his fellow Lockseed-using Armored Riders, Kamen Rider Gaim's forms are called Arms (アームズ, Āmuzu). His Sengoku Driver plays Japanese horagai music and announces "Soiya" (ソイヤ, "Soiya") before every transformation, except when he transforms into Kiwami Arms, while his personal Lockseeds are styled with a mix of Japanese words and English words. With the exception of Suika Arms, all of Gaim's Japanese Samurai, Ninja and Shogun-themed Arms' helmets share the title Kabuto (カブト, Kabuto lit. "Helmet"), while his visors are called Pulp Eye (パルプアイ, Parupu Ai).
By pressing the Sengoku Driver's Cutting Blade down on the Lockseed after transforming from one to three times, Gaim can activate one of three finishing moves based on his current Arms form: Squash (スカッシュ, Sukasshu), Au Lait (オーレ, Ōre), or Sparking (スパーキング, Supākingu). In addition to the Sengoku Driver's finishing moves, Gaim can perform either a Fruits Charge (フルーツチャージ, Furūtsu Chāji) or Sonic Volley (ソニックボレー, Sonikku Borē) finishing attack by inserting a Lockseed into the attachment slot of either his Musou Saber, Sonic Arrow, or Hinawadaidai-DJ-Ju.
Black Jimber Arms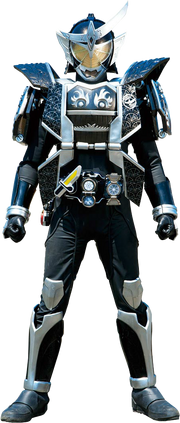 "Soiya! Mix! Jimber Lemon! Ha-Ha! "
―Transformation announcement
Rider Statistics:
Rider Height: 206 cm
Rider Weight: 110 kg
Ability Parameters:
Punching Power: 16 t
Kicking Power: 20 t
Maximum Jump Height: 21 m
Maximum Running Speed: 100 m per 5.7 seconds
Black Jimber Arms (ブラックジンバーアームズ, Burakku Jinbā Āmuzu) is Gaim Yami's default orange/lemon-based default form that is accessed through the simultaneous use of the Dark Orange Lockseed and Dark Lemon Energy Lockseed.
While assuming Black Jimber Arms, Gaim Yami dons the Black Jimber Armor Part (ブラックジンバーアーマーパート, Burakku Jinbā Āmā Pāto) and his enhanced skill is identical to the original Jimber Lemon Arms; increased strength and a boost in power. Unlike Gaim's Jimber Arms, Gaim Yami utilizes the Musou Saber instead of the Sonic Arrow (though he does utilize it in Ganbarizing).
This form is exclusive to Kamen Rider Gaim: Great Soccer Battle! Golden Fruits Cup!.
Byakko Inves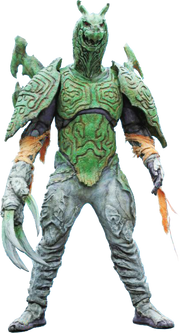 Height: 230 cm.
Weight: 157 kg.
In a dream placed by Redyue, Kouta had his role with Yuya Sumii reversed, causing him to become the Byakko Inves (ビャッコインベス, Byakko Inbesu, White Tiger Inves) and Yuya to become Kamen Rider Gaim. Kouta eventually managed to escape and fight Redyue.
This form is exclusive to Gaim Episode 40.
Man Of The Beginning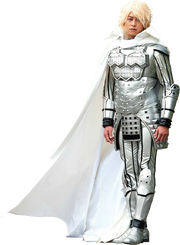 After Kouta receives the Forbidden Fruit and eats it, he turns into a white haired and silver armored version of himself, which looks similar to Kiwami Arms with a chestplate resembling part of Matsubokkuri Arms' breastplate. His right eye also becomes red in color, similar to the Woman of the Beginning. This is Kouta's most powerful form in that it has God-like powers. Shortly after this transformation, Kouta sends all of the Helheim plants and Inves to a distant planet and leaves with Mai to terraform said planet into a new Helheim. When Kouta returns to Earth, he is able to transform directly into Gaim Kiwami Arms either with a simple call of "Henshin", Transform! And to the Future or by summoning his Sengoku Driver appearing with the Kachidoki Lockseed already in place before inserting the Kiwami Lockseed. Movie War Full Throttle
As a Man of the Beginning, Kouta is able to create new life with the same restriction as the Femushinmu Man of the Beginning, Rosyuo. This means he is unable to revive people if they die. Kouta manages to circumvent this by utilizing the Kiwami Lockseed such that whenever he dies, a simple activation of the Lockseed by someone (except for Megahex) would enable him to revive.
Appearances: Gaim Episodes 46, 47, Movie War Full Throttle
Equipment
Devices
Weapons
Other Equipment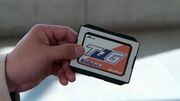 Rainbow Pass (

レインボーパス

Reinbō Pasu

) - A special cellular-like device that all of the ToQgers possess, functioning as their belt buckles and communicators. In the ToQger Vs. Gaim Special, Narutaki had an orange-colored Rainbow Pass before giving it to Kouta, allowing him to enter the Ressha, who then gave it to Mai to try to get her out of Zawame City. Given the fact the Rainbow Passes are the paper passes that Right and the others all used as kids, it's unknown how Narutaki gained one.
Vehicles
Legend Rider Devices
Behind the Scenes
Portrayal
Kouta Kazuraba is portrayed by Gaku Sano (佐野 岳, Sano Gaku), 2011 Junon Super Boy Contest Grand Prix winner. Sano said that he grew up wishing he could be the character from Kamen Rider Kuuga, and now that he will portray Kamen Rider Gaim which he hopes that he will inspire a new generation of boys.[13][14]
As Kamen Rider Gaim, his suit actor is Seiji Takaiwa (高岩 成二, Takaiwa Seiji), who has been the suit actor for the majority of leading Heisei Kamen Riders (except Kuuga and Hibiki).[15] In Movie War Full Throttle, his suit actor was Eitoku (永徳, Eitoku).
During the early stages of casting for Gaim, Masei Nakayama was rumored to portray Kouta, but this was debunked. Nakayama would later on portray Raiga Saezima in GARO: Makai no Hana.
Rider No.
As the leading Rider protagonist of Kamen Rider Gaim, Kouta Kazuraba (Kamen Rider Gaim) is labeled Kamen Rider #30 (仮面ライダー30号, Kamen Raidā Sanjūgō) and Heisei Rider #15 (平成ライダー15号, Heisei Raidā Jūgogō). Quiz! Decade Countdown!!
Popular Culture
In the live action of Hell Teacher Nube (地獄先生 ぬーべー, Jigoku Sensei Nube), a student named Shuichi Shirato claims that they ate the Fruit of Wisdom. Coincidentally, Shirato is played by Gaku Sano, who also played Kouta.[16]
Notes
Kouta is the first primary Rider since Tsukasa Kadoya who does not make his debut as a cameo appearance in the Summer Movie of his predecessor, instead debuting in the final episodes of that series.

He is also the first primary Rider since Wataru Kurenai who does not meet his successor before the end of his series at any point.

As the fifteenth leading Heisei Rider, the Heisei era equaled the Showa era in main Riders during the airing of Gaim, as Kamen Rider J is officially considered the 15th Showa-Era Kamen Rider. Thus, Gaim is also the 30th main Rider overall.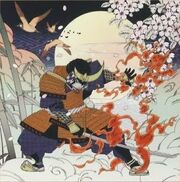 At the back of Kouta's Team Gaim jacket has a picture that consists of a samurai that resembles Kamen Rider Gaim's Orange Arms. Considering the half-moon crest and one missing eye, the samurai can be proved to be famed warrior and tactician Date Masamune.

This might also confirm a basis on Date Masamune, with the moon crest and a singular eyepiece, unlike the other Riders within the show, who have two eyepieces.
Gaim's Kiwami Arms was inspired by the armor of Oda Nobunaga, with the Kiwami Kabuto borrowing design choices from Uesugi Kenshin while keeping true to Gaim's Date Masamune design.

Kouta's first transformation occurs without him saying "transform" first, similar to Yusuke Godai when he willingly transformed into Kuuga Growing Form for the first time. On a comical note, when Kouta transforms and the Orange Arms falls onto his head, the suit formed and the series immediately went into its commercial break, imitating the "pre-default" form Kuuga has.
Kouta's birthday is revealed to be January 30. Like Kaito, he is 20 years old. With a text message placing the first episode as having taken place on its airdate, October 6th, 2013, Kouta's birth year would be 1993.

In real life, Kouta's actor, Gaku Sano, was born on April 3rd, 1992.
It is also known that Kouta's actor is 15 cm shorter than Ryoma Takeuchi, Shinnosuke Tomari's actor. This difference is highlighted and followed by their Rider forms in Kamen Rider × Kamen Rider Drive & Gaim: Movie War Full Throttle, during the scene where both of them are inside a realm created by Mai, but once they exit the world, their Rider form's heights are almost the same, possibly due to the directors wanting the heights of their characters (as well as other main Riders) to be around the same.

Kouta's acrobatic ability is carried over from his actor, who has himself performed some of the stunts in character in the series.
Gaim's Kachidoki Arms' battle catchphrase "Iza Shutsujin!" is a reference to battle cries used by the ancient Feudal samurai to lead their armies to the battlefield.
Gaim Yami's Black Jimber Arms is similar to previous dark Kamen Riders: specifically, Kamen Riders Ryuga and Dark Kabuto, dark recolors of the main Rider.

However, Gaim Yami is the first to be a recolor of the main Rider's upgraded form instead of the main form, as well as the first dark-colored Kamen Rider to be an alternate personality form of the main Rider's main Rider form himself.

Kouta is the first Primary Rider to not have an Extra Final Form since Kabuto.
Kouta is the first lead Kamen Rider in the Heisei Phase 2 era whose Final Form does not have its own exclusive weapon. Even though Kiwami Arms can utilize all of the Arms Weapons, it does not possess its own personal Arms Weapon.

This occurrence would later become standard of the Riders succeeding him. The next main Rider to have his own weapon exclusive to his final form would only appear seven years later.
However, in the toy line, Kiwami Arms' personal Arms Weapon would most likely be the combination of the Daidaimaru, Musou Saber, and Hinawadaidai-DJ-Ju known as Sojinto Mode, as this is the only form where that combination would be possible to achieve.

Kouta's costume as the Man of the Beginning contains recycled parts from Gaim's Kiwami Arms, as well as Kurokage's Matsubokkuri Arms chest piece.
Gaim's Kiwami Arms strikingly resembles Hakumenrou from Ninja Sentai Kakuranger.
He is the first primary Heisei Rider to be dubbed a Kamen Rider by a Monster, although Kamen Rider Beast did indirectly refer to him as one beforehand.
He is the only main Armored Rider to use more than one Rider Lockseed in the Movie War films (Baron, Ryugen, and Zangetsu have only used one each). The Riders Gaim has used are Wizard and Drive. Incidentally, both Arms are red, have some silver accents, wield a sword-type weapon, and are the Riders that came before and after him.
In the Arms Change line, for some reason, the Door-Ju is included in ACSP: Kamen Rider Gaim Drive Arms, even though Kouta did not use it in the movie.
Legend Rider Lockseeds
The following Legend Rider Lockseeds are styled for Kurokage, as well as Gaim, Bujin Gaim, and Kamuro:

1 - "Waza no Ichigō, Let's go!"
2 - "Chikara no Nigō, Let's go!"
Riderman - "Kagakusha Met On!"
ZX - "Jūgō Cyborg Ninja!
Black - "Seiki Oh Black Sun!"
Shin - "Kaizou Heishi Level 3!"
J - "Shingeki Jumbo Formation!"
Shocker - "Jigoku no gundan on Parade! Eeeee!"
Great Leader - "Shihaisha of the World!"
Shocker Rider No.1 - "Nise no Hero, Dead Go!"
Kabuto - "Ten no Michi My Way!"
Decade - "Hakaisha on the Road!"
Skull - "Otoko-michi Hardboiled!"
Wizard - "Shabadoobi Showtime!"
Gaim - "Fruits Yoroi Musha on Parade!"
Drive - "Hitoppashiri iza Together!"
Appearances
References