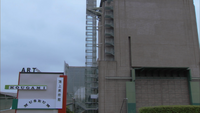 The Kougami Art Museum (鴻上美術館, Kōgami Bijutsu-kan) was a museum owned by the Kougami Foundation. Aside from famous artwork it held the sarcophagus of the sealed Greeed. Eiji Hino became a security guard for the museum where he was drugged by two thieves. While the thieves were robbing the artifact chamber blind, the right forearm of the Bird Greeed, Ankh unlocked the seal releasing the other four Greeed. During the Greeed's outbreak and attack against the Kougami Foundation's Ride Vendor 1st Squad the museum was destroyed and left Eiji unemployed again.
Community content is available under
CC-BY-SA
unless otherwise noted.