In 2012, Kosuke Nitoh (仁藤 攻介, Nitō Kōsuke) was Kamen Rider Beast (仮面ライダービースト, Kamen Raidā Bīsuto), until the creation of Another Wizard erased the Rider's history.
History
Kamen Rider Zi-O
Magic Showtime 2018
In 2018, Kosuke encountered Geiz when the latter was about to fight Another Wizard. However, he nearly got spotted by him which Geiz notices that Kosuke has two Ridewatches in his possession before leaving. Magic Showtime 2018
Beauty & Beast 2012
Kosuke continues to observe Geiz, until the latter founds his tent as he reveals himself to Geiz. He then takes out the two Ridewatches to Geiz, knowing what the devices are, but he doesn't have any memories of obtaining them in the first place which causes him to not hand the devices to Geiz until he gets his memories back. Later, Geiz returns to Kosuke's tent and waits for Another Wizard's defeat which results with Kosuke regaining his memories. Despite this, Kosuke transforms into Beast to fight Geiz, until he calls the fight off. Kosuke then gives Geiz the Wizard Ridewatch but keeps his own Ridewatch instead before Geiz heads to 2012 to stop Another Wizard. Sometime later, Kosuke is seen leaving to an unknown destination. Beauty & Beast 2012
Forms
Beast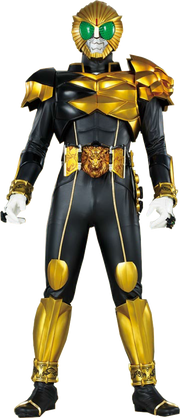 "Set, Open! L-i-o-n, Lion! (Lion roar)"
―Transformation announcement
Height: 198 cm.
Weight: 94 kg.
Rider Stats
Punching Power: 5.3 t.
Kicking Power: 7.5 t.
Maximum Jump Height: 31 m.
Maximum Running Speed: 100 m. per 4.6 sec.
Beast has the ability to absorb the Mana (magical energy) of defeated Phantoms and Ghouls, which take the form of his personal symbol in order to be absorbed into the Beast Driver, allowing the mana to be consumed by his inner Chimera Phantom. When the Beast Ring is set into the Beast Driver and turned the opposite way he used to transform, he can initiate the Strike Beast (ストライクビースト, Sutoraiku Bīsuto) finisher.
Arsenal
Devices
Weapons
Behind the scenes
Portrayal
Kosuke Nitoh is portrayed by Tasuku Nagase (永瀬 匡, Nagase Tasuku). As Kamen Rider Beast, his suit actor is Jun Watanabe (渡辺 淳, Watanabe Jun).
Notes
To be added.
Appearances
External Links
References
Community content is available under
CC-BY-SA
unless otherwise noted.