Kobe Sakamoto (坂本コービー, Sakamoto Kōbī) was a School Teacher-Type Humagear that was hacked by Jin and given a Zetsumerisekey to transform into the Mammoth Magia (マンモスマギア , Manmosu Magia).
Character History
Magia Form
Mammoth Magia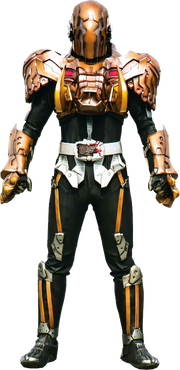 "Zetsumerise!"
―Transformation announcement
Statistics
Height: 188.1 cm
Weight: 146.8kg
Kobe transforms into the Mammoth Magia (マンモスマギア, Manmosu Magia) by using the Mammoth Magia Zetsumerisekey in the Zetsumeriser.
Arsenal
Exhaler (エクスヘイラー Ekusuheirā): The mammoth trunk located on the chest. The Mammoth Magia is able to use it to absorb incoming projectile attacks and redirect it back to its enemy. It can also blow powerful gusts of wind.
Abilities
Energized Tusks: The Mammoth Magia can charge its tusks with energy and expand them in an energy strike.
Superhuman Strength: The Mammoth Magia possesses superhuman strength and endurance.
Appearances: Zero-One Episode 7
Equipment
Behind the Scenes
Portrayal
Kobe Sakamoto is portrayed by Ken Kaito (

海東健

Kaitō Ken

)
Etymology
The Mammoth Magia is named after Mammoths (Mammuthus), an extinct genus of trunked animals similar to elephants that lived from the Early Pliocene epoch to the Late Holocene epoch and are closely related to modern elephants.
Concept Art
Mammoth Magia was designed by Sojiro Tanaka (田中 宗二郎, Tanaka Soujiro).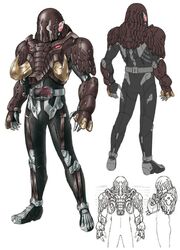 Notes
The Mammoth Zetsumerisekey is the first Zetsumerisekey to have a Progrisekey counterpart, the Breaking Mammoth Progrisekey.
The Mammoth Magia is the first mammoth-themed monster since Arimammoth.
Kobe's name is in reference to the late American former professional basketball player, Kobe Bryant, who in turn was named after the famous Japanese beef, kobe.
Appearances
References
Community content is available under
CC-BY-SA
unless otherwise noted.