Wiki Targeted (Entertainment)
Play Sound
"Now we're revving it up!"
―Lazer's pre-battle catchphrase
"(Level Number) Gear!"
―Lazer's pre-Level up transformation catchphrase
"Gear Blast!"
―Lazer Turbo's pre-level up transformation catchphrase
"I'm on board!"
―Lazer exclamation when he wants to be involved in battle
Kiriya Kujo (九条 貴利矢, Kujō Kiriya), also spelt as Kiriya Kujyo, was a medical examiner of Seito University Hospital. He obtained a Gamer Driver and the Bakusou Bike Gashat to transform into Kamen Rider Lazer (仮面ライダーレーザー, Kamen Raidā Rēzā).
After being revived as a Bugster by Masamune Dan, Kiriya receives a copy of the Bakusou Bike Gashat that allows him to transform into Kamen Rider Lazer Turbo (仮面ライダーレーザーターボ, Kamen Raidā Rēzā Tābo).
After helping CR to create an antibody for the Gamedeus Virus with Kuroto, he became an official member of CR.
History
Background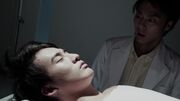 "Bugster Virus Infection. A life-threatening illness. These are secret documents obtained from the Health Ministry. Your symptom match what it describes."
―Kiriya informing Jungo of his condition.
Before the events of Zero Day, Kiriya discovered through files he took from the Ministry of Health that his friend Jungo Aihara had been afflicted with a mysterious sickness - the Game illness, which was a potentially fatal virus. While Kiriya informed Jungo of his findings, his friend was unable to accept the reality that he was going to die and freaked out and ran away, leading to his death in a traffic accident. Kiriya was devastated by the passing of his friend, and grieved over Jungo at the morgue. He blamed himself for revealing the truth, and lamented that his friend would not have died had he kept it to himself. Consequently, the incident caused Kiriya to believe that telling the truth might not always be the best thing to do.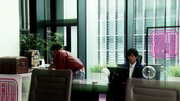 Two years later, Kiriya Kujo discovered about Zero Day and the Bugster three years before the series. Confronting the Genm Corp. CEO, Kuroto Dan, about this information, he blackmailed Dan into giving him a Gamer Driver and the Bakusou Bike Gashat in exchange for his silence. With the belt and Gashat, he is capable of becoming Kamen Rider Lazer.
Secrets And Lies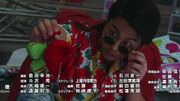 "I simply must...join in this race."
―Kiriya Kujo
Three years later, Kiriya appeared at the venue for the Mighty Action X launch party following the Bugster's rampage, voicing to himself that things are getting interesting and that everyone is raring to start the race. From afar, Kiriya continues to watch the efforts of the Kamen Riders before making his official presence.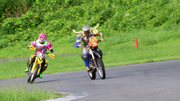 Kiriya appeared in pediatrics along with the patient, Yoshitaka Nishiwaki. He requests Emu to save the patient, and in return, he'll retrieve Emu's Gashat from Taiga. Kiriya meets up with Taiga and challenges him to defeat the Bugster in exchange for Emu's Gashat to which Taiga agrees. They managed to extract the Bugster in their Level 1 forms and Lazer was able to steal the Mighty Action X Gashat when Snipe was distracted by Brave. While Lazer then levels up into Level 2, which takes up the form of a racing bike, he is unable to reach his full potential unless a Kamen Rider rides with him. He forms a partnership with Emu and defeat the Bugster, Motors, together. However, Kiriya quickly turns on Emu and reveals that he was using Emu to obtain a sample of the Bugster virus to learn more about them. However, before he is able to achieve his goal, Genm appears, destroying the dying Bugster in the process.
Whenever Kiriya made his presence among CR, he would often lie to them and hide secrets that would keep them in the dark. After Genm Corp.'s four new Gashats were stolen, Kiriya allegedly stated that the Gashat thief is the mysterious "Black Ex-Aid", only to turn out to not be the case. During a fight against the Black Ex-Aid, Kiriya was badly injured and brought to Seito University Hospital as Kiriya remained unconscious during recovery.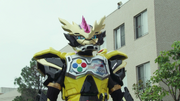 "Telling the truth isn't always the right choice. The truth...can ruin people's lives!"
―Kiriya's thought about "truth".
After he finally awoke in the hospital bed, Kiriya noticed the old patient beside him, Yoshio, had immediately developed Game Illness. However, everyone in CR still not believe him because he lied to them on previous occasions. Kiriya believed that sometimes, you need to lie in order to make things better. Emu would agree to work together with Kiriya in to combat the Collabos Bugster and managed to claim the Giri Giri Chambara. This allowed Kiriya to level up into Chambara Bike Gamer Level 3 and revealed that he knew the "Black Ex-Aid" was Genm Corp. CEO, Kuroto Dan, the entire time. Although Lazer Level 3 manages to defeat the Black Ex-Aid in battle, Parado switched out with him to fool the other Riders into thinking he lied to everyone again.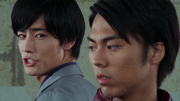 Days later, Kiriya contacted Kuroto Dan to meet below a bridge. He angrily states that thanks to Dan's scheming, everyone now labeled him as a liar. Dan simply said that he deserves that. Kiriya and Dan transformed into Lazer Chambara Bike Gamer Level 3 and Genm Sports Action Gamer Level 3 and fight. While Genm is finally overpowered by Lazer's sheer power, their battle ended in a draw after striking their finishers. Kiriya asked why Dan is colluding with the Bugsters, Dan said that it's to know the origin of the Bugsters, the same Kiriya wants to do. Dan also mentioned that for the one who becomes a Kamen Rider, they must undergo a compatibility surgery. Which means all of them had undergone that surgery, except for one. Kiriya realized that the one Dan talking about is none other than the Genius Gamer himself, Emu Hojo.
Determining to understand Emu's unique condition, Kiriya got Emu's medical records from the hospital and began investigating the only surgery in the records. The search led him to Kyotaro Hinata, the current director of the Ministry of Health and the surgeon who performed the operation. Kiriya found Hinata in CR due to the latter's Bugster infection, but confirmed that he had no involvement with his condition. As Graphite began to cause a widespread infection, Emu used the Drago Knight Hunter Z's power to be equally distributed and joining forces in their final encounter against Graphite.
During Christmas Eve, Kiriya saved Ex-Aid from Drago Knight Hunter Z's influence. Emu decided to put his faith into Kiriya one more time and the two finally worked together properly to fight against the Black Ex-Aid. The other Kamen Riders finally know that CEO of Genm Corp., Kuroto Dan, is the true identity of the "Black Ex-Aid", who christens himself as Kamen Rider Genm. Kiriya discovered Kuroto Dan's goal to collect the data of Gashats. Emu later apologized for not believing Kiriya the first time he announced Kuroto Dan was their enemy and decided to trust him from now on.
Discovering The Truth and Death
"Emu... I leave the fate...of humanity on this planet in your hands. Don't forget. As long as you keep smiling,...you will be who you are! Your fate...Emu...You can change it!"
―Kiriya's last words to Emu before he died
During Christmas, Kiriya met with former Genm Corp. CEO, Masamune Dan, in prison. Through Masamune, Kiriya learned the origin of the Bugster virus, and how Kuroto had masterminded both outbreaks. Using the information he had learned, Kiriya was able to synthesize a method to reprogram the Bugster virus, which he stored on his laptop. After completing this program, Kiriya asked the other three Riders to meet him in a warehouse, intending to share his findings with them. Before, he could meet with them, Kuroto Dan arrived to offer him the Dangerous Zombie Gashat in exchange for his silence. While Kiriya tried to take the Gashat to bring Kuroto to justice, the power of Dangerous Zombie consumed his health gauge a significant amount. Kuroto takes back the Gashat and uses it with the Gashacon Bugvisor to become Genm Zombie Gamer Level X. While Kiriya fought as Lazer Level 3, he is overwhelmed by the strength of Genm Level X and his weak health gauge. Lazer gets obliterated by Genm's critical end and his body starts to digitize. By the time Emu and the other Riders arrived, it was too late for them to do anything. With his dying breath, Kiriya entrusts Emu his Gamer Driver and the responsibility to change the fate of the world, before dissolving into data while Emu wept over him in the heavy rain.
Post-Mortem
Before his death, Kiriya had already left behind valuable data on programming which can counteract the infection of the Bugster Virus. It was revealed that he was looking for a way to stop the Bugsters by searching for the very first strain of the Bugster virus, which turned out to be Emu. He stored this data onto his personal laptop, which his colleague Yoshitaka would later give to Hiiro. This program was later used as the main component for the creation of the incomplete Maximum Mighty X Gashat, which would be used by Emu to access the Maximum Gamer Level 99 and defeat Genm.
Revival as Lazer Turbo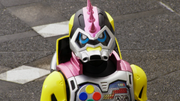 Hiiro is tasked by Masamune to defeat Emu and obtain Kiriya's Gamer Driver. Masamune then revives Kiriya as a Bugster to become his "left-hand man" against Parado and Graphite. Kiriya uses a new Bakusou Bike Gashat to become Kamen Rider Lazer Turbo, Level 0.
Kiriya is able to use the Proto Shakariki Sports Gashat and Proto Jet Combat Gashat to access his upgraded forms, defeating Kuroto Dan in their first encounter after his revival. In his second battle with Emu, Kiriya uses Aranbura as a shield to absorb Emu's finisher, before Emu slashes Kiriya with the same finisher, hence trying to reprogram him. This was, however, proved wrong, as Kiriya kicked Emu in the face and confirmed that he obeyed Cronus' orders of his own free will. He then grabbed Emu by the collar and whispered something which made Emu mad and punched him, exclaiming that Kiriya is not his friend anymore. Later, after Cronus helped Kiriya to escape, Kiriya was seen standing in the rain and showing an ambiguous but enthusiastic smile.
Lazer Turbo accompanied Cronus and Brave as they confront Ex-Aid, Genm, and Snipe. When Ex-Aid attempts to use Hyper Muteki for the first time to combat Cronus' Pause ability, he fails to activate the Gashat and Masamune manages to swipe it away. Back at the Genm Corp. head office, Kiriya learns of Masamune's goal to take advantage of the Kamen Rider Chronicle death toll as motivation for the customers to keep playing as he sought to destroy the Ride-Players in one of the game's quest. During the day, Kiriya defeats Emu in battle and rewarded the Hyper Muteki Gashat. Lazer Turbo later attacks Cronus and he revealed his ruse and how he was working undercover the entire time. Giving the Gashat back to Emu, Kiriya was present to witness Ex-Aid Muteki Gamer taking down Cronus in battle. After the battle, Kiriya collected all the Proto Gashats back to CR. To make sure his plan wasn't ruined, he whispered to Emu to play along with his lie so no one suspects him. Despite Kiriya's return, however, Kiriya's still hated Kuroto and declared he will settle his revenge one day.
Kiriya would remain at odds with Kuroto and would work together with him when the situation demands it. After Cronus displayed his Pause ability, Kiriya accompanied with Emu and Kuroto in restoring the Hyper Muteki Gashat, this time with a "Save" function to save their progress and bring forth the last boss Gamedeus.
The Gamedeus Pandemic
With Gamedeus and his Bugster Virus pandemic spreading rapidly, this led to Kiriya and Kuroto infecting themselves with Gamedeus' virus and fighting each other until one of them are able to develop an immunity to the virus. While most of Genm's lives were burned through, Genm and Lazer Turbo finally reach the needed point. After Kuroto completed the Doctor Mighty XX Gashat, Kiriya hands it to Ex-Aid Muteki Gamer to use it against Gamedeus, curing the countless people infected with his virus and severely dropping all of the Bugster's stats. But at the last minute, Masamune barged in and absorbed the Bugster into his own body.
This resulted in the fusion known as Gamedeus Cronus, proclaimed to be Chronicle's true final boss. Kiriya was among the horde who were afflicted by the virus of Super Gamedeus, regressing to a rampaging Bugster Virus. In her last words to him, Poppy told Kiriya not to lie too much. Lazer joined Ex-Aid and the other Riders in the fight against Super Gamedeus using the Level 1 state to separate Masamune from Super Gamedeus, which was neutralized by Doctor Mighty XX through the sacrifice of Parado. Masamune, however, still held Cronus's power and, with the access to Emu's Hyper Muteki gone, declared that the Kamen Riders would face a "Bad End."
Kiriya engaged Cronus as Lazer Turbo in one final stand with the Kamen Riders only to be swiftly overwhelmed. Initiating Pause, Cronus, seemingly victorious, was shockingly beaten back by Ex-Aid, who revealed that Parado's sacrifice had weakened him. Reverting to Bike Gamer Level 2, Lazer and his fellow Riders ultimately succeeded in finally defeating Cronus, however, they were unable to stop Masamune from destroying the Rider Chronicle Master Gashat with himself in a final act of spite, robbing them of their chance to retrieve the Game Disease victims from the Proto Gashats. Back at CR, Kiriya saw the televised speech given by Emu speech on behalf of the Ministry of Health; amused that his name was mentioned as a victim of Game Illness. After arriving at Genm Corp., Kiriya met with the new CEO, Tsukuru Koboshi, with whom he would begin work on creating vaccines to neutralize the Bugster viruses starting with Salty.
Other Events
Kiriya was present during threat of Dr. Pac-Man and the Next Genome Institute as they sought to unleash the Pac-Man Virus. He joined forces with his fellow doctors and Kamen Rider Ghost's allies against the Next Genome Institute.
"We will defend Earth."
―Kiriya to the other Riders
Together with a group of Chou Super Heroes, an iteration of Kiriya emerged from the Game World and quickly transformed into Kamen Rider Lazer Chambara Bike Gamer Level 3 to battle Galaxian Aliens. After Kamen Rider True Brave appeared and defeated the last of the enemies, the Chou Super Heroes returned to the Game World.
As part of Kuroto's plan to revive himself in a backup game, Kiriya was revived alongside other deceased past Riders, such as Kaito Kumon, Yoko Minato and Kaoru Kino to have their negative energies absorbed. With Emu's arrival to clear the game, Kuroto manipulated the event to his advantage by impersonating Kazuma Kenzaki and had been doing this more than a single occasion, evidenced by Emu's memory of being killed several times. When the other three Riders began to suspect Emu as the mastermind, Kiriya was the only one to maintain his trust due to their friendship back then.
When Emu managed to unmask "Kenzaki" as Kuroto(with the real person emerges as well), Kiriya teamed up with the remaining Riders as they utilized the Goriders cards and sacrificed their only chance of revival for both Emu and Kenzaki to escape to the real world.
Sometime before Kiriya's death, he managed to get his hands on Bakusou Treasure, an RPG game that served as a prototype engine to Kamen Rider Chronicle. His data was saved into the game as a supporting character for the player. In the second gameplay, Emu puts his skills as Genius Gamer M to use but was ditched by Kiriya when Genm attacked him by surprise. After tricking Kiriya's program into confessing the truth, the two cooperated for real by outsmarting Genm and Emu using one of the Proto Gashats to defeat it. Despite the game being cleared, Lazer's copy steals the Proto Gashats from Emu, leaving him puzzled.
Meanwhile, in the Game World, the black jacket Kiriya proclaims to start the race as he glared upon the Bakusou Bike Proto Gashat.
Set after the Kamen Riders defeated Kamen Rider Cronus, a new outbreak of the Bugster virus occurs one rainy day as Kamen Rider Fuma and Ninja Gamers launched an attack into the city. While Kiriya investigates the connection between Fuma and Machina Vision, he found himself sent into the Game World by Johnny Makishima. He appears to retain his memories in the Game World. After Ex-Aid arrived and used the power of Mighty Creator VRX to teleport everyone back to the real world, Kiriya's consciousness was returned to his body.
While confronting Kagenari Nagumo on his actions, the true threat arises when Johnny Makishima reveals himself as the "true last boss" and transforms into Gamedeus Machina. While Kiriya joined with the Kamen Riders to combat the Bugster, he was able to overwhelm all of the six that were present. Kiriya accompanied Taiga as they went to storm Machina Vision and fought against Fuma, before confronting Gamedeus Machina. In the end, Ex-Aid Muteki Gamer manages to vanquish Gamedeus Machina and peace has finally returned.
One year later, Kiriya and Asuna are researching and distributing Bugster Vaccines to patients, while Kuroto is back in his arcade cabinet prison, laughing madly as he has developed an unbeatable game. Asuna changes into Poppy and shuts the cabinet off as punishment for Kuroto trying to cause trouble again.
One week after Kamen Rider Build stole Emu's powers, Nebula Bugsters start to appear due to the effects of Enigma, an inter-dimensional gateway connecting his reality to the Build's world. This alerts the CR, who attempt to solve the issue without Ex-Aid, but they are also rendered powerless due to the effects of Enigma, controlled by Right Kaiser. Kuroto Dan eventually created the Kamen Rider Build Gashats in order to enable to Doctor Riders to continue fight while their Earth and Build's Earth were vast approaching, where it was stopped by the united forces between Ex-Aid & Build.
Two years after the Enigma crisis, Kiriya continues to help CR develop regenerative medience to restore the human victims of the Bugster virus back to normal. He later meets Saiko Yaotome, a fellow doctor who is seemingly cooperating with CR to reconstruct their human genes from the Bugster whose virus they had fallen to. Kiriya also developed an immediate attraction to Saiko, which she remains silent over.
After Emu Hojo was attacked by a dark doppelgänger of Parado, Kiriya rushed to his bedside and learnt over the events that happened. He would also inform Emu that he had looked into Saiko's past and confirmed her parents divorced and that her father was Michihiko Zaizen, the same doctor that operated on Emu and Dr. Pac-Man. Furthermore, Saikou has allied herself with Kuroto Dan, who escaped CR's custody, only for him to turn against her for his own agendas.
As Kuroto Dan launched his newest game, Zombie Chronicle to summon multiple Genms in Zombie Game Level X forms. While Kiriya confronted Kuroto, the latter unveiled his God Maximum Mighty X and manages to overwhelm Lazer Turbo as God Maximum Gamer Level Billion. After being saved by Kamen Rider Cronus, Masamune in his final moments imparts the Gasahcon Bugvisor to Kiriya. This allows Kiriya to battle it out with Kuroto as Kamen Rider Lazer X and reset Kuroto's God Maximum Mighty X ability. Kiriya defeats Kuroto as well as the Zombie Chronicle was negated that restoring the infected Zombie Bugsters back to normal. However, Kiriya would fall from the battle and in his final moments with Emu beside him.
However in a surprise turn of events, Kiriya found himself awake in the hospital bed. Saiko managed to recover Kiriya's data using the God Maximum Mighty X Gashat to restore his body back into human form. Kiriya was elated after learning that he is finally human again. After he had recovered, he went back to the area where his final battle took place and left flowers to pay his respects to his rival. Although he thought he had saw Kuroto again, Kiriya decided to not focus on what he seen and walked off in a smile.

to summon Genms in their Zombie Gamer Level X forms as well as providing his own NPC to instruct everyone about his ultimate game: defeating every Genm Zombie Gamer to revive their loved one as a Bugster. Kiriya sworn to defeat Kuroto. Kuroto showed Kiriya his God Maximum Mighty X as he transformed into his Level Billion form. He defeated Kiriya at first but Masamune, who had escaped from his imprisonment by defeating a Genm Zombie Gamer, showed up and transformed into Cronus. Cronus seemingly frozen Genm, but was eventually brutally defeated by his own son. In Masamune's dying breath, he gave Kiriya his Bugvisor II. Kuroto and Kiriya battled for the last time. His God Maximum Mighty X was finally negated, due to Masamune imbuing the Buggle Driver II with the Reset ability. Kuroto was finally defeated by Kiriya as well as the Zombie Chronicle was negated (restoring the infected Zombie Bugsters back to normal), thus his sanity went back to normal as he simply called himself Kuroto Dan as he vanished. Kiriya, later restored into human thanks to God Maximum Mighty X Gashat by Saiko, paid his respects to Kuroto, saw the vision of Kuroto and he told him that his games never ended.
When Ex-Aid manifested in the World of Ataru due to the memories of the fans of Kamen Rider Ex-Aid, Lazer accompanied him in his Bike Gamer Level 2 form and was the motorcycle that Ex-Aid used during the final battle against Ultimate Another Kuuga.
Personality
Kiriya is an easy-going man whose lighthearted attitude hides a sharp intellect and cunning nature. As such, he is a manipulative individual and also a very convincing liar who will use dirty tactics to get what he wants, including deceit and sabotage. His deceitful personality actually developed from the trauma he experienced five years ago when his friend Jungo died from an accident when he freaked out over the possibility of dying from the Bugster infection. He also states to Emu and the others that he just tried to protect all of them from the harsh truth, showing that he actually didn't want his comrades to get hurt.
However, he still cares for his patients as shown when he found out that Nishiwaki's sister was kidnapped by Graphite and also Yoshio. But even then he did not stop being opportunistic and self-serving. He had the habitual quirk to drape his dull red leather jacket over his shoulders without putting his arms through the sleeves, and to wear round sunglasses whenever he is observing something, but he'll put his jacket on properly and discard his sunglasses whenever he needs to be serious or fight.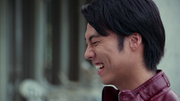 But despite his tremendous mental strengths, Kiriya suffers from a great deal of pride that he gets from the knowledge he obtains. This, in turn, causes him to become blind to his own weaknesses and the strengths of the people he believes to have leverage on. When he is serious enough, he won't lie. However, if someone outsmarts him or the situation turns against him to give the impression that he had been lying, he'll resort back to lying. This often leads to him casually claiming that he did, in fact, lie before instead of trying to defend his innocence, showing that he doesn't really care what other people think of him.
After returning back from the dead, Kiriya's personality doesn't change. His ability of lying is also his greatest advantage, as shown when he feigns his allegiance with Masamune Dan, the latter of whom is unaware of Kiriya's deception after reviving him.
Powers and Abilities
Powers
Take a note that the power and the weakness which Kiriya acquire here is only when he had been revived as a Bugster. After the events of Another Ending, Kiriya had been turned back into human.
Acquired Game Illness Immunity: As a result of the standard compatibility surgery for CR candidates, Kiriya Kujo is immune to the Game Illness and able to transform into a Kamen Rider to fight the Bugsters.
Bugster Ability Restriction: One of the functions of Level 0 Gashats. Kiriya can seal certain abilities of Bugsters who are in his game area.

Teleportation: Kiriya can teleport himself for simple travel or evade incoming assaults.
Virus Neutralization: Thanks to Level 0's power being over nothingness, by touching any Gashacon equipment with a Bugster virus, Kiriya can neutralize the virus. This was demonstrated when he touched Cronus's Buggle Driver II containing Gamedeus's virus data.
Abilities
Skilled Combatant: Kiriya has shown himself to be a skilled fighter, being able to easily take on Bugster viruses as a civilian with his natural athletic and acrobatic skills.
Expert Acrobat: Kiriya incorporates his acrobat skills and also gymnastics into his fighting style to fight Bugster viruses as a civilian.
Expert Deceiver: To be added
Weaknesses
Level 0: As stated by its name, Level 0 is the weakest level among all the levels, making Kiriya extremely vulnerable to any type of attacks, even the orthodox attacks can deal great damage on him. This disadvantage can be covered by utilizing advanced-level Gashats.
Forms
Equipment
Devices
Weapons
Lazer
Lazer Turbo

Gashacon Sparrow - Standard sidearm weapon
Air Force Wingers and Gatling Combats - Proto Combat Bike Gamer Level 0's personal weapons.
Trick Flywheels - Proto Sports Bike Gamer's personal weapons.
Gashacon Bugvisor II - Borrowed from Poppy.

Lazer-X
Vehicles
Legend Rider Devices
A special
Bakusou Bike Gashat (Memorial Finish Ver.)
(

爆走バイクガシャット (メモリアルフィニッシユVer.)

,

Bakusō Baiku Gashatto Memoriaru Finisshu Ver.

, lit. "Roaring Bike Gashat")
was released in 2017.
"(Digital beeping) Lazer!"
―Activation announcement
"Roar! The fastest Bike Rider is...Lazer! (

爆走!最速のバイクライダーは…レーザーだ!

,

Bakusō! Saisoku no baiku raidā wa… Rēzā da!!)"
―Secondary activation announcement
"(Right-hand Ridewatch's announcement)! Armor Time! (upbeat Rock & roll music) Level up! Lazer!"
―Transformation announcement in the Ziku-Driver's left-hand slot
"Finish Time! Critical Time (Break/Burst)!"
―Finisher announcement in left-hand slot
Lazer Ridewatch (レーザーライドウォッチ, Rēzā Raidowotchi): Based on Kamen Rider Lazer (Turbo) Bike Gamer Level 2/0, this Ridewatch would provide access to the LazerArmor. It is dated 2016.
Relationships
Allies
Genm Corp.

Kuroto Dan: At first, Kiriya tried to make use of Kuroto to discover the truth behind the Bugster invasion, especially Zero Day. However, after learning the truth of Kuroto as Genm, he becomes Kiriya's number one nemesis. This hatred is further enhanced after Dan tricked everyone to believe that Genm is Parado. Despite being enemies, Dan claims he created the Gamer Driver and Rider Gashats to find out how the Bugsters could exist in the real world, not unlike Kiriya's own goal of searching for the truth behind the Bugsters. Unfortunately, Kiriya and the other three doctor Riders were too late to notice and stop Kuroto's true plan to gather more battle data to create the Dangerous Zombie Gashat. Not long after discovering Emu's secret, Kuroto ultimately kills Kiriya, and stole his Gashacon Sparrow and the Giri Giri Chambara Gashat. In Kamen Sentai Gorider, Kiriya was among the four deceased Riders whose despair was harvested by Kuroto to get himself revived. Ironically when his virtual world was damaged by Joker's power, Kuroto begged to the deceased Riders for their help in exchange for their revival but neither of them including Kiriya complied to his wishes, having accepted their original fates instead. When revived in the series, Kiriya still sees Kuroto as his enemy, but he admits that he will put that aside as Kamen Rider Chronicle is more important than settling things with him. Eventually, Kiriya got his revenge on Kuroto by using the latter as a guinea pig for the Gamedeus vaccine, the end result being Doctor Mighty XX, and subsequently turning Kuroto to the Ministry of Health.God Arrives!
Enemies
Genm Corp.

Masamune Dan: Kiriya first met Masamune when learning about the truth behind Emu's mysterious ability to transform without undergoing the compatibility surgery as well as the truth behind Zero Day, thus leading to his death shortly afterward at the hands of Masamune's son. During the events of Kamen Rider Chronicle, Masamune, after revealing himself as Kamen Rider Cronus, revives Kiriya as a Bugster, seemingly mind-controlled. In reality, however, Kiriya revealed to Emu that he is working for Masamune of his own free will, which later revealed to trick Masamune. Now Masamune became his ultimate enemy after Kuroto.
Behind the Scenes
Portrayal
Kiriya Kujo is portrayed by Hayato Onozuka (小野塚 勇人, Onozuka Hayato). As Kamen Rider Lazer, his suit actor is Jiro Uchikawa (内川 仁朗, Uchikawa Jirō) in Level 1. His Level 2 form is based on a Honda CRF250L which is the same model as Machine Ghostriker. His suit actor from Chambara Bike Gamer Level 3 onwards, as well as Lazer Turbo Bike Gamer Level 0, is Satoshi Fujita (藤田 慧, Fujita Satoshi)[18].
Etymology
The name Lazer is a play on the word "Racer" (

レーサー

,

Rēsā

), reflecting his racing game aesthetic.
Notes
In the show's first opening sequence, Kiriya is featured wearing an all-white uniform which he has never shown to have worn throughout the series.
Lazer is the first Kamen Rider to also be a Rider Machine.

He is also the second Rider to be able to transform into a bike after Accel.

As revealed in the Ex-Aid character book, Kiriya is 27 years old, making him the second oldest of the Gamer Riders.
Unlike other Ex-Aid Riders who pick up or gesture their Rider profile pics by hand while they transform, Kiriya kicks the profile image instead.
Lazer is the only Rider in series whose Rider Gauge is still visible in Chambara Bike Gamer Level 3.

While in this form, Lazer has a second Rider Gauge on his shoulders, leftover from his Level 2 form. These do not function in Lazer's Level 3 and 5 forms, the function now transferred to the main Gauge on his chest.

Lazer is the only non-Protagonist Rider in the show to appear in all three Heisei Generations Series films.
In real life, Japan has steadily abolished in Japan the medical examiner system in medicolegal investigations. Instead, they are entrusted by the police.[19] Despite to the above circumstances, there are quite a few medical examiners who specialize in medical examinations, and there are a large number of people who also work as faculty members or practitioners in forensic departments at universities.

This is amoung to the creative liberties of Ex-Aid regarding Kiriya's occupation as Game Illness cannot be dissected because the body disappears with the death of the patient and Kiriya's role is more forensic than clinical. There are many instances in which Kiriya is acting against the intentions of the Ministry of Health and Genm Corp.
Appearances
References