Kamen Rider Kirameki (仮面ライダー煌鬼, Kamen Raidā Kirameki, lit. "Masked Rider Glittering Demon") is a movie exclusive Rider that appears in Kamen Rider Hibiki & The Seven Fighting Demons.
Fictional Character Biography
Kirameki (キラメキ, Kirameki) is from Owari (now Nagoya). It seems that he usually sells souvenirs, and speak in the Nagoya-ben dialect. He was Touki's partner years ago until an incident with an Ittanmomen resulted with Kirameki running off, leaving Touki to fend the Makamou off on his own. As a result, Kirameki was labeled a coward no one wanted to be associated with. However, Kirameki joins the group of Oni when he arrives on his kite and suggests getting more reinforcements.

Video Game appearances
Kamen Rider Battle Ganbaride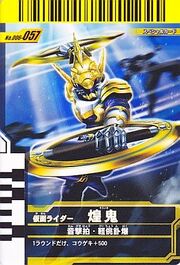 Kamen Rider Kirameki is a playable character with the other Heisei and Showa kamen Riders in Kamen Rider Battle Ganbaride.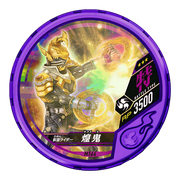 Kamen Rider Kirameki is a playable character in Kamen Rider Buttobasoul.

Oni Form
Kirameki
Rider Statistics
Ability Parameters:
Kamen Rider Kirameki is an Oni of Tōkai representative with motif of shachihoko. The body color is dark blue, with golden armor at upper body, and the color of the hand is silver. In the head there is a shape of a golden shachihoko instead of the Oni's face.
Appearances:Kamen Rider Hibiki & The Seven Senki

Equipment
Devices
Weapons
Oni Techniques
Kamen Rider Kirameki is good in underwater battle.
Ongeki Hyō: Keichō Fubaku (

音撃拍・軽佻訃爆

Sound Attack Beat: Gentle Frivolous Death Warrant Explosion): Kirameki uses this finisher just like playing with normal cymbals by hitting the Retsuban together. While doing this action, golden Ongeki hits the enemy, making it dizzy and confused.
Behind the scenes
Portrayal
Kirameki was portrayed by So Yamanaka (山中 聡 Yamanaka Sō), would later go on to play Shouichi Ashikawa in Kamen Rider Decade.
As Kamen Rider Kirameki, his suit actor was Kouji Mimura (三村幸司 Mimura Kōji).

Conception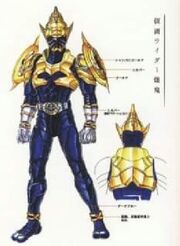 Notes
In fact, the Kamen Rider Kirameki's sachihoko motif comes from the Nagoya baseball team Nagoya Grampus' image animal, the killer whale (a fish).
Appearances
References
See also
Community content is available under
CC-BY-SA
unless otherwise noted.