Wiki Targeted (Entertainment)
Play Sound
This article mainly documents his crossover appearance in Kamen Rider Gaim. For more details on his backstory, see his main article on the Kikaider Wiki.
For the original 1972 version of the character, see Kikaider.
Jiro (ジロー, Jirō) is an android superhero based on the original character from Android Kikaider who possess the ability to take his true form of Kikaider (キカイダー, Kikaidā), a prototype form designed solely for battle.
He was featured in an episode of Kamen Rider Gaim to promote his solo remake film, Kikaider REBOOT.
Biography
Kamen Rider Gaim
While walking with Mai, Kouta finds a man, who seems to be a street performer. A moment later, it rains as the man does not move Kouta finds out that he's made of metal so he brings him to Team Gaim's garage. Behind the strange android was a reboot button.
Kouta decides to bring the android home and care for it, despite Akira's denial. Kouta took full responsibility for him. Around the house, Jiro did chores. Kouta asked him why he was here, but Jiro didn't remember his past and only remembered he was here to protect something important.
Later, while on a walk, Kouta is forced to go into battle with an Inves. Jiro watches for a moment, then comes in and scares the Inves away. Kouta deemed him as a "battle robot."
Later, Jiro and Kouta are ambushed by Hakaider. Jiro asks Kouta to press "reboot" which he does. Jiro transforms into the legendary Kikaider, a red and blue robot and Kouta fights along with him. After the battle, Kouta notices that Jiro ran off somewhere as he decides to search him.
Later on, Kouta finds Jiro playing a guitar, but this time, Jiro lost his memories of Kouta. Jiro finally realizes his mission as Kouta tells him good luck on his mission.

Powers
Kikaider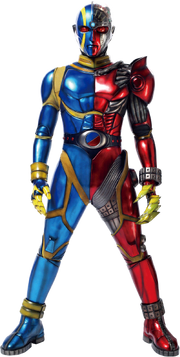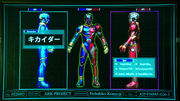 Ability Perimeters:

Height: 183 cm.
Weight: 90 kg.
Punching power: 17.5 t.
Kicking power: 33.1 t.
Maximum jump height: 14 m.
Maximum running speed: 100 m. per 4.9 sec.
Behind the scenes
Portrayal
Kikaider is portrayed by Jingi Irie (入江 甚儀, Irie Jingi), who would later go on to portray Zamigo Delma

in Kaitou Sentai Lupinranger VS Keitsatsu Sentai Patranger

and Rento Makina in Kamen Rider Zi-O. As Kikaider, his suit actor is Makoto Arakawa (荒川 真, Arakawa Makoto).
Appearances
External links