Wiki Targeted (Entertainment)
Play Sound
Kerberos (ケルベロス, Keruberosu) is the strongest Undead developed by BOARD chairman Hiroshi Tennoji, debut in Kamen Rider Blade.
Fictional Character Biography
An artificial Undead born from the card Hiroshi Tennoji made from the DNA of all 53 Undead, surpassing the Black Joker itself, Kerberos was created as the fifth Ace that Tennoji intended to be the victor of the Battle Fight he set up. Unlike Titan and Trial Series, Kerberos was beyond Tennoji's control, killing his entire staff upon being born from the Stone of Sealing. The Undead succeeded in absorbing the decks of Chalice and Leangle, along with Jack and Queen cards of Garren. Kerberos even overpowered Blade King Form at first, but was defeated by Royal Straightflash. The New Card
But Tennoji sealed the Undead himself into the Change Kerberos card for his true plan: Using a surgically graft device based on the Rider System technology to fuse with his creation, becoming Kerberos II with Tennoji's face on the monster's chest. It took all four Riders to fight Tennoji/Kerberos II, with Blade King Form's Royal Straightflash and Wild Chalice's Wild Cyclone to negate the fusion. However, the Giraffa Undead kills Tennoji and takes the Change Kerberos for himself in the fight's aftermath for his own agenda. The Ruler's Seal
Giraffa tried using the card's latent ability to seal other Undead against Chalice, but Blade jumped in the way and it absorbed all of the Spade Suit cards instead. In a later battle, he tried stealing Garren's cards the same way, but Garren pulls him off a rocky shore cliff and seals him. Kerberos's card isn't directly seen being retrieved in the collection of cards that floats to shore, but it presumably still is. Garren Eliminated
Kamen Rider Blade: Missing Ace
In an alternate future, the Change Kerberos was used as the Ace card for Kamen Rider Glaive, with two copies of the card used in creating Riders Lance and L'arc. Kamen Rider Blade: Missing Ace
OOO, Den-O, All Riders: Let's Go Kamen Riders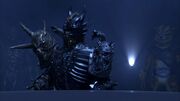 In an alternate timeline where Shocker conquered the world thanks to the Shocker Greeed, Kerberos represented the Undead in a coalition of the various evil organizations and monster races which were allied with Shocker. With the Giraffa Undead by his side, Kerberos was present at the conference of alliance. OOO, Den-O, All Riders: Let's Go Kamen Riders

Kerberos
Kerberos was armed with a huge claw on the left arm, a flame, and destruction light bullet.

Rouse Cards
Behind the Scenes
Concept Art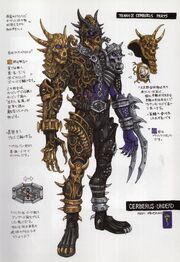 Community content is available under
CC-BY-SA
unless otherwise noted.