Kasshine[1] (カッシーン, Kasshīn) are semi-sentient robotic servents that can be summoned by Ohma Zi-O and Kamen Rider Barlckxs, and later Another Diend.
Character History
Originally traveling to 2018 for the purpose of eliminating Geiz Myokoin and Tsukuyomi, Kasshine was deactivated after Geiz destroyed Sougo's Ziku-Driver, thus erasing Ohma Zi-O's timeline. Back to 2068 Despite Ohma Zi-O being erased from existence as a result, Heure and Swartz found Kasshine's deactivated body and revived him, the latter now reprogrammed into killing present-day Sougo Tokiwa. As Sougo struggled with Kasshine as a civilian and protecting an injured boy, Geiz barged in and encouraged the future demon king to become Kamen Rider Zi-O again. As Geiz join the battle, Decade joined Kasshine to even the odds before he retreated. While Zi-O DecadeArmor Ex-Aid Form L and Geiz fought the Time Jackers in their respective Time Mazines, the Form R half defeated Kasshine. Forever King 2018
Multiple Kasshine were seen as the henchmen of Quartzer and later were seen battling Kamen Rider Zi-O, Kamen Rider Geiz, Kamen Rider Woz, Heisei Riders, and Kamen Sentai Gorider.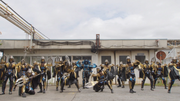 A Kasshine was seen attacking Geiz Myokoin. Later, multiple Kasshine were seen as the henchmen of Another Diend and later were seen battling Kamen Rider Zi-O, Kamen Rider Geiz, Kamen Rider Woz, and Kamen Rider Tsukuyomi.
Powers and Abilities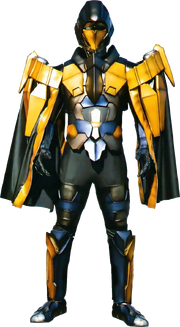 Trident: Kasshines carry tridents for combat.
Mechanical Limbs: They can use their extra mechanical limbs for support.
Time Travel: Kasshines are able to travel from 2068 to 2018 with the use of a time portal.
Behind the Scenes
Portrayal
All Kasshine are voiced by Kenjiro Tsuda (津田 健次郎, Tsuda Kenjirō), who previously voiced Redyue in Kamen Rider Gaim. His suit actor is Eitoku (永徳, Eitoku).
Etymology
Kasshine's name can directly translate into Vassals (家臣, Kashin), referring to his position.
Notes
Kasshine's head is likely a modified Guardian head.
To further relate his affiliation with Ohma Zi-O, his head has the Katakana for "Kamen" (

カメン

lit. "Mask") on his forehead.
Kasshine is the only monster in the series not to be themed after a past Rider.
Kasshine is designed by Tamotsu Shinohara.
Appearances
References
See Also
Community content is available under
CC-BY-SA
unless otherwise noted.