In the entire franchise, there are three
Riders
that can transform into a unique type of alternate form when they swap one of their
Collectible Devices
used in a set to access a specific form with a different trinket from their Collectible Devices. Logically speaking, these forms are not exactly the most compatible forms the Riders have, and are just random mix-and-matches that they have access to.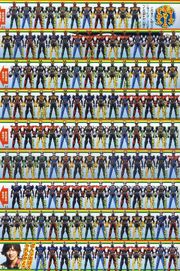 OOO has over 100 different combinations of forms to access. However, this list only covers the Random Combos he used in the series' canon.
Kamen Rider OOO

Takakiriba
Takatorartar
Latoraba
Lakiriba
Takakirietar
Gatatoraba
Latorazo
Takagoriba
Takauootar
Lakirietar
Takauba
Takajaba
Takatoradol
Takagorita
Takauta
Shauba
Takatorata
Sauba
Sajazo
Shajartar
Shagorietar
Shatorartar
Lauba
Sagorietar
Takauzo
Lagorita
Shagorita
Gatatorartar
Gatatoradol
Gatagorietar
Takatorazo
References
Community content is available under
CC-BY-SA
unless otherwise noted.