Kamen Rider Zi-O NEXT TIME: Geiz, Majesty (仮面ライダージオウ NEXT TIME ゲイツ、マジェスティ, Kamen Raidā Jiō Nekusuto Taimu Geitsu, Majesutī) is a Japanese superhero film that serves as the first (and currently only) installment of the Kamen Rider Zi-O NEXT TIME series of V-Cinema films set within the continuity of Kamen Rider Zi-O. Serving as a tribute to the Secondary Riders of the franchise, the film focuses on Geiz Myokoin as he faces a threat from an alternate universe.
A teaser trailer was released on August 25, 2019 following the broadcast of the final episode.[1] The home video release of the film includes a DX GeizMajesty Ridewatch, which is used in the film.
Synopsis
It's September of 2018, and a group of high school students are more than ever excited to pursue their dreams. Sougo Tokiwa wants to become a desirable king, and Keito Myokoin (alternatively called by his friends as Geiz) works tirelessly to become the true judo champion while trying to impress his crush, Alpina Tsukuyomi.
However, one day Geiz suffers a career-ending injury during a judo match in a judo tournament, forcing him to give up his dream of become a judo champion. While still grieving, he was met by a mysterious man, who wanted to give Geiz a Ridewatch and a driver.
"My name is Woz, I came here to guide you to become a savior. If not, Sougo Tokiwa will become the worst and evillest demon king."
Meanwhile, a new transfer student leads him to nothing but one grand conspiracy. [2]
Plot
to be added
Continuity & Placement
Characters
Kamen Riders
Legend Riders
Allies
Villains
Others
Cast
Returning Cast
Forms and Collectibles Used
Watch used:

Zi-O
Geiz

Geiz, GeizRevive, GeizMajesty

Tsukuyomi

Rider Armor(s) used:

Zi-O
Geiz

GeizRevive Goretsu, GeizRevive Shippu, GeizMajesty

Kamen Rider(s) summoned in GrandZi-O:
Weapon(s) summoned in GrandZi-O:
Weapon(s) summoned in GeizMajesty:
Watch used:
Form(s) used:
Anotherwatches
Card Used:

Kamen Rider Diend

Kamen Ride: Diend
Final Attack Ride: Diend

Forms:
Cell Medals Used:

Birth

Birth CLAWs : Breast Cannon

Forms:
Theme Song
The theme song for the film is Brand New Day, performed by TRIPLANE.
Release
The film premiered on February 28, 2020.
International
The film was specially screened in Thailand, at Scala Movie Theater on March 28, 2020 in Japanese with Thai subtitles by Dream Express [DEX] & Japan Anime Movie Thailand [JAM].[9] However due to COVID-19 causing all movie theaters to close down, the nationwide release of the film was postponed indefinitely.
The film also began streaming in China's Mainland on Tencent Video starting on April 22, 2020.
Errors
When Black Woz transforms alongside Sougo, Geiz, and Tsukuyomi, he is first seen inserting the Ginga Miridewatch into his Beyondriver right before Sougo activates his Ridewatches, with the Ginga Miridewatch's standby tune playing for a short while. Later, after Geiz, Sougo and Tsukuyomi insert their Ridewatches into their respective Ziku-Drivers, Woz is seen inserting the Ginga Miridewatch into the Beyondriver again, with the already-playing Ginga Miridewatch's standby tune cutting off halfway only to play from the beginning again.
When Tsukyomi inserts her Ridewatch into her Ziku Driver, the insertion sound wasn't heard.
When GrandZi-O summons Riders from the golden time portal, there is a black-color background instead of the actual scene from the original TV series.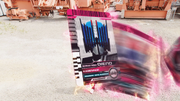 When Daiki gave his Rider Cards to create the GeizMajesty Ridewatch, the Diend Card was briefly seen as part of the cards thrown, despite the powers already stolen and the card restored back to normal a couple of scenes later.

It is possible that Daiki may also possess the same ability as Tsukasa to split his powers in half, though not to the same extent that he can still transform with his remaining power. This may explain why Daiki still retains the remainder of his arsenal, and also why Diend's power still remains as a component of GeizMajesty.

As Geiz charges his El Salvatore Time Burst punch, Gatack and Zeronos' Ridewatches are shown out of sequence.

This is also shown in the credits where the Rider Cards and Ridewatches for the two riders are reversed.

Several sound effect are omitted when the Riders summoned by GrandZi-O execute their finishers:

When Faiz enters the code on the Faiz Blaster, the sound for the "ENTER" key is not heard.
When OOO changes the Medagabryu into Bazooka Mode, the "Gokkun" sound effect is not played.
When the summoned Double FangJoker presses the Fang portion of FangMemory, the proper pressing sound effect is not used, nor does it announce any mode changes. The guitar riff sound effect that is associated with the Fang Memory is not played either.

In addition, Double FangJoker was stuck in a 180 degree roundhouse kick pose awkardly when performing Fang Streizer, but didn't spin in counter-clockwise. It is implied that the editor used Kamen Rider W's scene of the pre-attack sequence of Fang Streizer.
Notes
Count at movie end

Watches in Zi-O's possession (at least): Zi-O, GrandZi-O, Bike
Watches in Geiz's possession: Geiz, GeizRevive, GeizMajesty, Bike
Watches in Woz's possession: Woz, Shinobi, Quiz, Kikai, Ginga, Phone
Watches in Tsukuyomi's possession: Tsukuyomi
Watches in unknown possession: Zi-O II, Zi-O-Trinity, Ohma Zi-O, Bibill, Barlckxs, Zonjis, Zamonas, Taka, Kodama

This is the first V-Cinema since Kamen Rider Drive Saga: Kamen Rider Chaser to feature Legend Riders, or in this case, the previous Secondary Riders as well.

This is the second time that Ryu Terui returns in the V-Cinema with the first also being Drive Saga: Kamen Rider Chaser.

Similar to the film, Akiko Narumi was briefly mentioned by Ryu.

This marks the return of:
This movie has a few similarities to the TV series' multiple episodes:
This is the first spin-off film to have the title to be based on the focused-Rider new form.
External links
References
Community content is available under
CC-BY-SA
unless otherwise noted.