Cobra Kai Season 4 - The Loop
Play Sound
| | |
| --- | --- |
| | WARNING: This series contains scenes of gun violence, graphic violence, and blood. Viewer discretion is advised! |
For the series' main character, Zero-One, see Aruto Hiden.
Kamen Rider Zero-One (仮面ライダーゼロワン, Kamen Raidā Zerowan) is a Japanese tokusatsu drama in Toei Company's Kamen Rider Series. It is the first series to debut during the Reiwa period and the thirtieth overall. The series premiered on September 1, 2019, joining Kishiryu Sentai Ryusoulger

in the Super Hero Time line-up after the finale of Kamen Rider Zi-O. After Ryusoulger concluded on March 1, 2020, the series was joined in the Super Hero Time lineup with Mashin Sentai Kiramager

on March 8, 2020. After Kamen Rider Zero-One concluded on August 30, 2020, Kiramager was joined by Kamen Rider Saber in the Super Hero Time block.
The catchphrase for the series is "There's only one strongest company president in the world! And It's me!" (世界最強の社長はただひとり!オレだ!, Sekai saikyō no shachō wa tada hitori! Ore da!).
Production
Development for the show had begun during the summer of 2018.[1] Producer Takahito Omori had visited several technological institutes and spoke with many professors and experts on the topic of artificial intelligence. The suit's design was completed in time before the Reiwa-era change, but a name had not been decided on yet. Omori came up with the idea of "Rei-One", which was a shortening of "Reiwa's first Rider." It was later pointed out that "rei" could also be read as "zero", and that there was already a superhero named Kikaider with the "01" moniker. With the show being heavily-themed in technology, the name "Zero-One" was chosen as a reference to binary code and the trademark was filed on April 19, 2019.[2]
From this time until May, head writer Yuya Takahashi had completed the scripts for the first two episodes, while auditions for the cast were held. Filming began in mid-June 2019, and the cast were introduced through a scheduled press conference in July. The series premiered on September 1, 2019.
Impact of the COVID-19 pandemic
As a result of the ongoing COVID-19 pandemic, a state of emergency was declared in Japan on April 16, 2020[3], which delayed the broadcasting new episodes following the airing of Superhero Time on May 10, 2020, which included Episode 35 and Episode 10 of Mashin Sentai Kiramager

. Ultimately, the release of Kamen Rider Zero-One: REAL×TIME which was originally scheduled to premiere that summer, was postponed until December.
As a result of the hiatus that reduced the episode count from its original planned of 49, further writing was temporarily ceased with scripts completed up to Episode 39. As a result, the production had to make several script alterations:[4]
The show was almost given a final episode count of 41 due to Toei accelerating the production speed of Kamen Rider Saber', though Zero-One was ultimately given 45 instead. As a result, several plot-lines were scrapped, including an extended redemption arc for Gai Amatsu.
Kamen Rider Ark-Zero was introduced much earlier than anticipated, making its first appearance in the President Special miniseries.
A Televi-Kun scan reveals that both Kamen Rider Ark-One and Kamen Rider Zero-Two were originally planned to be two different entities and were to debut in REAL×TIME. However, due to the pandemic forcing the film to be an epilogue instead, both characters had to appear in the series first and were combined into one due to the reduced episode count. As such, any narrative connection that Ark-One was originally scripted to have with ZAIA Enterprise was scrapped.
Owing to long time Kamen Rider suit actor Seiji Takaiwa being casted as Horobi's suit actor, the long-term plan for the show's ending would be to have Horobi fight against Zero-One, but the process of how they would get there was undetermined at the time.
Takahashi himself had stated that in the final arc of the show, Aruto, AIMS, and MetsubouJinrai.net would have come together to defeat the Ark.
To allow time for the production team to implement the adequate changes, a series of recap episodes were aired for five consecutive weeks from May 17, 2020, to June 14, 2020: the two-part "President Special", focusing on Aruto and Izu, the "Shooting Special" focusing on Isamu and Yua, and the two-part "Super Work War" focusing on the Humagears throughout the series. At this time, Japan's government had lifted its state of emergency on May 25, 2020, allowing Toei to continue filming Zero-One and Kiramager under newly placed guidelines to control any further spreading of the COVID-19 virus.[5] The series resumed broadcasting full-length episodes on June 28, 2020 starting with Episode 36.[6] Filming wrapped up on August 4, 2020 and the finale aired on August 30, 2020.
Because of the pandemic, a summer film would not be produced, resulting in both Zero-One and Saber having individual unrelated films premiere in the place of what would have been a potential Movie War.
Plot
Humagear, created by the leading company for A.I., Hiden Intelligence, serve humanity's every convenience. But a cyber-terrorist organization begins hacking the Humagears in a conspiracy that turns them into monsters. Aruto Hiden has taken over at Hiden Intelligence, and along with the CEO's post, he also takes over the responsibility for Kamen Rider Zero-One by using his company's technology. Aruto tries to keep the peaceful world between humans and Humagears with his Humagear secretary, while A.I.M.S., a military squad, pursues the terrorists![7]
Characters
Kamen Riders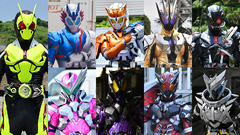 TV Show
Movie/Special-exclusive
Stageshow-exclusive
Video Game-exclusive
Allies
Other
Villains
Ark Magia
Other
Episodes
Main article: Kamen Rider Zero-One Episodes
The series is divided into four story arcs:[8]
Episode 01-16 - Story Arc: Secret Maneuvering of Metsuboujinrai.net (

「暗躍する滅亡迅雷.net」編

,

An'yakusuru Metsubōjinrai.net Hen

), this arc introduces the main characters of the story and features the internal conflicts between Hiden Intelligence, A.I.M.S., and MetsubouJinrai.net, whom the latter seeks the extinction of the human race.
Episode 17-30 - Story Arc: Workplace 5-turns Competition, ZAIA Enterprise (

「お仕事5番勝負、ZAIAエンタープライズ」編

,

Oshigoto Goban Shōbu, ZAIA Entāpuraizu Hen

), this arc features the Workplace Competition, where Hiden Intelligence competes against its corporate rival, ZAIA Enterprise Japan in a battle of A.I. Meanwhile, a mysterious figure requires ZAIA's contestants to be Raiders.
Episode 31-41 - Story Arc: Struggle! HIDEN Manufacturing (

「奮戦!飛電製作所」編

,

Funsen! Hiden Seisakusho Hen

), this arc features the aftermath of the Workplace Competition, Aruto establishes HIDEN Manufacturing after ZAIA Japan took over Hiden Intelligence, while MetsubouJinrai.net has revived the Ark as Kamen Rider Ark-Zero.
Episode 42-45 - Story Arc: Take Off Towards Future! Hiden Intelliegence (

「明日へ向かって飛べ!飛電インテリジェンス」編

,

Ashitae Mukatte Tobe! Hiden Interijensu Hen

), this arc features the final battle to determine the fates between humans and humanity as Horobi wages war against Aruto Hiden, who had fallen from grace and became the Ark itself.
Each Japanese episode title includes a pronoun written in katakana instead of hiragana. They also include puns and references to Aruto's own speaking style and jokes. The English titles are taken from Shout! Factory's website.[9][10]
Movies
Kamen Rider: Reiwa The First Generation (

仮面ライダー 令和 ザ・ファースト・ジェネレーション

,

Kamen Raidā Reiwa Za Fāsuto Jenerēshon

)
Kamen Rider Zero-One: REAL×TIME (

劇場版 仮面ライダーゼロワン リアル タイム

,

Gekijō-ban Kamen Raidā Zerowan Riarutaimu

)
Zero-One Others (

ゼロワン Others

,

Zerowan Others

)

Zero-One Others: Kamen Rider MetsubouJinrai (

ゼロワン Others 仮面ライダー滅亡迅雷

,

Zerowan Others: Kamen Raidā Metsuboujinrai

)
Zero-One Others: Kamen Rider Vulcan & Valkyrie (

ゼロワン Others 仮面ライダーバルカン&バルキリー

,

Zerowan Others: Kamen Raidā Barukan & Barukirī

)
Specials
Stageshows
Kamen Rider Zero-One: Final Stage (

仮面ライダーゼロワン ファイナルステージ

,

Kamen Raidā Zerowan Fainaru Sutēji

)
Other Media
Manga
Kamen Rider Zero-One: Intelligence Counterattack Chapter

(

幪面超人ZERO-ONE【智能逆襲篇】

,

Mung Min Chiu Yan Zero One Ji Nang Yik Jaap Pin

)
Video Games
Cast
Suit Actors
Music
Main article: Kamen Rider Zero-One CD Box
Release
Kamen Rider Zero-One premiered in Japan on TV Asahi on September 1, 2019 and went on hiatus after the broadcast of Episode 35 due to the COVID-19 pandemic. Several recap specials aired in place for five weeks before Episode 36 premiered on June 28, 2020.
Zero-One was released on three separate Blu-Ray collections on April 8, 2020, November 11, 2020, and January 13, 2021 in order.
On October 8, 2021, it was announced during the New York Comic-Con panel for Team Rider that Shout! Factory had acquired the North American distribution rights to Zero-One,[15] with all 45 episodes and as well REAL×TIME streaming on TokuSHOUTsu beginning January 1, 2022. However, due to popular demand, the streaming release occurred a week earlier at midnight on December 24, 2021.[16]
Notes
With "zero" in Japanese and "one" in Japanized-English, Zero-One can be read as Rei Wan (

零 ワン

) in Japanese, referencing the fact that he is the Kamen Rider of the Reiwa era.

The characters "zero" and "one" are known in tech, electronic and the mathematic world as Binary numbers, which is fitting for the series due to its theme of artificial intelligence.

Coincidentally the series' release date matches the name of the show/Rider (September 1st, Zero-One/01).

Different from the Kabuto series, the transformation item also indicates the group side which the characters were sided on.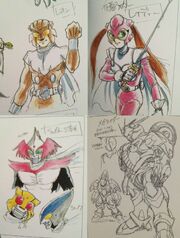 Being the first Reiwa series, the rider designs contain several elements taken from the discarded concepts of Heisei's first, Kamen Rider Kuuga. For example:

The main rider is based on insects (Kuuga and Zero-One), a second rider based on land creatures (Leon and Vulcan), and a third female rider (Lady and Valkyrie).

The opening credits use the same font as Kamen Rider Zi-O but only in the episodes where the opening song is not played at the beginning of the episode.
This series marks the first time since Hibiki where Seiji Takaiwa is not the suit actor of the main protagonist's Rider form. Instead, Takaiwa portrays Kamen Rider Horobi starting in episode 4, while Yuya Nawata took on the titular role of Zero-One.[21]
This is the first season since Kamen Rider Kuuga to not use the (vocal/instrumental) opening for the next episode preview. Instead, they used a standalone instrumental for the next episode preview.
Interestingly, the first episode of each story arc has some variation of the same phrase in their titles.
Currently, Kamen Rider Zero-One holds the record for the most transformation devices with a total of 15 units.
Owing to COVID-19, Kamen Rider Zero-One is the first series since Kamen Rider Ex-Aid to conclude with 45 episodes and, alongside Ex-Aid, it is the shared fifth-shortest Kamen Rider series overall.

Coincidentally, both series share the same head writer.

This is the first series to have its standalone film to be released after the end of the series, as Kamen Rider Saber would be airing at that time. Originally, the film was planned for a summer release, double-billed with Kiramager's standalone movie. Instead, both will be released separately after having been delayed. Zero-One's film is set to premiere in December, the month where annual Movie War films are traditionally released.
This is also the first series to have an international airing start a week after the end of the series.
Zero-One is the first series since Kamen Rider Decade to not be featured in more than one Movie War film, a decision made due to the COVID-19 pandemic that occurred during the latter half of the series.
References
External Links