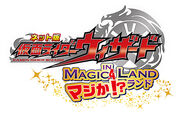 To promote the film, Toei is releasing a series of online shorts titled Kamen Rider Wizard in Magica Land (ネット版 仮面ライダーウィザード イン マジか!?ランド, Netto-ban Kamen Raidā Wizādo In Maji ka!? Rando, (マジか!?, Maji ka!?) means "Really!?"), featuring several unbelievable stories. The Kamen Rider Cops (仮面ライダー刑事(デカ), Kamen Raidā Deka) films feature past Kamen Riders as part of Rinko's police force. The Kamen Rider Mage (仮面ライダーメイジ, Kamen Raidā Meiji) films feature Shunpei as the hero. The Search for Magic Riders! (魔法ライダーを探せ!, Mahō Raidā o Sagase!) looks at past mystically-themed Kamen Riders. The Koyomi's Room: Premium (コヨミの部屋・プレミアム, Koyomi no Heya Puremiamu) films show Koyomi's various interests outside of helping Haruto.
Webisodes
Cast
Community content is available under
CC-BY-SA
unless otherwise noted.