For the series' main character, Wizard, see Haruto Soma.
Kamen Rider Wizard (仮面ライダーウィザード, Kamen Raidā Uizādo) is a Japanese tokusatsu drama in Toei Company's Kamen Rider Series, being the fourteenth series in the Heisei period run and the twenty-third overall. Trademarks on the title were filed by Toei in June 21, 2012. It began airing on September 2, 2012, joining Tokumei Sentai Go-Busters

 and then Zyuden Sentai Kyoryuger

 in the Super Hero Time line-up following the finale of Kamen Rider Fourze. With Wizard finished, Kamen Rider Gaim joined Kyoryuger as part of Super Hero Time. Tsuyoshi Kida is the series' main screenwriter.
The average ratings of the series was 5.94%.[1]
On April 1, 2017, TV Japan began broadcasting the series in the United States and Canada to paid subscribers.[2][3][4]
Story
"The magic rings, the Wizard Rings. They shine on both hands of the modern mage as he changes despair into hope."
―Narrator
A mysterious ceremony held on the day of a solar eclipse released demons called Phantoms into the world. Haruto Soma, a survivor of the ritual, obtains mystical powers and receives the Wizardriver belt and Wizard Rings from a mysterious White Wizard, so he may protect the hopes of the people, as Kamen Rider Wizard. Later on, a man named Kosuke Nitoh appears as the "ancient wizard" Kamen Rider Beast to feed on the Phantom's magical power to survive and becomes both a rival and ally to Haruto.
Characters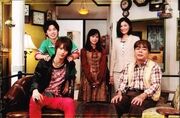 Magician Riders
TV Show
Movie-exclusive
Stageshow-exclusive
S.I.C. Hero Saga-exclusive
Novel-exclusive
Game-exclusive
Allies
Inner Phantoms
Other
Villains
Phantoms
Main article: Phantoms
Ghouls (henchmen)
Minor Phantoms
Unreleased Phantoms
Others
Neutral
Episodes
Main article: Kamen Rider Wizard Episodes

The episode titles in this Kamen Rider Series installment have a tendency to be written in the kanji and hiragana formatting, very rarely being written in the katakana format.
Movies
Specials
Kamen Rider Wizard: Showtime with the Dance Ring (

仮面ライダーウィザード 超 バトルDVD ダンスリングでショータイム

Kamen Raidā Wizādo Dansu Ringu de Shōtaimu

)
Net movies
Kamen Rider Wizard in Magica Land (

ット版 仮面ライダーウィザード イン マジか!?ランド

Netto-ban Kamen Raidā Wizādo In Maji ka!? Rando

)
Stageshows
Kamen Rider × Super Sentai × Space Sheriff Super Hero Taisen Z Released Memorial: Kamen Rider Wizard Special Event Z (

仮面ライダー×スーパー戦隊×宇宙刑事 スーパーヒーロー大戦Z 公開記念 仮面ライダーウィザード スペシャルイベントZ

Kamen Raidā × Sūpā Sentai × Uchū Keiji Sūpāhīrō Taisen Z Kōkai Kinen Kamen Raidā Wizādo Supesharu Ibento Z

)
Kamen Rider Wizard: Final Stage (

仮面ライダーウィザード ファイナルステージ

Kamen Raidā Wizādo Fainaru Sutēji

)
Other media
Manga
Kamen Rider Wizard (manga) (

仮面ライダーウィザード

Kamen Raidā Uizādo

)
Kamen Rider Wizard: Suddenly Showtime! (

仮面ライダーウィザード いきなりショータイム!

Kamen Raidā Uizādo Ikinari Shōtaimu!

)
Kamen Rider Wizard: Magic Ring Battle Chapter (

幪面超人WIZARD【魔戒激戰篇】

Mung Min Chiu Yan Wizard Mo Gaai Gik Zin Pin

)
S.I.C. Hero Saga
The Sorcerer's Apprentice (

魔法使いの弟子

Mahōtsukai no Deshi

)
Novels
Kamen Rider Wizard (novel) (

小説 仮面ライダーウィザード

Shōsetsu Kamen Raidā Uizādo

)
Games
The following video games feature characters from Wizard.
Cast
Guest cast
Suit actors
Notes
With 53 episodes in total (including 2 post-finale episodes which serve as the TV special), Kamen Rider Wizard is considered the longest Heisei-era Rider series in history, beating Kamen Rider Agito's record of 51 episodes. If the specials didn't count as episodes, however, then Wizard's episode count record would have been tied with Agito's.
In this title series, the Kamen Rider is often called as "Magicians", save for a crossover movie.
This is the first series to have the opening be sung by a male singer since Kamen Rider Decade.
This was the last Kamen Rider Series until Kamen Rider Build to premiere in September.
References
External links
Community content is available under
CC-BY-SA
unless otherwise noted.