| | | |
| --- | --- | --- |
| | This article is about a/an series of net movies in Kamen Rider W. | |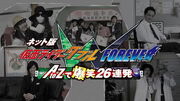 Kamen Rider W Forever: From A to Z, 26 Rapid-Succession Roars of Laughter (ネット版 仮面ライダーダブル FOREVER AtoZで爆笑26連発, Nettoban Kamen Raidā Daburu Fōebā: Ē tu Zetto de Bakushō Nijū Rokū Renpatsu) is a series of net movies, 26 comedy-themed shorts (one for every letter of the alphabet) that were released by Toei to promote the Kamen Rider W summer movie, Kamen Rider W Forever: A to Z/The Gaia Memories of Fate. Following the trend started with Kamen Rider Kiva. The shorts were released every Friday from July 16th, 2010.
There were five different formats for the web movies:
Artistic Taste Battle in the Narumi Detective Agency (

絵心バトルIN鳴海探偵事務所

Egokoro Batoru IN Narumi Tantei Jimusho

): Featuring Shotaro, Phillip, Akiko, and Terui in drawing-based trivia contests.
When I, Shroud Opened a Kamen Rider Academy... Student Akiko (

シュラウドの私が仮面ライダーアカデミーを開いたら・・・生徒亜樹子

Shuraudo no Atashi ga Kamen Raidā Akademī o Hiraitara... Seito Akiko

): Shroud and Akiko examine where Kamen Rider designs, including a sneak-peak at Kamen Rider OOO.
Professor Jinno and Assistant Makura's Gaia Memory Research (

刃野博士と真倉助手のガイアメモリ研究所

Jinno-hakase to Makura-joshu no Gaia Memori Kenkyūjo

): Jinno and Makura examine and test different Gaia Memories, including ones that were never fully shown in the TV series (such as Bean and Queen).
Kirihiko's Room: The Talk Revenge (

霧彦の部屋THEトークリベンジ

Kirihiko no Heya THE Tōku Ribenji

): Kirihiko (Yuki Kimisawa) talks to the other antagonists of the series in spite of his demise.
Dopant Medical Practitioner: Shinkuro Isaka (

ドーパント開業医・井坂深紅郎

Dōpanto Kaigyōi: Isaka Shinkurō

): Isaka (Tomoyuki Dan) examines Dopant designs.
Webisodes
The webisodes are listed in alphabetic order of the English letter in their name (which notifies the subject of the episode), with the format noted at the end of the webisode title. Each title is also a parody of an episode title from the series.