Wiki Targeted (Entertainment)
Play Sound
For the original Kamen Rider Verde, see Itsuro Takamizawa.
Kamen Rider Verde (仮面ライダーベルデ, Kamen Raidā Berude) is one of the Riders who fights in the Kamen Rider Trial of the World of Ryuki, Verde uses the power of his Contract Monster Biogreeza.
History
Kamen Rider Decade
Battle Trial: Ryuki World
He is first seen fighting Kamen Rider Scissors in Mirror World. He overpowers Scissors, who later pretends to surrender to Verde, just so he can use his Advent Card, summoning Volcancer who attacks Verde. He is later removed from the trial by Scissors. Battle Trial: Ryuki World

Kamen Rider Verde
Kamen Rider Verde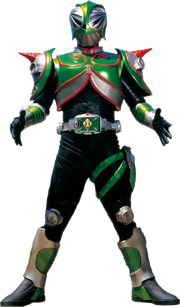 Rider Statistics:[1]
Rider Height: 193 cm
Rider Weight: 95 kg
Ability Parameters:[1]
Punching Power: 230 AP (11.5 t)
Kicking Power: 300 AP (15 t)
Maximum Jump Height: 25 m
Maximum Running Speed: 100 m per 6 seconds
Eyesight: 20 km
Hearing: 10 km
Special Abilities:[1]
Advent: Biogreeza: 4000 AP (200 t)
Bio-Winder: 2000 AP (100 t)
Death Punish: 5000 AP (250 t)
One can transform into Kamen Rider Verde using an Card Deck and V Buckle upon forming a contract with Biogreeza. His Visor, the Biovisor (バイオバイザー, Baio Baizā), is mounted on his left thigh. All of Verde's parameters, with the exception of his kicking power, are below average. Thus, he relies on deception to defeat his opponents rather than direct confrontation.
Through the use of the Hold Vent, Verde can arm himself with the Bio-Winder (バイオワインダー, Baio Waindā), a yo-yo weapon derived from Biogreeza's eye.
This form is exclusive to Decade Episode 6.
Contract Monster
Main article: Biogreeza (Ryuki)
Equipment
Behind the scenes
Portrayal
Kamen Rider Verde (A.R. World) is portrayed by Tomonori Okano (岡野 友紀, Okano Tomonori), former name: Tomonobu Okano (岡野 友信, Okano Tomonobu), who before portrayed Past Man in Kamen Rider Den-O.
Identity
Like other A.R. Ryuki Riders that appeared in Kamen Rider Decade, neither his real identity nor his full name were ever revealed by Toei. His human identity was portrayed by Tomonori Okano.
Appearances
References
External Link