For the original Kamen Rider Tiger who appeared in Kamen Rider Ryuki, see Satoru Tojo.
Kamen Rider Tiger (仮面ライダータイガ, Kamen Raidā Taiga): One of the Riders who fight in the Kamen Rider Trial of the World of Ryuki, Tiger uses the power of his Contract Monster Destwilder. He is removed from the trial by Zolda's Gigalauncher. Battle Trial: Ryuki World
Kamen Rider Tiger
Kamen Rider Tiger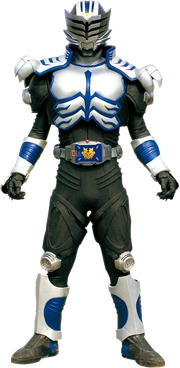 Rider Statistics
Height: 197 cm.
Weight: 97 kg.
Rider Senses:
Eyesight: 20 km.
Hearing: 15 km.
Ability Parameters:
Punching Power: 12.5 t.
Kicking Power: 20 t.
Maximum Jump Height: 40 m.
Maximum Running Speed: 100 m. per 5 sec.
Special Attacks:
Destclaws: 150 t.
Crystal Break: 300 t.
Instant Freeze: 50 t.
Advent: Destwilder: 250 t.
Tojo can transform into Kamen Rider Tiger using his Card Deck and V Buckle upon forming a contract with Destwilder. His visor, the Destvisor (デストバイザー, Desuto Baizā), is a battle axe that also functions as his personal weapon. Tiger's parameters are identical to Ouja's, with the exception of a higher range of sight.
Through the use of his Strike Vent, Tiger can arm himself with the Destclaws (デストクロー, Desuto Kurō), a pair of clawed gauntlets derived from Destwilder's arms.
By using his Final Vent, Tiger can execute his finisher, the Crystal Break (クリスタルブレイク, Kurisutaru Bureiku), which equips Tiger with the Destclaws if he does not already possess them. Destwilder then grabs the opponent and drags them across the ground towards Tiger, who impales the enemy with the Destclaws.
This form is exclusive to Decade Episode 6.
Contract Monster
Main article: Destwilder
Equipment
Behind the scenes
Identity
Like other A.R. Ryuki Riders that appeared in Kamen Rider Decade, neither his real identity or his full name was ever revealed by Toei, but he only appeared in suit and voice.
Appearances
References
Community content is available under
CC-BY-SA
unless otherwise noted.