| | |
| --- | --- |
| | WARNING: This manga series contains scenes of graphic violence, blood, body horror, nudity and body dismemberment. Viewer discretion is advised! |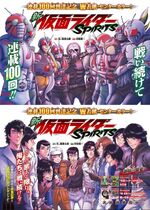 "When the era needs it, Kamen Rider will definitely revive."
―Shotaro Ishinomori
Kamen Rider SPIRITS The Legend of Masked Riders (仮面ライダーSPIRITS, Kamen Raidā Supirittsu, trans. Masked Rider SPIRITS) is an ongoing manga adaptation of the popular Kamen Rider franchise by Kenichi Muraeda. The focus of the story is on the original ten Kamen Riders with shifting focus on main characters.
The original series ended when Magazine Z ceased publication and was then revived in Monthly Shōnen Magazine under the title Neo Kamen Rider SPIRITS (新・仮面ライダーSPIRITS, Shin Kamen Raidā Supirittsu, New Masked Rider SPIRITS).
As of the release of the 100th chapter of Shin Spirits (April 6, 2018), Kamen Rider Spirits had become the longest running (17 years) tokusatsu adaptation manga in history.

Synopsis
Following the end of the Kamen Rider Super-1 television series, Kamen Rider Spirits begins by following the lives of the original Kamen Riders in various stand alone stories. The manga then introduces the tenth Kamen Rider, Kamen Rider ZX, ignoring the events of the Birth of the 10th! Kamen Riders All Together!! television special and making an alternate origin story. The manga also ties up loose story ends from the various TV series, such as how Riderman survived the Pluton Rocket Explosion and why Stronger's partner, Tackle, was never acknowledged as a Kamen Rider.
Arc summary
Kamen Rider Spirits is composed of three different arcs, each focusing on different Kamen Riders. The first arc is composed of several stand alone stories that focus on the original nine Kamen Riders who, no longer a team, have all gone their separate ways. After discovering suspicious activity going on all over the world, the Kamen Riders realize that a new evil is rising.
The second arc of the manga, known as Kamen Rider ZX: Forget Memories, focuses on the new Kamen Rider, Kamen Rider ZX, and gives the character an alternate story, ignoring his origin in the Birth of the 10th! Kamen Riders All Together!! TV special. The second arc also introduces the Badan Empire, the story's main villains.
The third section of the manga, known as Kamen Rider ZX: Dragon Road, focuses on Kamen Rider ZX joining the original nine Kamen Riders and facing the evil Badan Empire together.
Chapters
Kamen Rider SPIRITS Chapters
Main article: List of Kamen Rider Spirits Chapters
Shin Kamen Rider SPIRITS Chapters
Main article: List of Shin Kamen Rider Spirits Chapters
Official Books
Characters
Main
Allies
Great Leader JUDO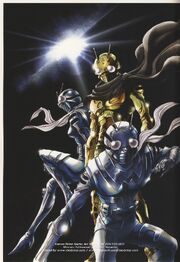 Susanoo
Great Leader JUDO
Kamen Rider 1
Kamen Rider 2
Kamen Rider V3
Kamen Rider X
Kamen Rider Amazon
Kamen Rider Stronger
Skyrider
Kamen Rider Super-1
Fake Kamen Rider 1
Energy of the dragons
Fake Kamen Rider 2
Fake Kamen Rider V3
Fake Kamen Rider X
Fake Kamen Rider Amazon
Fake Kamen Rider Stronger
Fake Skyrider
Fake Kamen Rider Super-1
Fake Kamen Rider ZX
Badan Empire
Main article: Badan Empire
Other Notable Villains
Vertical Inc. and the failed US fan campaigns
US fans of Kamen Rider have long wanted this particular entry of Kamen Rider media to get a release from a licensed US publisher. In 2013, New York publisher Vertical did a Facebook fan poll on which manga titles would be picked up for licensed publishing under their label, with Kamen Rider Spirits being one of the potential books.[1][2] Despite a surge of interest from US Kamen Rider fans and tokusatsu forums trying to spread the word, Vertical decided against publishing the book as the final results of the poll did not meet their expectations to warrant its release and the poll was already closed despite attempts to boost the number of votes.
Later, a Kamen Rider fan from Wisconsin named Jordan Levells tried to do a petition to get Vertical to reconsider obtaining the book. He was later contacted by Vertical stating the signatures needed would have to be 30,000 to warrant such a request from their executive publishers. Despite his best efforts and chatter on social media and forums from other fans, the fandom could only manage to obtain 511 and needed 29,488 more signatures before the petition's time limit expired.[3].
A few fans took the news very badly and went to social media to harass or passive aggressively ask Vertical to release Spirits, which scared them away, leaving an unfortunate bad impression on Kamen Rider fandom as a whole. Vertical explained their reasoning on their Tumblr as the publisher stated that licensing a long running manga with no definitive end in sight would be too costly and has high risks involved when it comes to sales. Thus, Vertical prefers short volume run manga titles or recognizable and profitable books as the print industry is struggling to maintain itself financially in the digital age.[4][5] On September 24, 2013, a fan made an inquiry to Kodansha Comics, the US branch of the publisher who prints the manga in Japan. The publisher responded that they did not wish to translate or publish the book due to its inconsistent release scheduling and the sheer length of it.[6]
Notes
External links
References
Community content is available under
CC-BY-SA
unless otherwise noted.