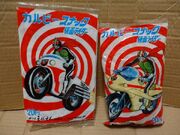 Kamen Rider Snack (仮面ライダースナック, Kamen Raidā Sunakku) is a promotional popcorn snack food manufactured by Calbee that was sold from 1971 to 1973. When the product line ended, it had sold more than 620 million packs of snacks and earned over 8.7 billion yen (about 7.7 million USD).[1].
Kamen Rider Card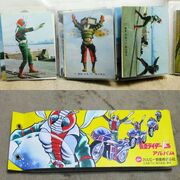 Kamen Rider Snack also first time provided a Kamen Rider card collection series Kamen Rider Card (仮面ライダーカード, Kamen Raidā Kādo). One side of the cards have a picture and the other side are descriptions. [2]
The series is considered that eventually evolved into the scan cards in arcade game Kamen Rider Battle: Ganbaride and Ganbarizing today while the scan cards was also featured in various food products from Marudai & McDonald's etc.

Legacy
The iconic red spiral design of the package of this food was later used on Rider Chips' two album covers: DEEP BREATH (2001) and Kamen Rider no Uta (rock ver.) (2004).
Notes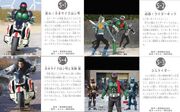 The gift cards for the 2016 Kamen Rider 1 movie audiences is also a Kamen Rider Card series although the cards are made in modern factories.
References