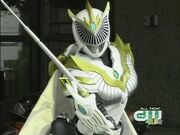 Kamen Rider Siren may refer to any the following characters.
Blancwing
Blancwing
is a giant mechanical
swan
, and Siren's Advent Beast.
Kamen Rider Siren
Kamen Rider Siren
Siren's main design is very similar to Wing Knight's, with a similar slot and fighting style. Unlike Wing Knight, she is a bit more forceful and ruthless, arguably more powerful than Wing Knight. However she does not have as many Advent Cards or have the variety that Wing Knight has. But because her and Wing Knight have very similar styles, they work very well together. Siren slots her cards in the crossguard of her rapier, the Blanc Visor. It can be used as a weapon if she doesn't have enough time to slot her cards.
Attack Vent: Summons Blancwing to attack enemies
Sword Vent: Conjures a twin blade-like weapon
Guard Vent: Conjures a Shield
Final Vent : Blancwing flies behind Siren where she proceeds to slice them in half with her twin bladed weapon
Link Vent: When combined with the 12 other cards of this type, all thirteen Final Vents are combined into one massive Pulse. They were only used to destroy Xaviax.
See also