Wiki Targeted (Entertainment)
Play Sound
---
Heisei Kamen Rider Series Phase 2 (平成仮面ライダーシリーズ第2期, Heisei Kamen Raidā Shirīzu Dai Ni-Ki), is a subsection of the Heisei era of the Kamen Rider Series that comprises its second half.
The Heisei Phase 2 is specifically used to refer to the post-Decade era, with Kamen Rider Decade having been the 10th Anniversary Kamen Rider show of the Heisei period.
After the Decade series, "Kamen Rider" is the official term for Riders while pre-Decade Riders have been called "Masked Rider" in official localization releases, merchandise such as the S.H. Figuarts toyline, and Kamen Rider 4.
The Heisei Phase 2 started with Decade's successor, Kamen Rider W, which premiered in September 2009 and ended in August 2010. W was followed by Kamen Rider OOO (September 2010 - August 2011), then Kamen Rider Fourze (September 2011 - August 2012), Kamen Rider Wizard (September 2012 - September 2013), Kamen Rider Gaim (October 2013 - September 2014), Kamen Rider Drive (October 2014 - September 2015), Kamen Rider Ghost (October 2015 - September 2016), Kamen Rider Ex-Aid (October 2016 - August 2017), Kamen Rider Build (September 2017 - August 2018), and finally Kamen Rider Zi-O (September 2018 - August 2019).
On April 1, 2016, the original net series Kamen Rider Amazons was aired. It marks the Heisei Era's first time since Faiz that the franchise has gone back to a darker and more adult-oriented style of storytelling, resulting in a rating of R15+. However, it is only available on Amazon Prime . A second season was released in 2017, and a movie that concludes the series was released in theaters in 2018.
Heisei Phase 2 trends
The Heisei Phase 2 era has a differing broadcast schedule for its shows with the schedule of the first half of the Heisei era. This change had been brought about by the shortened episode count of Kamen Rider Decade. The first series of the Heisei revival, Kamen Rider Kuuga premiered in January 2000, and ended in January 2001, being succeeded by Kamen Rider Agito the week after. From then on, every Heisei show until the start of the Heisei Phase 2 era started in late January (or in Ryuki's case, early February) and ended in January of the next year. However, Kamen Rider Decade, which premiered in January 2009, was slated as having only 30 episodes as stated by Masahiro Inoue in an interview in the March 2009 issue of Kindai Magazine. A subsequent interview in Otonafami magazine confirmed that only 30 episodes were filmed, with 31 episodes airing total. Thus, Decade ended in late August (the 30th) and W started in early September (the 6th), and Heisei Phase 2 shows then ended on the last Sunday of August and started on the first Sunday of September; though as of 2014, the last episode of one series is on the last Sunday of September and the first episode of the new series starts on the first Sunday in October.
With this new broadcast schedule, the summer movie of every show now premieres during the final weeks of said show and only around a month before the arrival of the new series. Thus, from Kamen Rider Double's introduction in Kamen Rider Decade: All Riders vs. Dai-Shocker (August 2009) to Kamen Rider Wizard's introduction in Kamen Rider Fourze the Movie: Everyone, Space is Here! (August 2012), the Rider of the upcoming show makes his "early-bird cameo". This introduction features the new Rider helping out the current (soon to depart) Rider.

Even though Kamen Rider Decade is not a Phase 2 Rider and did not appear in the previous Rider's series, he is the first primary Heisei Rider to make an "early-bird cameo" in a special, which later foreshadows most of the primary Phase 2 Riders appearing in a summer movie.
Kamen Rider Gaim's "early-bird cameo" is unique in that instead of making his debut in Wizard's summer movie, he appeared in his two-part epilogue special.
Kamen Rider Drive is the first primary Phase 2 Rider, as well as the first primary Heisei Rider since Decade, who does not make a cameo appearance in his predecessor's series.

All of the summer movies have the main Rider using all of their forms that debut in the television series, including a movie-exclusive form that is introduced in the movie.
With the exception of Double, each Hyper Battle DVD also has the main Rider gaining access to a form that is only exclusive to said special.
Another result of the new broadcast schedule is that while the bulk of early Heisei series ran alongside one particular Super Sentai series, Heisei Phase 2 shows find themselves paired up with two Sentai shows across their run, the first half of the series airs alongside the second half of their first Sentai partner, while the second half of the series airs alongside the first half of their second partner.
The official translation of the Kamen Rider Series, as seen on the series' titles, was changed from "Masked Rider" (e.g. Masked Rider Decade) to "Kamen Rider" (e.g. Kamen Rider W).
As started by Kamen Rider W, it is a recurring trend that only two Riders appear in the broadcast run: the Primary Rider and the Secondary Rider. Though, every series has had more new Riders appear through expanded universe material, particularly their own summer movies, which go on to appear again occasionally. The main series only deals with the Primary and Secondary Riders. This trend stopped in Kamen Rider Wizard, as each season after that would introduce more than two Riders throughout the course of the series, with Gaim and Ex-Aid starting off with multiple Riders from the beginning. Movie-exclusive Riders do not count.
The transformation devices of Riders in the Heisei Phase 2 era are given consistent names, being referred to as "Drivers" (e.g. Double Driver, OOO Driver, Fourze Driver, Wizardriver, Sengoku Driver, Drive Driver, Ghost Driver, Gamer Driver, Build Driver, and Ziku-Driver.). Driver was previously used to refer to the transformation gears of the Kamen Riders from Kamen Rider 555 and Kamen Rider Decade.
Each Heisei Phase 2 series has its own set of Collectible Devices, first seen with the Advent Cards in Kamen Rider Ryuki, with the recent tradition being kicked off by the Rider Cards of Kamen Rider Decade, which were used by Decade to access the power of previous Kamen Riders. As with Decade, the Heisei Phase 2 Kamen Riders use their collectible devices for various purposes, such as changing into their various forms, using special attacks, and other techniques. These collectible devices also work very well with merchandise, each set of collectibles has had their own "Legend Rider" range featuring the likenesses of previous Kamen Riders, some of which appear in the arcade game Kamen Rider Battle: Ganbaride and Movie War crossovers.
Starting with Decade's Bandai: FFR series, each Heisei Phase 2 season would have a toyline of figures which simulate a transformation gimmick unique to each season, commonly referred to by fans as "gimmick figures". Although there was a precursor with Kamen Rider Kabuto's Cast Off Rider series, which simulated the Cast Off gimmick, gimmick figures in the Heisei Phase 2 era were much more prominent.
With the exception of Double and Ghost, each lead Rider has an Item Carrier for their Collectable Devices.
With the exception of Gaim, each Heisei Phase 2 series also has a set of Support Robots, which initially appeared in the form of the Disk Animals from Kamen Rider Hibiki, but became prominent in the Heisei Phase 2 era.
Each Heisei Phase 2 series has either the Primary or Secondary Rider utilizing some type of mecha as a part of their arsenal.
With the exception of Build, each Heisei Phase 2 series has a piece of arsenal that can assume at least three different modes.
With the exception of OOO (who instead frequently proclaims the battle cry "Seiya!"), each lead Rider has their own unique pre-battle catchphrase.
With the exception of Baron, Specter (who says his catchphrase "I'll show you my way of life!" prior to finishing off an enemy), and Geiz; the Secondary Riders also have their own unique pre-battle catchphrase.
The lead Rider usually has unique laws involving his forms:

The second new form he obtains debuts in the first part of a two episode arc instead of the second (e.g. OOO's Latorartar Combo, Fourze's Firestates, Wizard's Hurricane Dragon, & Drive's Type Technic).
The Super Form, or a version of the Super Form (or in Ghost and Build's cases the upgrade form), first debuts in the Movie War film, and then usually appears around episode 20 of the series, with Fourze, Gaim, and Drive being the exceptions.
The Final Form debuts in episode 32, except for Wizard's Infinity Style (which debuted in episode 31) and Drive's Type Tridoron (which debuted in episode 33), followed by Ghost Mugen Damashii (which was briefly seen in episode 33 and made its full debut in episode 34), Ex-Aid Muteki Gamer (which debuted in episode 36), Build Genius Form (which debuted in episode 39), and GrandZi-O (which was briefly seen in episode 39 and made its full debut in episode 40).

With the exception of Double, the lead Rider's forms have some sort of title.
Each lead Rider has at least three Main Forms.

Kamen Rider W: CycloneJoker, HeatMetal, & LunaTrigger
Kamen Rider OOO: Tatoba Combo, Gatakiriba Combo, Latorartar Combo, Sagohzo Combo, & Shauta Combo
Kamen Rider Fourze: Basestates, Elekstates, & Firestates
Kamen Rider Wizard: Flame Style, Water Style, Hurricane Style, & Land Style
Kamen Rider Gaim: Orange Arms, Pine Arms, & Ichigo Arms
Kamen Rider Drive: Type Speed, Type Wild, & Type Technic
Kamen Rider Ghost: Ore Damashii, Musashi Damashii, Edison Damashii, Robin Damashii, Newton Damashii, Beethoven Damashii, Billy the Kid Damashii, & Benkei Damashii
Kamen Rider Build: RabbitTank, GorillaMond, HawkGatling, NinninComic, RocketPanda, FireHedgehog, LionCleaner, KaizokuRessya, KeyDragon, & OctopusLight
Kamen Rider Zi-O: Zi-O's default form, along with BuildArmor, Ex-AidArmor, FourzeArmor, OOOArmor & GaimArmor

The lead Rider and secondary Rider(s) display some kind of cross-compatibility.
In every Heisei Phase 2 series, the Riders have some sort of nickname for their finishing attacks, which are announced by their transformation devices and various weapons.
In the Heisei Phase 2 shows, the lead Rider and the secondary Rider often have similar yet distinct powers, abilities, and themes. This trend began with Kamen Rider Decade, where both Riders used Rider Cards, with the difference between them being that Decade has a smaller selection of cards, but can transform into them with full access to their powers, while Diend has access to more cards, but can only summon copies of Riders without their full range of powers. This continues in each of the following series.
Having previously been the suit actor of the majority of primary riders in the early Heisei era (with the exceptions being Kuuga and Hibiki), Seiji Takaiwa has served as the suit actor for every Primary Rider in the Heisei Phase 2 era.

Fighting alongside Takaiwa is Eitoku who, starting with Kamen Rider Diend in Decade, has gone on to be the suit actor for every secondary Heisei Phase 2 Rider, except for Beast, Mach, Specter, and Brave Level 2 all of whom are suit-acted by Jun Watanabe, as well as Geiz, who is instead suit-acted by Yuya Nawata.

A resurgence of crossovers, as the early Heisei era rarely featured crossovers between series (one rare example is the Hyper Battle DVD Kamen Rider Ryuki: Ryuki vs Kamen Rider Agito). Kamen Rider Den-O & Kiva: Climax Deka was the first Heisei crossover movie (April 2008), though that it was largely due to the popularity of Kamen Rider Den-O. Being an anniversary series, the very premise Kamen Rider Decade involved various elements of the Kamen Rider Series coming together.

The Movie War series, starting with Kamen Rider × Kamen Rider W & Decade: Movie War 2010 (December 2009), each Heisei Phase 2 series has a Movie War crossover with the previous series, premiering in December, somewhere in between episodes 10 and 15 of the current series. Just as the summer movies introduce the primary Rider of the new series, the Movie War features an "early-bird cameo" by the Secondary Rider of the current series. As with the primary Rider's introduction in the summer movie, the new secondary Rider appears in costume only, however their were chances that the user of the secondary Rider would appear in both civilian and Rider form. Kamen Rider × Kamen Rider OOO & W feat. Skull: Movie War Core (December 2010) featured a crossover between Kamen Riders Double and OOO, the first two primary riders of the Heisei Phase 2 era, followed by Kamen Rider × Kamen Rider Fourze & OOO: Movie War Mega Max (December 2011), which also featured Double and the Seven Legendary Riders as well as Fourze and OOO, teaming the first three Heisei Phase 2 riders with the seven original Showa riders. This is set to be topped by the Kamen Rider × Kamen Rider Wizard & Fourze: Movie War Ultimatum (December 2012), which featured Kamen Rider Wizard teaming up with not just Fourze, but all three of the previous Heisei Phase 2 primary Riders and their secondary Riders as well.

Foundation X, which was first introduced as the "evil organization" of Kamen Rider W, continues to have a (albeit reduced) presence in the other Heisei Phase 2 Kamen Rider shows, having appeared in episodes of Kamen Rider Fourze and as the villains of Kamen Rider × Kamen Rider Fourze & OOO: Movie War Mega Max, and in Kamen Rider Fourze the Movie: Everyone, Space is Here!. Foundation X seemed to have disappeared as of Kamen Rider Wizard, but after a cameo in Kamen Rider Brave: ~Let's Survive! Revival of the Beast Rider Squad!~, they returned as a villainous influence in Kamen Rider Heisei Generations FINAL: Build & Ex-Aid with Legend Riders. Their presence is reminiscent of the influence the Great Leader (originally the Great Leader of Shocker) had on later evil organizations in the Showa era. In Foundation X's footsteps, seasons from Wizard onward have had evil organizations exerting villainous influence in some capacity:
Each Heisei Phase 2 era villain group has their own Henchmen squad.
Each series' monsters are either summoned or transformed by a Collectible Device, usually another version of the main hero's Collectible Devices. Wizard is an exception, as only the Ghouls are summoned by Magic Stones, as well as Build's Smash being transformed by the Steam Blade's Devil Steam attack (although, in a reversal, their essences are retrieved in Empty Bottles transforming them into Smash Bottles which can transform a former victim back into a Smash).
Riders after Fourze and before Drive have their own title rather than Kamen Rider in their own universe or timeline. This first happened in Hibiki, where the Riders were being called Oni to match the heavy Japanese mythology-theme of the series.
With the exception of OOO, Fourze, Ex-Aid, Build, and Zi-O, the second-to-last (or in Wizard's case, third-to-last) episode of each Heisei Phase 2 series is the conclusion to its main storyline while the actual finale is an epilogue.
With the exception of Gaim, the finale of each Heisei Phase 2 series contains a link to the next series.
Each Heisei Phase 2 series has had an update to the video game Kamen Rider: Climax Heroes, which was first released for Kamen Rider Decade and the 10th anniversary of the Heisei Kamen Rider Series. These initially had the title format of Kamen Rider Climax Heroes (show name), but Kamen Rider Wizard subverted that trend and Kamen Rider Gaim doesn't have its own Climax Heroes, as the fighting game series is replaced by a Dynasty Warriors like game called Kamen Rider Battride War after the last Climax Heroes since the appearance of Kamen Rider Wizard. Ghost, however, brought back the Battride War series in the form of Kamen Rider: Battride War Genesis, while Build brought back the Climax Heroes series in the form of Kamen Rider: Climax Fighters. Drive and Ex-Aid are the only two seasons to have no games from either game series produced.
Each Heisei Phase 2 series features pertinent ally characters with a mysterious past that is linked to the main villains of the show. Most of them are all killed before their series concludes, but come back to life some time later, with the exception of Ankh and Koyomi, as they were technically aren't "alive" before the series started. However, Ankh was shown to have been possibly revived in the future as seen in Movie War Mega Max, before making a full (albeit temporary) return in Kamen Rider Heisei Generations FINAL: Build & Ex-Aid with Legend Riders. There is a rare exception where Mai as Woman of the Beginning was not killed in the traditional sense.
Each Heisei Phase 2 series has a Female Kamen Rider, starting with Decade's Kamen Rider Kiva-la. Build is the only season not to feature one.
Each Heisei Phase 2 series features ally characters who serve as primary comic relief characters.
Each Secondary Rider generally has a more major role in the series in the Heisei Phase 2 era than the previous Secondary Riders, usually starting out as anti-heroes but then working together with the Primary Rider later on in the series.
Usually, the Secondary Rider's Final Form debuts before the lead Rider's Final form.
With the exception of OOO, Gaim, Drive, Ghost, and Ex-Aid (OOO instead evolving his default Main Form, Tatoba Combo, into his second Final Form, Super Tatoba Combo), each lead Rider evolves their Final Forms into Extra Final Forms in the Summer Movie, while Fourze and Wizard evolve their Extra Final Forms into Ultimate Forms in the Movie War films.
Each series had lasted at least 47 episodes on average. Kamen Rider Wizard had 53, making this series the longest of all the Heisei Rider series. By contrast, Kamen Rider Gaim had exactly 47, making this series the shortest of all the Heisei Phase 2 Rider series at that time, if only barely qualifying. This record was broken by Kamen Rider Ex-Aid, which had only 45 episodes.
Starting with the premiere of Kamen Rider × Super Sentai: Super Hero Taisen in 2012, the Rider series draw a greater connection with their rival franchise Super Sentai; furthered with the introduction of a TV special combining both franchises from Gaim. This was originally done prior with the World of Shinkenger cross-over during Kamen Rider Decade where the current Rider and Sentai squads encountered each other in a two-part story that primarily aired in KR but spilled over into several Sentai episodes around the same time. Each of these movies generally feature a combination between a Sentai mecha and a Rider's device. In the third Taisen series, Den-O is the one who rides the Sentai mecha, instead of Gaim, which is also making him the first Phase 1 Heisei Rider to do so.
This is the first phase to have the current Riders' primary monsters work together with the main heroes since Ryuki, Blade, and Kabuto. The current Riders' main villains only temporarily help the heroes in some movies outside of the Super Hero Taisen movie series.

Kamen Rider W

Main: It all started with Kirihiko at the time of his death for betraying the Sonozaki family and siding with greater goods instead. Most of Phillip's family, the Sonozaki family (sans Ryubee), become this at the time of their deaths. Although the family's pet cat Mick is the only surviving member of the family, now residing in the Narumi Detective Agency.
Movie

W Returns: Before the Summer movie, NEVER was this until Katsumi's lover Mina was thought to be killed along with the other Quarks who were actually killed, causing Katsumi to go insane and seek revenge against Foundation X and the Sonozaki family for not only rejecting them for being failed experiments, but also killing every single Quark. However, this caused them to become a group of terrorists against humanity, such as killing anyone who wants a peaceful life.
W Forever: Before the Sonozaki's full redemption after the movie, Ryubee and his family aid the current Riders stop the fallen, yet misguided NEVER not only disable all of the T1 Gaia Memories, but also kill all leaving beings within Futo as it is supposed to be meant to kill anything related to the Sonozaki family and Foundation X.

Kamen Rider OOO

Main: Ankh is the first monster to help the current Rider most, as well as the first monster to redeem himself after remembering Eiji's kindness is much better than the First OOO was.
Movie

OOO Wonderful: Maki and the Greeeds assist OOO, Ankh, and Date defeat Gara for stealing all of their Core Medals and leading them to be powerless.

Kamen Rider Fourze

Main: A rare example for some former/redeemed monsters becoming a friend to the primary Riders after realizing their mistakes, including as part of the lessons for the abusers/bullies/human shields who turned the monster into an actual one and attacks them. Ran Kuroki on the other hand once after realized her mistake for not trusting the seniors whom she didn't know after seeing her friend Haru become one like how their old seniors did back in their middle school days, then after being forced into becoming a Zodiarts, she became as a heroine instead of a villainess like the other previous Zodiarts.
Movie

Fourze the Movie: The primary monsters like Hayami and Tatsugami, despite their villainous ambitions, do care for Earth when the Space Ironmen siblings reveal themselves to destroy Earth, along with its inhabitants, including the monsters as well. Although Gamou is interested in how the Kamen Rider Club will be able to stop the Space Ironmen siblings from destroying Earth, he still cares for his home planet, thus aiding the current Riders to stop the Space Ironmen siblings.
Movie War: Saburo was this at first, before redeeming himself by telling his teacher to prove his friendship towards him by throwing the Fourze Driver as sacrifice. Thus taking a namesake of the legendary heroes outside Kamen Rider known as the new Inazuman II, evolved of his first form, Sannagiman. In the end, he reformed the Monster Club as part of the Super Hero support club for the Kamen Rider Club.

Kamen Rider Wizard

Main: The current Riders' inner Phantom, Wizardragon and Beast Chimera, was this until they started to like the inside of their hosts' body due to having an ideal of pureness and hope, especially as seen in the Movie War where the Phantom's hosts' place where the Riders' inner Phantoms becomes similar to outside world, thus having the Riders' Phantom started to like in their hosts' pure places.

Kamen Rider Gaim

Main: At first, the Inves can only be summoned by a person, including by the Riders via Lockseed(s) during an Inves Game, until the Inves Game is closed due to the Helheim infection, in which civilians thought that the running wild were caused by the Beat Riders (which was seen caused by Peko at first), but unknown to all people that it was revealed to be an Inves that has escaped from Helheim Cracks from unknown locations, the Lockseed can be hacked to summon them freely, such as being used for crimes. In the end, those who possess the Over Lord Inves blood like Kouta, then Kaito who transformed into a pure Over Lord class Inves, can summon most of the Inves freely without any uses for Lockseeds.

Kamen Rider Drive

Main: Most of the Roidmudes who want to have their peaceful life like humans are these. Chase on the other hand was the first one to do so, prior to being brainwashed temporarily until he was finally rescued by Drive Type Formula and Kiriko, thus redeeming his sins when he was brainwashed into Mashin Chaser, as Kamen Rider Chaser. Although when Chase was Mashin Chaser, he temporarily helped Drive and the other Rider heroes to defeat Kamen Rider Lupin and Megahex. Later, Heart and Medic assist the three main Riders in their battle against Tenjuro Banno, with Heart and Drive destroying the Sigma Circular.
Movie

Movie War Full Throttle: Heart and Brain temporarily helped the primary Rider heroes. First up against Zoroku Tojo (now in body of ZZZ & known as Kamen Rider Lupin) for stealing the Roidmudes' data for himself, then Megahex who also had a bit of the same motives as Zoruku, but wanted to assimilate any species into like that robot.

Kamen Rider Ghost

Main: The Gazai Gamma, originally used by Igor as a pawn in the Demia Project, later defects from the Gamma, joining the Mysterious Phenomenon Institute and assisting the Kamen Riders. Later, Alain, having been framed for killing his father, becomes a renegade and now sides with Ghost and Specter in fighting the Gamma.

Kamen Rider Ex-Aid
Kamen Rider Build

Main: Many of the Smash encountered early on in the series were actually innocent victims turned into monsters by Faust, and most of these individuals would later assist them in some capacity later on. Gentoku Himuro, a leading member of Faust, originally fought against the Kamen Riders as Night Rogue before eventually joining them in saving the world from Evolto after a series of events which included his defection to Seito, the death of his father and eventually his betrayal of Namba Heavy Industries Ltd.

Kamen Rider Zi-O

The main Rider will have some sort of disaster befall them before attaining the Final Form. This began since Kamen Rider Decade.
Halfway through the show, new kinds of monsters are introduced, usually a higher-up of the previous monsters or attained through a different source of evolution.
Beside two main Riders, more Riders are introduced in the series since the appearance of Supporting Riders (Kamen Rider Proto-Birth) in Kamen Rider OOO.
Each series has a white-colored Rider (with the exception of Ex-Aid, (though Genm, referred as the Black Ex-Aid though he later assumes a form that is white in color and plays a similar role), Build, and Zi-O (though Tsukuyomi becomes a white Kamen Rider, she is never referred to as such)), specially referred to as white.
Each series has a character who is the closest friend of the protagonist and a relative of the series' white Rider. Since Ghost, this trend is sometimes inverted where the white Rider is also a relative to one of the main antagonists.
With the exception of Zi-O, each series has a mad and treacherous scientist who dedicated his life to research the series' monsters, and can transform into a Kamen Rider.
Each series has a red-colored villain general who can use heat power and become stronger when defeated. Up to Drive, and also later in Build, their role and importance gradually increase after each series.
Each series has a calm and calculative, but psychotic green-colored villain general. In contrast, their role and importance gradually decrease after each series up to Drive.
Each series' endgame has a character who defeats the main villain instead of the Primary Rider.
Between their Main Forms and their Super Forms, all main Riders also have a set of forms that are upgraded from their base forms. In the toylines, all of these forms have the ability to somewhat interchange.
Kamen Rider Wizard: Dragon Styles. One Wizardragon part can be attached to each of the Dragon Styles.
Kamen Rider Gaim: Jimber Arms. All of the Jimber Arms share the same Armor Parts, which have four sides. Each side represents a respective Energy Lockseed.
Kamen Rider Drive: Type Dead Heat. Its helmet is designed to transform between Drive and Mach, although this is only for accuracy to the Tire Koukan figure series and never happens on-screen. Additionally, Type Dead Heat's tire burns out upon loss of control of the form.
Kamen Rider Ghost: Toucon Boost Damashii, which is an upgraded version of Ore Damashii. It can also don any Damashii used by the Ore Transient, as well as the three Damashii that debut for it.
Kamen Rider Ex-Aid: Most of Ex-Aid's forms fit this trope: The Level 3, 4, and 5 forms are all theoretically interchangeable between Riders; Level 5 in particular being an extra strong form that can have Rider-specific modes or its fully-armored single-Rider mode; and Mighty Brothers XX is a direct upgrade to Mighty Action X that can split into two Riders.
Kamen Rider Build: RabbitTank Sparkling is a direct upgrade to RabbitTank Form. While it features no unique transformation gimmicks, Build's true Super Forms, RabbitRabbit Form and TankTank Form, are armor attachments on top of RabbitTank Hazard Form.
Besides the normal humanoid monsters, the main Riders also occasionally have to fight against giant CGI monsters. This was first featured in Kamen Rider Hibiki.
Unlike the first three series in the Phase 2 era where the monster-of-the-week is directly created by the villain generals, the main villain groups since Wizard are loose and not well-organized.
Unlike Double and Fourze who don't have any weapons in their primary forms or OOO whose Medajalibur was received as a present by the Kougami Foundation, all of the main Riders have a default sidearm.
While some advanced weapons in the previous three series (Double's Prism Bicker, OOO's Taja Spinner, and Fourze's Barizun Sword) can be loaded with different Collectible Devices to unleash different effects, the ability to use Collectible Devices together with the main Rider's primary weapon has become a standard since Wizard. Ghost is the only season to break this trend, although the series still has weapons that utilize collectible devices (Sunglasseslasher, Gan Gun Catcher).
Unlike Double, OOO, and Fourze whose default Main Forms consist of cold/neutral colors, all of the main Riders since Wizard have warm colors for their default Main Forms.
There are Rider Troops for each series, with the exception of Build and Zi-O.
Each series has a transformation belt that is utilized by at least two in-series Riders.
The series will usually take a secondary rider out of the action for various reasons and various lengths or even fights with the villains for multiple episodes.
Kamen Rider Wizard: Nitoh's Beast Driver is destroyed near the end of Wizard, though he temporarily joined the villains for one episode.
Kamen Rider Gaim: Takatora nearly gets killed by Ryoma and his Genesis Driver is taken from him by Mitsuzane. After hanging with Rosyuo for a bit, he comes back as Kamen Rider Zangetsu, but his Sengoku Driver is destroyed and is knocked into a coma by Mitsuzane until the end of the show. He was also an antagonist for the majority of the show.
Kamen Rider Drive: Go feigns an alliance to the Roidmudes in order to get closer to them and retrieve Banno. By the end of the show, both Chase and Go are killed and incapacitated respectively in the final battle.
Kamen Rider Ghost: Makoto at one point is brainwashed by the Necrom Eyecon and in another point, his body is destroyed, leaving him out of the show for a couple of episodes.
Kamen Rider Ex-Aid: Hiiro Kagami is briefly incapacitated due to strain placed on his body by his Level 50 form. He later briefly allies himself with Masamune Dan in a bid to restore his girlfriend, though he returns to the heroes' side after a while.
Kamen Rider Build: Ryuga Banjo is possessed by Evolto for two episodes due to him having a piece of Evolto's DNA inside of him.
Kamen Rider Zi-O: Geiz Myokoin briefly sides with White Woz and became GeizRevive to kill Zi-O. After the ordeal with Another Zi-O, he returns to the 9 5DO. And in the altered timeline, he has no memory of Sougo whatsoever until he defeated Another Zi-O II.
The leader of the main villain group is usually betrayed and sometimes, if not usually, killed by one of their subordinates.
The plot of each season's summer movie usually involves an alternate world or timeline being shown in contrast with the present world or timeline, somewhat harking back to the early Heisei Phase 1 summer movies of Ryuki, 555, Blade and Kabuto, which feature alternate endings to the main series storyline.
Each series includes a golden evil Kamen Rider:
With the exception of Gaim's Kiwami Arms and Ex-Aid's Muteki Gamer, all protagonist Riders lose their final form at the end of the series, though most would later regain said form at some point after their season's end.
Kamen Rider Wizard: Haruto gave his Infinity Ring to his A.R. counterpart.
Kamen Rider Drive: Mr. Belt locked himself and all Drive equipment underground.
Kamen Rider Ghost: The Mugen Eyecon faded away after Takeru used it to defeat the giant Great Eyezer.
Kamen Rider Build: The Genius Bottle is drained of its essence during the final battle against Evolto, prompting Sento to resort into using RabbitRabbit, RabbitTank Sparkling, RabbitTank, and finally, RabbitDragon forms.
Kamen Rider Zi-O: Following Sougo's transformation into Ohma Zi-O, he reset the timeline, consequently erasing his equipment he achieved as well.
The main Rider usually uses a disproportionately high number of collectible transformation devices as compared to the other Riders.
Each season usually has the third main Rider originally start off as good during or before the start of the series, then become evil for a period of time before finally redeeming themselves and going on the side of good again. Their Rider forms usually have either purple or green accents (or both in Ryugen's case).
The main villains usually possess an omnipotent object or entity of great power, which can possibly inflict mass destruction on the world.
A certain transformation device from each season has either a prototype or a mass-produced version.
The main villains use a unique way of moving from one place to another in an instant.
With the exception of Zi-O, each season has a spring movie which focuses more heavily on the Kamen Riders rather than other tokusatsu seasons, as compared to the first two Super Hero Taisen films. Incidentally, Kamen Rider 1 plays a significant role in each of these films.
Each season has a spinoff side story focusing on one of the main characters apart from the primary Rider.
Kamen Rider Gaim: Kamen Rider Gaim Gaiden had side stories featuring Baron, Zangetsu, Knuckle, Duke, Gridon, and Bravo.
Kamen Rider Drive: The Drive Saga series initially had one side story focusing on Chaser, but after its initial popularity and success, two more Drive Sagas focusing on Mach and Heart were released, with another focusing on Brain many years later.
Kamen Rider Ghost: The Legend of Hero Alain focuses on Alain, and Ghost RE:BIRTH: Kamen Rider Specter on Makoto.
Kamen Rider Ex-Aid: Ex-Aid manages to provide specials/movies for almost every Rider, including:
Kamen Rider Build: ROGUE focuses on the backstory of Gentoku Himuro, while Build NEW WORLD: Kamen Rider Cross-Z and Build NEW WORLD: Kamen Rider Grease focuses on Ryuga Banjo and Kazumi Sawatari respectively.
Kamen Rider Zi-O: Kamen Rider Zi-O Spin-off focuses on both Kamen Rider Shinobi & Kamen Rider Ryuki respectively, and Kamen Rider Zi-O NEXT TIME: Geiz, Majesty focuses on Geiz Myokoin.
The secondary Riders' super/final forms are actually equivalent to the protagonist Riders' Upgrade Forms.
The primary Riders' final form no longer has its own designated weapon. Instead, it uses the weapon used by the upgrade/super form to generate more powerful attacks.
Legend Rider collectible items from Gaim onwards allow the users to transform into special forms that are themed after those legend Riders, unlike previous Legend Rider collectible items, which merely summoned the corresponding Riders.
The Legend Rider Fullbottles from Kamen Rider Build allow Build to transform into the respective Legend Rider itself, much like Decade's main ability of transforming into past Riders.
As the 20th and final Heisei Kamen Rider season, the Legend Rider collectible items become the main gimmick of Kamen Rider Zi-O.
With the exception of Drive and Zi-O, all series have at least one Rider having a music-related power/weapon:
There is at least one ninja-based Rider or Rider form:
Though the trend of Net Movies has stopped since Gaim, each season's summer movie now has tie-in episodes which now directly relate to the plot of the summer movie. This was originally preceded by Kamen Rider Blade: New Generation, a tie-in miniseries to Kamen Rider Blade: Missing Ace. Kamen Rider Ex-Aid breaks this trend.
All series feature Kamen Riders with purple/violet color dominant in their main form. They're usually third or fourth Rider to appear in series.
There is at least 1 sentient Rider Machine in each series, with the exception of Build's Machine Builder & Zi-O's Ridestriker:
With the exception of Zi-O, there is at least 1 Rider who can combine with his Rider Machine to obtain a form:
The Blu-ray releases of each season have a mini-series tied in, often as an additional side story within the series' narrative.
Each season features initial conflict or some form of a rivalry between the series' secondary and tertiary rider before becoming comrades.
Except Zi-O, each season's villain group has a monster who chooses to befriend humans rather than attack them. With the exception of the Gazai Gamma, the monster eventually gets killed by the main villain groups for their perceived betrayal.
Each season's spring movie has a web-exclusive miniseries accompanying their release.
Most of the major villains at the start of the series would turn good at the end of it, and the last boss is usually another person (Tenjuro Banno, Gammaizers, and Masamune Dan) appearing much later. Evolto (to an extent) and Swartz broke the trend by being around the show's first quarter to the very end.
With the exception of Ghost, all series introduced an evil Rider-like character with a mysterious identity at the start of the series.
Each season has Kamen Rider with same name as the user.
Kamen Rider in the Heisei Phase 2 era
The crossover between a Kamen Riders from a different series was all started from the Kamen Rider Den-O & Kiva: Climax Deka in Phase 1, as a starter up for the next Rider crossover within Phase 2, starting from Movie War series.
Advertisements throughout the months of May, June, and July 2009 built up to the debut of Kamen Rider W who was introduced as the eleventh addition of the Heisei Era, first appearing at the 10th Anniversary Project MASKED RIDER LIVE & SHOW event, and was featured in Kamen Rider Decade: All Riders vs. Dai-Shocker. The title characters star as detectives investigating crime waves about kaijin known as Dopants in the fictional city of Futo. Like much of the previous entries of the Heisei Era, the titular Rider, Kamen Rider Double, can transform into multiple forms, using devices shaped like USB hard drives called Gaia Memories. The Dopants that they fight are really people that use unrefined Gaia Memories for their own purposes. Double is also the first Kamen Rider to transform from two people at once. This series is also the first instance where the show airs on the same day it's predecessor (in this case, Decade) airs it's finale. The series premiered on September 6, 2009. Continuing into 2010 with Kamen Rider × Kamen Rider W & Decade: Movie War 2010, W ran for a full year from September 2009 to September 2010, instead of January to January. Also in 2010 were the second, third, and fourth films of the Cho-Den-O Series, collectively known as Kamen Rider × Kamen Rider × Kamen Rider The Movie: Cho-Den-O Trilogy. Along with Den-O and Kabuto, it became one of the most successful Heisei Kamen Rider series.
In late 2010, Kamen Rider OOO was introduced as the twelfth addition of the Heisei Era Kamen Rider Series. The title character is a world traveler that is pulled into a fight with kaijin called the Greeed that was resurrected from a 800-year sleep to find themselves incomplete by such a Greeed, reduced to the status of a forearm, who gives him the means to transform into Kamen Rider OOO. Like Kamen Riders BLACK RX to Agito, and Den-O to Double, Kamen Rider OOO can change forms, but unlike the others, OOO can transform using three Core Medals, special coin-based artifacts based on animals that make up a Greeed's ability to stay alive without falling apart. There are nine Core Medals for each set, three each designated for Head, Arms, or Legs. As so far, OOO has the most transformations in Kamen Rider history, having able to use a possible 126 different combinations of Core Medals.
The year 2011 celebrated the 40th anniversary of the franchise. The festivities included the Kamen Rider Girls idol group, the film OOO, Den-O, All Riders: Let's Go Kamen Rider, released on April 1, 2011, and OOO's successor Kamen Rider Fourze, which references the previous heroes in its characters' names and within the plot. OOO, Den-O, All Riders: Let's Go Kamen Rider was the first starter up of the Taisen movie series, which was included Super Sentai's Akaranger, Other heroes like Zuban, original Kikaiders and original Inazuman, resulting a development of the first Super Hero Taisen crossover film titled Kamen Rider × Super Sentai: Super Hero Taisen

, which was released in 2012, featuring the main heroes from all Kamen Rider and Super Sentai series produced until then, then becomes expanded with the other heroes like Metal Heroes (particularly Space Sheriffs) and the other heroes like new Inazuman from Movie War Ultimatum, sans in Gaim and Drive's own spring movies, which focused on all Kamen Riders with less Super Sentai team that focused on the sophomore and the current ones.
In late 2012, Kamen Rider Wizard was introduced as the fourteenth addition of the Heisei Era Kamen Rider Series. The title character is a magician that have to save people with magical potential known as Gates from the Phantom. Like Fourze, Kamen Rider Girls has a new member joining their group as Chisato Akita representing Wizard. For the summer film, it does not feature a new Rider succeeding Wizard but it would appear on the predecessor's final episode. As the series ran for 53 episodes, it was marked as the longest run in the Heisei Era, beating Agito with two episodes. On the final two episode of Wizard, it features the first 14 Heisei Riders and introducing the 15th Rider, Gaim in its special. Due to Wizard ending on September 2013, new Kamen Rider shows would start on the first week of October and end on the last week of September.
In late 2013, Kamen Rider Gaim was introduced as the fifteenth addition of the Heisei Era Kamen Rider Series. Unlike the recent series, it started off with multiple Riders appearing and it did not follow the two-part episode format. For the Kamen Rider Girls group, similar to Fourze and Wizard another member joined the group as Jiena Sumi Tomomi representing Gaim. In 2014, the film Heisei Rider vs. Showa Rider: Kamen Rider Taisen feat. Super Sentai features the primary 30 Riders in both Showa and Heisei Eras with many returning actors from previous Rider series. Due to the popularity of the show, two spin-off movies would feature two Riders being the main character of the film while the title Rider had a cameo appearance in both films. Like Wizard, Gaim didn't meet his successor in his summer film or in the final episode.
In late 2014, Kamen Rider Drive was introduced as the sixteenth addition of the Heisei Era Kamen Rider Series, surpassing the number of Riders in the Showa Era. Unlike most of the Kamen Riders, the title character drives a car instead of a bike. Due to Drive not meeting his predecessor in its summer film or final episode, they would meet for the first time in Movie War Full Throttle. The Kamen Rider Girls did not have a new member representing Drive.
In late 2015, Kamen Rider Ghost was introduced as the seventeenth addition of the Heisei Era Kamen Rider Series. Ayako Kuroda had joined Kamen Rider Girls in the year Ghost' began airing.
In late 2016, Kamen Rider Ex-Aid was introduced as the eighteenth addition of the Heisei Era Kamen Rider Series.
In late 2017, Kamen Rider Build was introduced as the nineteenth addition of the Heisei Era Kamen Rider Series. Unlike the previous installments, Build took place in parallel world, and would interact with the characters from the prime universe in Kamen Rider Heisei Generations FINAL: Build & Ex-Aid with Legend Riders.
In late 2018, Kamen Rider Zi-O was introduced as the twentieth and final addition of the Heisei Era Kamen Rider Series. The series serves as an anniversary season like Decade, where it commemorates its predecessors by using collectible devices based on previous Riders. The summer film, Kamen Rider Zi-O: Over Quartzer would set-up the Reiwa Series by introducing Kamen Rider Zero-One and crossing over with him in Kamen Rider: Reiwa The First Generation.
Number Theory?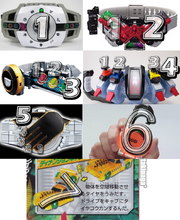 A fan theory about Phase 2 is that each series seems to follow an increasing numbered theme, although this gradually became less obvious with each season:
This theory is later conflicted with Takahito Omori's claim that Ex-Aid's number is 10.[1]. On February 13, 2019, Shinichiro Shirakura on his Twitter officially denied and put an end to the theory.[2]
Heisei Phase 2 Rider productions
References