Wiki Targeted (Entertainment)
Play Sound
For the original Kamen Rider Scissors, see Masashi Sudo.
Kamen Rider Scissors (仮面ライダーシザース, Kamen Raidā Shizāsu, 6): One of the Riders who fight in the Kamen Rider Trial of the World of Ryuki, Scissors is a cheating Rider who uses the power of his Contract Monster Volcancer. He is labeled by the Atashi Journal to have a victory rate of 6.8%.
Character History
He is first seen fighting Kamen Rider Verde in Mirror World. Scissors almost loses to Verde's Clear Vent and pretends to surrender to Verde, just so he can use his Advent Card, summoning Volcancer who attacks Verde, removing Kamen Rider Verde from the trial.
He is later removed from the trial by Knight's Final Vent. Battle Trial: Ryuki World

Kamen Rider Scissors
Kamen Rider Scissors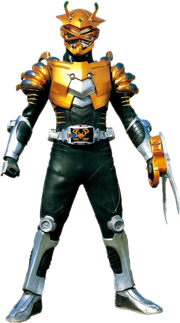 Rider Statistics:[1]
Rider Height: 190 cm
Rider Weight: 93 kg
Rider Senses:[1] Ability Parameters:
Punching Power: 250 AP (12.5 t)
Kicking Power: 300 AP (15 t)
Maximum Jump Height: 35 m
Maximum Running Speed: 100 m per 5 seconds
Eyesight: 10 km
Hearing: 10 km
Special Abilities:[1]
Advent: Volcancer: 3000 AP (150 t)
Scissorspinch: 1000 AP (50 t)
Shelldefense: 2000 GP (100 t)
Scissors Attack: 4000 AP (200 t)
One can transform into Kamen Rider Scissors using an Card Deck and V Buckle upon forming a contract with Volcancer. His Visor, the Scissorsvisor (シザースバイザー, Shizāsu Baizā), is a claw-equipped gauntlet on his left arm that also functions as his personal weapon. Scissors' jumping height and running speed are identical to Ryuki's, but his kicking power is lower in exchange for a slightly higher punching power.
Through the use of his Strike Vent Advent Card, Scissors can arm himself with the Scissorspinch (シザースピンチ, Shizāsu Pinchi), an arm-mounted claw derived from Volcancer's left pincer. His Guard Vent equips him with the Shelldefense (シェルディフェンス, Sheru Difensu), a shield derived from the armor plating on Volcancer's back.
This form consists of the following parts[2]:
S Signal (

Sシグナル

,

S Shigunaru

): The green gem on the forehead. A radar sensor that informs the position of the enemy.
Vol Antenna (

ボルアンテナ

,

Boru Antena

): The antennas. They allow Scissors to communicate with Volcancer.
Solid Face Shield (

ソリッドフェイスシールド

,

Soriddo Feisu Shīrudo

): A face protector made of solid Armetal (

アーメタル

,

Āmetaru

). It allows Scissors to operate in areas contaminated with toxic gas.

Gold Eye (

ゴールドアイ

,

Gōrudo Ai

): The eyes. They allow Scissors to see enemies up to 10km away. Just like the other riders, they also have infrared vision.

Vol Chest (

ボルチェスト

,

Boru Chesuto

): The chest armor. It is just as strong as Knight's Dark Chest and Ryuki's Dragon Chest.
Granmail (

グランメイル

,

Guranmeiru

): A specially strengthened skin that covers the wearer's body, allowing them to stay in the Mirror World for 9 minutes and 55 seconds. If the transformation is cancelled, the user will lose the ability to fight and become monster food.

Zippetto Thread (

ジペット・スレッド

,

Jipetto Sureddo

): The ports all over the body. They are remote control devices used to control Volcancer. They are located on the back, the shoulders, wrists, sides of the belt, kneepads and back of the legs.
Force Bone (

フォース・ボーン

,

Fōsu Bōn

): The lines on the suit. They are control organs that are located on the waist, on both arms, and the back of legs. They distribute the power throughout the body in a well-balanced manner.

Vol Knuckle (

ボルナックル

,

Boru Nakkuru

): The handguards. They are made of Armetal.
Silver Armor (

シルバーアーマー

,

Shirubā Āmā

): The shin armor. They are made of strong and lightweight Armetal, and are as tough as diamonds.
Leg Silver (

レッグシルバー

,

Reggu Shirubā

): The shoes. They allow Scissors to perform the "Scissors Attack".
This form is exclusive to Decade Episode 6.

Contract Monster
Main article: Volcancer
Equipment
Behind the scenes
Portrayal
This version of Kamen Rider Scissors is voiced by Yasunori Masutani (増谷 康紀, Masutani Yasunori), who previously voiced Cosmic Kenpō Master Pachacamac XII

, the main antagonist from Juken Sentai Gekiranger vs. Boukenger

and later voiced his successor, Cosmic Kenpō Master Pachacamac XIII

that appeared in Kaizoku Sentai Gokaiger

. His suit actor is Norihito Itō (伊藤 教人, Itō Norihito).
Notes
Appearances
References
↑

Kamen Rider Ryuki Super Complete Works Volume 1, p.80, p.81