Boba Fett Returns - The Loop
Play Sound
Kamen Rider Ryuki Special: 13 Riders (仮面ライダー龍騎スペシャル 13 RIDERS, Kamen Raidā Ryūki Supesharu Sātīn Raidāzu) is a television special set within the continuity of Kamen Rider Ryuki. It features the debut of Kamen Rider Verde, the 13th Rider.
Summary
This television special is an alternate telling of the Kamen Rider Ryuki story. Shinji Kido's life, working as an employee at ORE Journal, takes a sharp turn after being pulled into the Mirror World by a Mispider. Luckily, he was saved by Kamen Rider Ryuki, Koichi Sakakibara. However, Sakakibara could no longer go on due to the severity of his injuries and passed his Card Deck to Shinji, allowing him to become the next Ryuki and defeat the monster.
After meeting with Yui Kanzaki and Ren Akiyama (Kamen Rider Knight), Shinji learns about the conditions of the Rider War, as well as of the other Riders participating. Unable to allow such a game of death to exist like his Rider predecessor, Shinji sets out to convince all the Riders to end the senseless fighting and put an end to the War.
His pleas fall upon deaf ears as just about every other Rider (except for the already-defeated Riders Raia and Scissors) sets out to hunt down Shinji and his eventual reluctant ally, Ren. Eventually, Shinji's deck is destroyed and Ren dies, after passing on the deck for Kamen Rider Knight to Shinji.
The special has two different endings which were voted on by the viewers via phone at the time of the initial airing: the voted-for-air ending (in which Shinji faces the surviving Riders on his own) and the alternate ending (a resetting of the Rider War).
Continuity and Placement
Characters
Kamen Riders
Main article: 13 Kamen Riders
Allies
Kanzaki Family
ORE Journal
Villains
Kamen Riders
Mirror Monsters
Main article: Mirror Monsters
Cast
Guest Cast
Suit Actors
Cards used:

Ryuki:

Survive Rekka, Shoot Vent

Knight (Ren):
Knight (Kido):

Survive Shippu, Knight Survive Final Vent 

Scissors:
Zolda:
Raia:

Final Vent (Interrupted by Verde)

Gai:
Ouja:

Sword Vent, Final Vent (×2)

Tiger:
Imperer:
Verde:

Hold Vent, Clear Vent, Copy Vent, Final Vent (×2)

Femme:
Ryuga: 
Odin:

Weapons/Powers summoned:

Ryuki:

Dragvisorzwei, Meteorbullet

Knight (Ren):

Wing Lancer, Flyinglancer

Knight (Kido):
Scissors:

Shell Defense (Off-Screen)

Zolda:
Raia:

Hide Venom (Interrupted by Verde)

Gai:
Ouja:

Veno Saber, Veno Crash (×2)

Tiger:
Imperer:
Verde:

Bio-Winder, Invisible, Copy Vent, Death Punish (×2)

Femme:
Ryuga: 

Ryuga's Dragsaber, Dragon Rider Kick

Odin:
Notes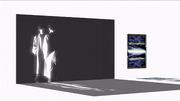 See Also
References