Wiki Targeted (Entertainment)
Play Sound
This article is about the A.R. World version of Kamen Rider Raia. For the Original Kamen Rider Raia, see Miyuki Tezuka.
Kamen Rider Raia (仮面ライダーライア, Kamen Raidā Raia) is a Rider who uses the power of his Contract Monster Evildiver.
He is seen fighting Kamen Rider Imperer and Kamen Rider Gai, with his Swing Vent.

Forms
Raia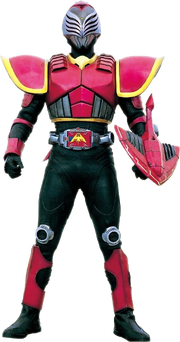 Rider Statistics:[1]
Rider Height: 190 cm
Rider Weight: 92 kg
Ability Parameters:[1]
Punching Power: 200 AP (10 t)
Kicking Power: 300 AP (15 t)
Maximum Jump Height: 40 m
Maximum Running Speed: 100 m per 5 seconds
Eyesight: 10 km
Hearing: 10 km
Special Abilities:[1]
Advent: Evildiver: 4000 AP (200 t)
Evilwhip: 2000 AP (100 t)
Hide Venom: 5000 AP (250 t)
One can transform into Kamen Rider Raia using an Card Deck and V Buckle upon forming a contract with Evildiver. His Visor, the Evilvisor (エビルバイザー, Ebiru Baizā), is small shield mounted on his left arm. Raia's punching power, kicking power, and jump height are identical to Knight's, but he is slightly slower.
Through the use of the Swing Vent Advent Card, Raia can arm himself with the Evilwhip (エビルウィップ, Ebiru Wippu), a whip derived from Evildiver's tail. Raia can also use the Copy Vent to summon a copy of his opponent's weapon
By using his Final Vent, Raia can execute his finisher, the Hide Venom (ハイドベノン, Haido Benon), in which he rides on Evildiver's back and rams into the enemy.
This form is exclusive to Decade Episode 6.
Contract Monster
Main article: Evildiver
Equipment
Notes
Like other A.R. Ryuki Riders that appeared in Kamen Rider Decade, either his real identity or his full name never be revealed by Toei, but he only appeared in suit and voice.
Appearances
References