"It's Decade's fault. This switch needs adjusting."
This article is in need of cleanup. You can help us out by editing it!

Reason: list is getting too long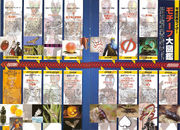 The designs of Kamen Riders have mostly centered around a grasshopper. Soon the "bug-eye" lenses were fitted into other Kamen Riders that took motifs of other insects. In the Heisei Era other motifs were used such as those of other animals, playing cards, and figures in Japanese Mythology. Final Forms (also known as Final Form Rides) from Decade are based on the Weapons, Support vehicles, etc. of the Rider.
Showa Era
Kamen Rider V3 (

仮面ライダーV3

Kamen Raidā Bui Surī

) - Grasshopper/Skull Man/Dragonfly/Double Riders
Riderman (

ライダーマン

Raidāman

, Kamen Rider 4, Kamen Rider V4) - Grasshopper/Skull Man
Destron Riderman (

デストロンライダーマン

Desutoron Raidāman

) - Grasshopper/Skull Man
Kamen Rider X (

仮面ライダーX

Kamen Raidā Ekkusu

, X-Rider) - X, Giant water bug, Acrobatic performer/Diver
G.O.D. Rider (

G.O.D.ライダー

Goddo Raidā

, Imit-Kamen Rider X) - X, Giant water bug, Acrobatic performer/Diver
Kamen Rider Amazon (

仮面ライダーアマゾン

Kamen Raidā Amazon

) - Spotted monitor lizard/Piranha/Chameleon/Angler fish/Chimera
Imit-Kamen Rider Amazon (

偽仮面ライダーアマゾン

Nise Kamen Raidā Amazon

) - Spotted monitor lizard/Piranha/Chameleon/Angler Fish/Chimera
Kamen Rider Stronger (

仮面ライダーストロンガー

Kamen Raidā Sutorongā

) - Japanese rhinoceros beetle/Electricity/Letter S

Charge Up Form (

チャージアップフォーム

Chāji Appu Fōmu

) - Japanese rhinoceros beetle/Electricity/Letter S

Electro-Wave Human Tackle (

電波人間タックル

Denpa Ningen Takkuru

) - Ladybug
Skyrider (

スカイライダー

Sukairaidā

) - Locust, Skydiver
GanGan G (

がんがんじい

Gan Gan Jī

) - Letter G/Gorilla/Samurai
Imit-Skyriders (

偽スカイライダー

Nise Sukairaidā

) - Locust/Skydiver/Skyrider
Kamen Rider Super-1 (

仮面ライダースーパー1

Kamen Raidā Sūpā Wan

) - Hornet/Ant/Astronaut
Robot Super-1 (

ロボットスーパー1

Andoroido Sūpā Wan

, Imit-Kamen Rider Super-1) - Hornet/Ant/Astronaut/Super-1
Kamen Rider ZX (

仮面ライダーZX

Kamen Raidā Zekurosu

, Kamen Rider Z-Cross) - Ninja/Longhorn beetle
Kamen Rider BLACK (

仮面ライダーBLACK

Kamen Raidā Burakku

) - Black Grasshopper/Sun/Demon King
Shadow Moon (

シャドームーン

Shadō Mūn

) - White Grasshopper/Moon/Demon King
Kamen Rider BLACK RX (

仮面ライダーBLACK RX

Kamen Raidā Burakku Āru Ekkusu

) - Black Grasshopper/Sun/Demon King

Robo Rider (

ロボライダー

Robo Raidā

) - Grasshopper/Robot/Sorrow
Bio Rider (

バイオライダー

Baio Raidā

) - Grasshopper/Bio-Organism/Anger

Gel Form (

ジェルフォーム

Jeru Fōmu

) - Grasshopper/Gel
Giant Kamen Rider 1 (

巨大仮面ライダー1号

Kyodai Kamen Raidā Ichigō

) - Grasshopper/Giant/Ultraman/Skull Man
Kamen Rider J (

仮面ライダーJ

Kamen Raidā Jei

) - Grasshopper

Jumbo Formation (

ジャンボフォーメーション

Janbo Fōmēshon

) - Grasshopper/Giant
Giant Shadow Moon (

巨大シャドームーン

Kyodai Shadō Mūn

) - White Grasshopper/Moon/Demon King/Giant
Heisei Era
Kamen Rider Kuuga (

仮面ライダークウガ

Kamen Raidā Kūga

) - Stag beetle/N-Daguva-Zeba

Mighty Form (

マイティフォーム

Maiti Fōmu

) - Stag beetle/Flame

Rising Mighty (

ライジングマイティ

Raijingu Maiti

) - Stag beetle/Flame/Electricity
Amazing Mighty (

アメイジングマイティ

Ameijingu Maiti

) - Stag beetle/Flame/Electricity

Growing Form (

グローイングフォーム

Gurōingu Fōmu

) - Stag beetle larva
Dragon Form (

ドラゴンフォーム

Doragon Fōmu

) - Stag beetle/Water

Rising Dragon (

ライジングドラゴン

Raijingu Doragon

) - Stag beetle/Water/Electricity

Pegasus Form (

ペガサスフォーム

Pegasasu Fōmu

) - Stag beetle/Wind

Rising Pegasus (

ライジングペガサス

Raijingu Pegasasu

) - Stag beetle/Wind/Electricity

Titan Form (

タイタンフォーム

Taitan Fōmu

) - Stag beetle/Earth

Rising Titan (

ライジングタイタン

Raijingu Taitan

) - Stag beetle/Earth/Electricity

Ultimate Form (

アルティメットフォーム

Arutimetto Fōmu

) - Stag beetle/Dragon/Demon/Darkness/N-Daguva-Zeba/Lord
Kamen Rider G3 Mild (

仮面ライダーG3マイルド

Kamen Raidā Jī Surī Mairudo

) - Kamen Rider Kuuga/Robot/Stag beetle/Mass production type/police officer
Kamen Rider G4 (

仮面ライダーG4

Kamen Raidā Jī Fō

) - Kamen Rider Kuuga/Kamen Rider Agito/Robot/Stag beetle/police officer
Kamen Rider Femme (

仮面ライダーファム

Kamen Raidā Famu

) - Swan/Medieval Knight/Fencer
Kamen Rider Ryuga (

仮面ライダーリュウガ

Kamen Raidā Ryūga

) - Chinese Dragon/Medieval Knight/Opposite
Kamen Rider Ouja Blank Form (

仮面ライダー王蛇 ブランク体

Kamen Raidā Ōja Burankutai

) - Blank King Cobra/Pharaoh
Fake Kamen Rider Agito (

偽仮面ライダーアギト

Nise Kamen Raidā Agito

) - European Dragon/Hell/Kamen Rider Agito Burning Form
Other Smart Brain Riders
Kamen Rider Blade (

仮面ライダーブレイド

Kamen Raidā Bureido

)
Kamen Rider Chalice (

仮面ライダーカリス

Kamen Raidā Karisu

)
Kamen Rider Garren (

仮面ライダーギャレン

Kamen Raidā Gyaren

)

Ace Form (

エースフォーム

Ēsu Fōmu

) - Stag beetle (Prosopocoilus inclinatus)/Diamonds
Jack Form (

ジャックフォーム

Jakku Fōmu

) - Stag beetle (P. inclinatus)/Diamonds/Jack/Peacock
King Form (

キングフォーム

Kingu Fōmu

) - Giraffe stag beetle/Diamonds/King

Kamen Rider Leangle (

仮面ライダーレンゲル

Kamen Raidā Rengeru

)
Taiyaki Master Ultimate Form (

タイヤキ名人アルティメットフォーム

Taiyaki Mejin Arutimetto Fōmu

) - Taiyaki Chef/Taiyaki/Kendo Suit
Kamen Rider Gatack Hyper Form (

仮面ライダーガタック ハイパーフォーム

Kamen Raidā Gatakku Haipā Fōmu

) - Stag beetle
Kamen Rider Den-O (

仮面ライダー電王

Kamen Raidā Den'ō

) - Shinkansen (Bullet Train)/ Fairy Tales

Plat Form (

プラットフォーム

Puratto Fōmu

) - Train station
Sword Form (

ソードフォーム

Sōdo Fōmu

) - Momotarō/Oni/Peach
Rod Form (

ロッドフォーム

Roddo Fōmu

) - Urashima Tarō/Sea Turtle
Ax Form (

アックスフォーム

Akkusu Fōmu

) - Kintarō/Bear
Gun Form (

ガンフォーム

Gan Fōmu

) - Tatsu no Ko Tarō/Japanese Dragon
Wing Form (

ウイングフォーム

Uingu Fōmu

) - Swan Lake/Swan
Climax Form (

クライマックスフォーム

Kuraimakkusu Fōmu

) - Train station/Momotarō/Urashima Tarō/Kintarō/Tatsu no Ko Tarō/DenLiner/KingLiner
Liner Form (

ライナーフォーム

Rainā Fōmu

) - DenLiner Gouka/KingLiner

Kamen Rider Zeronos (

仮面ライダーゼロノス

Kamen Raidā Zeronosu

) - Locomotive

Plat Form (

プラットフォーム

Puratto Fōmu

) - Train station
Altair Form (

アルタイルフォーム

Arutairu Fōmu

) - Altair/Bull/Ushiwakamaru/Letter A
Vega Form (

ベガフォーム

Bega Fōmu

) - Deneb/Vega/Hawk/Benkei/Magpie/Letter V
Zero Form (

ゼロフォーム

Zero Fōmu

) - Altair/Bull/Ushiwakamaru/Zero/Letter Z

Kamen Rider Shin-O (

仮面ライダーしん王

Kamen Raidā Shin'ō

) - Kamen Rider Den-O/Pig
Riders' Imagins
Momotaros (

モモタロスイマジン

Momotarosu

) - Momotarō/Oni/Peach/Sword
Urataros (

ウラタロスイマジン

Uratarosu

) - Urashima Tarō/Sea turtle/Fishing Rod
Kintaros (

キンタロスイマジン

Kintarosu

) - Kintarō/Bear/Axe
Ryutaros (

リュウタロスイマジン

Ryūtarosu

) - Tatsu no Ko Tarō/Japanese Dragon
Deneb (

デネブイマジン

Denebu

) - Deneb/Vega/Hawk/Benkei/Karasu-Tengu

Denebick Buster (

デネビックバスター

Denebikku Basutā

) - Deneb/Vega/Hawk/Benkei/Karasu-Tengu/Gattling gun

Sieg (

ジークイマジン

Jīku

) - Swan/Swan Lake/Prince
The Legendary Imagin (

伝説のイマジン

Densetsu no Imajin

) - Buriburizaemon/Pig
Kamen Rider Version 3 (

仮面ライダーヴァージョン3

Kamen Raidā Bājon Surī

, Hopper Version 3) - Grasshopper/Skull Man/Dragonfly
Shocker Hoppers (

ショッカーホッパー

Shokkā Hoppā

) - Kamen Rider The Second (Hopper 2)
Kamen Rider Nega Den-O (

仮面ライダーネガ電王

Kamen Raidā Nega Den'ō

) - Bullet train/Negative

Nega Form (

ネガフォーム

Nega Fōmu

) - Momotarō/Oni/Peach/Negative
Rider's Imagins
Negataros (

ネガタロス

Negatarosu

) - Momotarō/Oni/Peach/Negative
Kamen Rider Rey (

仮面ライダーレイ

Kamen Raidā Rei

) - Yeti
Kamen Rider Arc (

仮面ライダーアーク

Kamen Raidā Āku

) - Ram/Demon

Legend Arc (

レジェンドアーク

Rejendo Āku

) - Ram/Demon

Kamen Rider Kiva Flight Style (

仮面ライダーキバ 飛翔態

Kamen Raidā Kiba Hishōtai

) - Bat/Vampire/Dragon/Jack-O`Lantern/Wyvern
Kamen Rider Kiva DoGaBaKi Emperor Form (

仮面ライダーキバ ドガバキエンペラーフォーム

Dogabaki Enperā Fōmu

) - Bat/Vampire/Werewolf/Gill-man/Frankenstein's monster/King/Dragon
Kamen Rider Yuuki (

仮面ライダー幽汽

Kamen Raidā Yūki

) - Death/Steam train/Samurai
Kamen Rider New Den-O (

仮面ライダーNEW電王

Kamen Raidā Nyū Den'ō

) - Shinkansen/New DenLiner

Strike Form (

ストライクフォーム

Sutoraiku Fōmu

) - Momotarō/Oni/Bullet train/Train station

Teddy Imagin (

テディイマジン

Tedi Imajin

) - Momotarō/Oni

Macheteddy (

マチェーテディ

Machētedi

) - Momotarō/Oni/Machete
Goludora (

ゴルドラ

Gorudora

) - Grasshopper/Oni/Gold
Shilubara (

シルバラ

Shirubara

) - Dragonfly/Oni/Silver
Kamen Rider New Den-O Vega Form (

仮面ライダーNEW電王 ベガフォーム

Kamen Raidā Nyū Den'ō Bega Fōmu

) - Deneb/Vega/Hawk/Benkei/Magpie
Kamen Rider Den-O Super Climax Form (

仮面ライダー電王 超・クライマックスフォーム

Kamen Raidā Den'ō Chō Kuraimakkusu Fōmu

) - Train station/Momotarō/Urashima Tarō/Kintarō/Tatsu no Ko Tarō/Swan Lake/DenLiner/KingLiner
Kamen Rider Kuuga Rising Ultimate (

仮面ライダークウガ ライジングアルティメット

Kamen Raidā Kūga Raijingu Arutimetto

) - Stag Beetle/Dragon/Demon/Darkness/N-Daguva-Zeba/Lord
Jumbo Decadriver (

ジャンボディケイドライバー

Janbo Dikeidoraibā

) - Belt/Buckle/Camera
Kamen Rider Decade Complete Form Jumbo Formation (

仮面ライダーディケイド コンプリートフォーム ジャンボフォーメーション

Kamen Raidā Dikeido Konpurīto Fōmu Janbo Fōmēshon

) - Italian Striped-Bug/Barcode/Kamen Ride Cards/King/Giant
Kamen Rider Double (

仮面ライダーW(ダブル)

Kamen Raidā Daburu

) - Letter W/Grasshopper/Detective

CycloneJoker (

サイクロンジョーカー

Saikuron Jōkā

) - Letter W/Cyclone/Joker/Warrior/Grasshopper/Detective

HeatJoker (

ヒートジョーカー

Hīto Jōkā

) - Heat/Joker/Warrior
LunaJoker (

ルナジョーカー

Runa Jōkā

) - Moon/Illusion/Joker/Warrior
ShippūKirifuda (

疾風切札

) - Gale/Trump/Kabuki/Warrior

HeatMetal (

ヒートメタル

Hīto Metaru

) - Heat/Metal

CycloneMetal (

サイクロンメタル

Saikuron Metaru

) - Cyclone/Metal
LunaMetal (

ルナメタル

Runa Metaru

) - Moon/Illusion/Metal

LunaTrigger (

ルナトリガー

Runa Torigā

) - Moon/Illusion/Sniper

CycloneTrigger (

サイクロントリガー

Saikuron Torigā

) - Cyclone/Sniper
HeatTrigger (

ヒートトリガー

Hīto Torigā

) - Heat/Sniper

FangJoker (

ファングジョーカー

Fangu Jōkā

) - Fang/Dinosaur/Joker/Warrior
CycloneJokerXtreme (

サイクロンジョーカーエクストリーム

Saikuron Jōkā Ekustorīmu

) - Letter X/Cyclone/Joker/Warrior/Crystal/Prism/Bird
CycloneAccelXtreme (

サイクロンアクセルエクストリーム

Saikuron Akuseru Ekustorīmu

) - Letter X/Cyclone/Motorcycle/Crystal/Prism/Bird
Kamen Rider Cyclone (

仮面ライダーサイクロン

Kamen Raidā Saikuron

) (novel and game only) - Cyclone (full colored line)/Grasshopper/Kamen Rider W (Double)

Kamen Rider Accel (

仮面ライダーアクセル

Kamen Raidā Akuseru

) - Letter A/Motorcycle/Beetle

Bike Form (

バイクフォーム

Baiku Fōmu

) - Letter A/Motorcycle

AccelGunner (

アクセルガンナー

Akuseru Gannā

) - Letter A/Motorcycle/Tank
AccelTurbuler (

アクセルタービュラー

Akuseru Tāburā

) - Letter A/Motorcycle/Hovercraft

Yellow Signal Version (

イエローシグナルバージョン

Ierō Shigunaru Bājon

) - Letter A/Motorcycle/Beetle
Accel Trial (

アクセルトライアル

Akuseru Toraiaru

) - Letter A/Off-road Motorcycle/Motocross Rider/Beetle
Final Form Rides

Ultimate Gouram (

アルティメットゴウラム

Arutimetto Gōramu

) - Stag beetle/Demon/Darkness/N-Daguva-Zeba/Lord
Kamen Rider Double CycloneCyclone (

仮面ライダーW(ダブル) サイクロンサイクロン

Kamen Raidā Daburu SaikuronSaikuron

) - Letter W/Cyclone
Kamen Rider Double JokerJoker (

仮面ライダーW(ダブル) ジョーカージョーカー

Kamen Raidā Daburu JōkāJōkā

) - Letter W/Joker/Warrior
Episode Blue
Rider's Imagins
Episode Yellow
Kamen Rider G Den-O (

仮面ライダーG電王

Kamen Raidā Jī Den'ō

) - Shinkansen/Police car/Police officer
Kamen Rider Diend Complete Form (

仮面ライダーディエンド コンプリートフォーム

Kamen Raidā Diendo Konpurīto Fōmu

) - Sniper/King/Barcode/Kamen Rider Cards/Movie Riders
Rider's Imagins
Eve Imagin (

イブイマジン

Ibu Imajin

) - Doberman Pinscher/Police badge
Kamen Rider Eternal (

仮面ライダーエターナル

Kamen Raidā Etānaru

) Blue Flare - Letter E/Infinity/Eternity/Commando/Owl

Strengthening Armament (

強化武装

Kyouka Busou

) - Letter E/Infinity/Eternity/T2 Gaia Memories

Kamen Rider Joker (

仮面ライダージョーカー

Kamen Raidā Jōkā

) - Joker (full colored line)/Grasshopper/Kamen Rider Double/Warrior
Kamen Rider Double CycloneJokerGoldXtreme (

仮面ライダーW(ダブル) サイクロンジョーカーゴールドエクストリーム

Kamen Raidā Daburu Saikuron Jōkā Gōrudo Ekusutorīmu

) - Letter X/Grasshopper/Insect/Cyclone/Joker/Warrior/Prism/Crystal/Gold/Bird
Kamen Rider Accel Booster (

仮面ライダーアクセルブースター

Kamen Raidā Akuseru Būsutā

) - Letter A/Motorcycle/Thrusters/Beetle
Kamen Rider Eternal Red Flare (

仮面ライダーエターナルレッドフレア

Kamen Raidā Etānaru Reddo Furea

) - Letter E/Infinity/Eternity/Owl
Kamen Rider Birth (

仮面ライダーバース

Kamen Raidā Bāsu

) - Gashapon Machine/Birthday Cake/Scorpion

Birth Day (

バース・デイ

Bāsu Dei

) - Gashapon Machine/Birthday Cake/Scorpion/Drill/Power Shovel/Crane/Cannon/Continuous Track
Proto Type (

プロトタイプ

Purototaipu

) - Gashapon Machine/Birthday Cake/Scorpion/Prototype
Kamen Rider OOO Tamashii Combo (

仮面ライダーオーズ タマシーコンボ

Kamen Raidā Ōzu Tamashī Konbo

) - Hawk/Oni/Momotarō/Peach/Shocker/Soul
Rider's Imagins
Momotaken (

モモタケン

) - Oni/Momotarō/Peach/Sword/Fire
Kamen Rider OOO Takagaruba (

仮面ライダーオーズ タカガルバ

Kamen Raidā Ōzu Takagaruba

) - Hawk/Kangaroo/Grasshopper
Kamen Rider OOO Takatoragaru (

仮面ライダーオーズ タカトラガル

Kamen Raidā Ōzu Takatoragaru

) - Hawk/Tiger/Kangaroo
Kamen Rider OOO Burakawani Combo (

仮面ライダーオーズ ブラカワニコンボ

Kamen Raidā Ōzu Burakawani Konbo

) - Cobra/Turtle/Crocodile
Kamen Rider Fourze (

仮面ライダーフォーゼ

Kamen Raidā Fōze

) - Rocket/Astronaut/Switch

Base States (

ベースステイツ

Bēsu Suteitsu

) - Rocket/Astronaut
Elek States (

エレキステイツ

Ereki Suteitsu

) - Rocket/Astronaut/Electricity/Construction worker
Fire States (

ファイヤーステイツ

Faiyā Suteitsu

) - Rocket/Astronaut/Fire/Firefighter
Magnet States (

マグネットステイツ

Magunetto Suteitsu

) - Rocket/Astronaut/Magnet/Magnetism/Robot
Cosmic States (

コズミックステイツ

Kozumikku Suteitsu

) - Rocket/Astronaut/Cosmic Energy/Universe

Kamen Rider Meteor (

仮面ライダーメテオ

Kamen Raidā Meteo

) - Meteor/Space

Meteor Storm (

メテオストーム

Meteo Sutōmu

) - Meteor/Space/Asteroid
Kamen Rider Poseidon (

仮面ライダーポセイドン

Kamen Raidā Poseidon

) - Shark/Whale/Wolf-fish/Poseidon (Sea God)
Kamen Rider Aqua (

仮面ライダーアクア

Kamen Raidā Akua

) - Water/Grasshopper/Ichigo
Kamen Rider Nadeshiko (

仮面ライダーなでしこ

Kamen Raidā Nadeshiko

) - UFO/Schoolgirl/Cosmic
Kamen Rider OOO Super Tatoba Combo (

仮面ライダーオーズ スーパータトバコンボ

Kamen Raidā Ōzu Sūpā Tatoba Konbo

) - King/Hawk/Tiger/Grasshopper/Super
Kamen Rider Fourze Rocket States (

仮面ライダーフォーゼ ロケットステイツ

Kamen Raidā Fōze Roketto Suteitsu

) - Rocket/Astronaut/Space Shuttle external tank
Kamen Rider Fourze Rocket Drill States (

仮面ライダーフォーゼ ロケットドリルステイツ

Kamen Raidā Fōze Roketto Doriru Suteitsu

) - Astronaut/Rocket/Drill
Kamen Rider Fourze Meteor Fusion States (

仮面ライダーフォーゼ メテオフュージョンステイツ

Kamen Raidā Fōze Meteo Fyūjon Suteitsu

) - Rocket/Astronaut/Meteor/Space/Universe/Asteroid/Hybrid
Kamen Rider Fourze Meteor Nadeshiko Fusion States (

仮面ライダーフォーゼ メテオなでしこフュージョンステイツ

Kamen Raidā Fōze Meteo Nadeshiko Fyūjon Suteitsu

) - Rocket/Astronaut/Meteor/Space/Universe/Asteroid/Cosmic/Hybrid
Kamen Rider Wizard Special Rush (

仮面ライダーウィザード スペシャルラッシュ

Kamen Raidā Wizādo Supesharu Rasshu

) - Wizardry/Jewelry/Dragon/Fire
Kamen Rider Wizard Beast Mantle (

仮面ライダーウィザード ビーストマント

Kamen Raidā Wizādo Bīsuto Manto

) - Wizardry/Ruby/Fire/Dragon/Falcon/Buffalo
Kamen Rider Beast Wizard Style (

仮面ライダービースト ウィザードスタイル

Kamen Raidā Bīsuto Wizādo Sutairu

) - Lion/Chimera/Wizardry/Citrine/Earth/Dragon
Kamen Rider Sorcerer (

仮面ライダーソーサラー

Kamen Raidā Sōsarā

) - Classic Sorcerer/Onyx/Black Magic
Kamen Rider Wizard Infinity Dragon (

仮面ライダーウィザード インフィニティードラゴン

Kamen Raidā Wizādo Infinitī Doragon

) - Wizardry/Infinity/Diamond/Knight/Dragon/Elements/Moon
Armored Riders
New Generation Riders
Bujin Riders
Kamen Rider Wizard Infinity Dragon Gold (

仮面ライダーウィザード インフィニティードラゴンゴールド

Kamen Raidā Wizādo Infinitī Doragon Gōrudo

) - Wizardry/Infinity/Diamond/Knight/Dragon/Elements/Gold/Moon
Kamen Rider Gaim Wizard Arms (

仮面ライダー鎧武 ウィザードアームズ

Kamen Raidā Gaimu Wizādo Āmuzu

) - Samurai/Kamen Rider Wizard
Kamen Rider Baron OOO Arms (

仮面ライダーバロン オーズアームズ

Kamen Raidā Baron Ōzu Āmuzu

) - European Knight/Kamen Rider OOO
Kamen Rider Ryugen Double Arms (

仮面ライダー龍玄 W(ダブル)アームズ

Kamen Raidā Ryūgen Daburu Āmuzu

) - Chinese Soldier/Chinese Dragon/Kamen Rider Double
Kamen Rider Zangetsu Fourze Arms (

仮面ライダー斬月 フォーゼアームズ

Kamen Raidā Zangetsu Fōze Āmuzu

) - Samurai/Kamen Rider Fourze
Kamen Rider Gaim Fresh Orange Arms (

仮面ライダー鎧武 フレッシュオレンジアームズ

Kamen Raidā Gaimu Furesshu Orenji Āmuzu

) - Samurai/Fresh/Orange/Sword
Kamen Rider Baron Ichigo Arms (

仮面ライダーバロン イチゴアームズ

Kamen Raidā Baron Ichigo Āmuzu

) - European Knight/Ninja/Strawberry/Kunai
Kamen Rider Baron Melon Arms (

仮面ライダーバロン メロンアームズ

Kamen Raidā Baron Meron Āmuzu

) - European Knight/Samurai/Muskmelon/Shield
Kamen Rider Baron Kiwi Arms (

仮面ライダーバロン キウイアームズ

Kamen Raidā Baron Kiui Āmuzu

) - European Knight/Chinese Soldier/Chinese Dragon/Kiwifruit/Wind and fire wheels
Kamen Rider Ryugen Melon Arms (

仮面ライダー龍玄 メロンアームズ

Kamen Raidā Ryūgen Meron Āmuzu

) - Chinese Soldier/Chinese Dragon/Samurai/Muskmelon/Shield
Kamen Rider Ryugen Banana Arms (

仮面ライダー龍玄 バナナアームズ

Kamen Raidā Ryūgen Banana Āmuzu

) - Chinese Soldier/Chinese Dragon/European Knight/Banana/Lance
Kamen Rider Ryugen Pine Arms (

仮面ライダー龍玄 パインアームズ

Kamen Raidā Ryūgen Pain Āmuzu

) - Chinese Soldier/Chinese Dragon/Samurai/Pineapple/Flail
Kamen Rider Zangetsu Ichigo Arms (

仮面ライダー斬月 イチゴアームズ

Kamen Raidā Zangetsu Ichigo Āmuzu

) - Samurai/Ninja/Strawberry/Kunai
Kamen Rider Zangetsu Budou Arms (

仮面ライダー斬月 ブドウアームズ

Kamen Raidā Zangetsu Budō Āmuzu

) - Samurai/Chinese Soldier/Chinese Dragon/Grape/Gun
Kamen Rider Zangetsu Mango Arms (

仮面ライダー斬月 マンゴーアームズ

Kamen Raidā Zangetsu Mangō Āmuzu

) - Samurai/European Knight/Mango/Mace
Armored Riders
New Generation Riders
Kamen Rider Kurokage Shin (

仮面ライダー黒影 真 (クロカゲ シン)

Kamen Raidā Kurokage Shin

) - Ashigaru/Energy/Future/Nut

Matsubokkuri Energy Arms (

マツボックリエナジーアームズ

Matsubokkuri Enajī Āmuzu

) - Ashigaru/Energy/Future/Pinecone/Jumonji Yari
Kamen Rider Drive Type High Speed (

仮面ライダードライブ タイプハイスピード

Kamen Raidā Doraibu Taipu Hai Supīdo

) - Luxurious sports car
Kamen Rider Drive Type High Speed Vegas (

仮面ライダードライブ タイプハイスピードベガス

Kamen Raidā Doraibu Taipu Hai Supīdo Begasu

) - Luxurious sports car/Limousine/Slot machine wheel
Kamen Rider Drive Type High Speed Flare (

仮面ライダードライブ タイプハイスピードフレアフレア

Kamen Raidā Doraibu Taipu Hai Supīdo Furea

) - Luxurious sports car/Hotrod/Fire
Kamen Rider 3 (

仮面ライダー3号

Kamen Raidā Sangō

)  - Grasshopper/Skull Man/Racer
Kamen Rider 4 (

仮面ライダー4号

Kamen Raidā Yongō

) - Grasshopper/Skull Man/Riderman/Air Force pilot
Kamen Rider Super Dead Heat Drive (

仮面ライダー超デッドヒートドライブ

Kamen Raidā Chō Deddo Hīto Doraibu

) - Motorcycle/Sidecar/Machine/Mashin Chaser/Car Key
Kamen Rider Drive Type Special (

仮面ライダードライブ タイプスペシャル

Kamen Raidā Doraibu Taipu Supesharu

) - Futuristic car
Kamen Rider Dark Drive Type Next (

仮面ライダーダークドライブ タイプネクスト

Kamen Raidā Dāku Doraibu Taipu Nekusuto

) - Futuristic car/Darkness
Kamen Rider Heart (

仮面ライダーハート

Kamen Raidā Hāto

) - Heart Roidmude/Tridoron
Kamen Rider Mach Chaser (

仮面ライダーマッハーチェイサー

Kamen Raidā Mahhā Cheisā

) - Motorbike/Racer
Kamen Rider Ghost Ikkyu Damashii (

仮面ライダーゴースト 一休魂

Kamen Raidā Gōsuto Ikkyū Damashī

) - Ghost/Ikkyu/Question Mark/Monk
Kamen Rider Specter Pythagoras Damashii (

仮面ライダースペクター ピタゴラス魂

Kamen Raidā Supekutā Pitagoras Damashī

) - Specter/Pythagoras/Pythagoras Theorem/Right Triangle
Kamen Rider Zero Drive (

仮面ライダーゼロドライブ

Kamen Raidā Zero Doraibu

) - Car/Racer/Sports car/Negative
Kamen Rider Ghost Tousan Damashii (

仮面ライダーゴースト トウサン魂

Kamen Raidā Gōsuto Tōsan Damashī

) - Ghost/Fire/Firely
Kamen Rider 1 Power Up (

仮面ライダー1号 パワーアップ

Kamen Raidā Ichigō Pawā Apu

) - Grasshopper/Skull Man/Sakurajima 1/Future
Kamen Rider Build (

仮面ライダービルド

Kamen Raidā Birudo

) - Science/Plamodel

KumaTelevi Form (

クマテレビフォーム

Kuma Terebi Fōmu

) - Bear/Television

KumaTank Form (

クマタンクフォーム

Kuma Tanku Fōmu

) - Bear/Tank
KumaDiamond Form (

クマダイヤモンドフォーム

Kuma Daiyamondo Fōmu

) - Bear/Diamond
KumaGatling Form (

クマガトリングフォーム

Kuma Gatoringu Fōmu

) - Bear/Gatling Gun
KumaComic Form (

クマコミックフォーム

Kuma Komikku Fōmu

) - Bear/Comic Book (Manga)/Fountain Pen
KumaRocket Form (

クマロケットフォーム

Kuma Roketto Fōmu

) - Bear/Rocket
KumaSyoubousya Form (

クマ消防車フォーム

Kuma Shōbōsha Fōmu

) - Bear/Fire Truck
KumaSoujiki Form (

クマ掃除機フォーム

Kuma Sōjiki Fōmu

) - Bear/Vacuum Cleaner
KumaLock Form (

クマロックフォーム

Kuma Rokku Fōmu

) - Bear/Lock
KumaDensya Form (

クマ電車フォーム

Kuma Densha Fōmu

) - Bear/Train
KumaLight Form (

クマライトフォーム

Kuma Raito Fōmu

) - Bear/Light Bulb
KumaRobot Form (

クマロボットフォーム

Kuma Robotto Fōmu

) - Bear/Robot/Machine
KumaSmapho Form (

クマスマホフォーム

Kuma Sumaho Fōmu

) - Bear/Smartphone/Text Message
KumaHelicopter Form (

クマヘリコプターフォーム

Kuma Herikoputā Fōmu

) - Bear/Helicopter
KumaUFO Form (

クマユーフォフォーム

Kuma Yūfō Fōmu

) - Bear/UFO
KumaJet Form (

クマジェットフォーム

Kuma Jetto Fōmu

) - Bear/Jet
KumaSenpuki Form (

クマ扇風機フォーム

Kuma Senpuki Fōmu

) - Bear/Electric Fan
KumaBike Form (

クマバイクフォーム

Kuma Baiku Fōmu

)​​ - Bear/Motorbike/Machine Builder
Kamen Rider Prime Rogue (

仮面ライダープライムローグ

Kamen Raida Puraimu Rōgu

) - Crocodile
Kamen Rider Cross-Z Evol (

仮面ライダークローズエボル

Kamen Raidā Kurōzu Eboru

) - Astronomy/Dragon/Music/Black Hole/Kamen Rider Evol/Cobra/Galaxy
Kamen Rider Killbus (

仮面ライダーキルバス

Kamen Raidā Kirubasu

) - Spider
Kamen Rider Grease Perfect Kingdom (

仮面ライダーパーフェクトキングダム

Kamen Raidā Gurisu Pāfekuto Kingudamu

) - Robot/Stag beetle/Owl/Castle
Metal Build (

メタルビルド

Metaru Birudo

) - Tank/Metal/Darkness
American adaptions
Saban's Masked Rider
Kamen Rider: Dragon Knight
Other media
Stage shows
Kamen Rider Ryuki Show
Kamen Rider Faiz Show
Show 1
Show 2
Dark Rider (

ダークライダー

Dāku Raidā

) - Gold Japanese rhinoceros beetle/Dragon/Knight
Dark Slasher (

ダークスラッシャー

Dāku Surasshā

) - Firefly/Robot
Kamen Rider Kabuto Show
Kamen Rider Hibiki Show
Kamen Rider Decade Show
Kamen Rider Gaim Show
Kamen Rider Ex-Aid Show
Manga & Novel
Taki Rider (

滝ライダー

Taki Raidā

) - Skeleton/Skull Man
Pre-Amazon (

プレ・アマゾン

Pure Amazon

) - Spotted monitor lizard/Piranha/Chameleon/Angler fish/Chimera
Another RX (

アナザーRX

Anazā Aru Ekkusu

) - White Grasshopper/Sun/Demon King
Another Shadow Moon (

アナザーシャドームーン

Anazā Shadō Mūn

) - White Grasshopper/Moon/Demon King
GENERATION 1 (

GENERATION 1

Jenerāshon Wan

) - Kamen Rider Kuuga/Stag beetle/Robot
Kamen Rider G4-X (

仮面ライダーG4-X

Kamen Raidā Jī Fō Ekkusu

) - Kamen Rider Kuuga/Robot/Stag beetle
Riotrooper Ver.2 (

ライオトルーパーVer.2

Raiotorūpā Bājon Tsu

) - Omicron/Kamen Rider Faiz
Kamen Rider Ex-Aid Novel Gamer Level X (

仮面ライダーノベルゲーマー レベルX 

Kamen Raidā Eguzeido Noberu Gēmā Reberu Ekkusu

)- Game Character/Visual Novel Games
See also
References
"最強の英雄達". Retrieved 2007-12-28.
"仮面ライダーって何をモチーフにしてるんすか? - Yahoo!知恵袋". Retrieved 2007-12-28.
Kamen Rider Decade: All Riders Super Spin-off