"Sorry Kamen Riders, this article is too small for the people to read."
This article is a stub, meaning it needs more info. You can improve this Kamen Rider Wiki article by expanding it.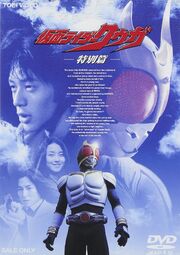 Kamen Rider Kuuga: Special Chapter (仮面ライダークウガ 特別篇, Kamen Raidā Kūga Tokubetsu-hen) is the director's cut version of the first two episodes of Kamen Rider Kuuga compiled together.
Notes
This is the first director's cut to be released in the Heisei Kamen Rider series.
As seen in the Blu-Ray release of the series, this special is the first and only episode to use the original component masters, as most of the pre-Kiva Kamen Rider shows used the modified component masters for all releases of the episodes, with rather questionable quality.
Community content is available under
CC-BY-SA
unless otherwise noted.