Jurassic World: Dominion Dominates Fandom Wikis - The Loop
Play Sound
For the series' main character, see Soji Tendo.
Kamen Rider Kabuto (仮面ライダーカブト, Kamen Raidā Kabuto, Masked Rider Kabuto) is a Japanese tokusatsu superhero television series and serves as the sixteenth installment of the Kamen Rider Series. It is a joint collaboration between Ishimori Productions and Toei and aired on TV Asahi from January 29, 2006 to January 21, 2007, airing alongside GoGo Sentai Boukenger

for Super Hero Time. The series commemorates the franchise's 35th anniversary and was the first to be broadcast in HD.
The series' catchphrases are "Walking the path of heaven, to rule everything!" (天の道を行き、総てを司る!, Ten no michi o iki, subete o tsukasadoru!) and "I am justice." (俺が正義, Ore ga seigi).
The average ratings of the series is 7.72%. [1]
Story
Seven years ago, a meteorite struck at the heart of Shibuya, and emerged an alien life-form that threatens humanity, the Worms. Since that day, Soji Tendo has trained for all his life to one day take up the Kabuto Zecter and become the hero known as Kamen Rider Kabuto. Making many enemies while also meeting other Riders with mysterious origins, Tendou attempts to accomplish his goal at all costs: to destroy the Worms. He meets ZECT operative Arata Kagami and the two work together to save humanity while uncovering the conspiracies that lie within ZECT.
Characters
Kamen Riders
TV Show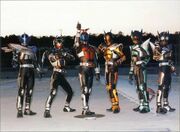 Movie-exclusive
Stageshow-exclusive
Debatable Riders
TV Show
Other media
Allies
ZECT
Neo ZECT
Villains
Main article: Worms
Allusions
The series made some allusions to the whole Kamen Rider series. Masked Rider Project as mentioned in the course of the series was said to be started on 3 April 1971. The Worm species known as Natives also first arrived on Earth on the same year. In real-life, it was the date the first Kamen Rider show aired for the first time.
Some of the Riders in the series are based on insect motifs previously used in the series to commemorate the franchise's 35th anniversary, mostly from the Showa Era.
Kabuto/Stronger: Japanese Rhinoceros Beetle
TheBee/Super-1: Vespa family
Drake/V3: Dragonfly
KickHopper/Kamen Rider 1 and PunchHopper/Kamen Rider 2: Acrididae Family
Gatack/Kuuga: Stag Beetle
Episodes
Main article: Kamen Rider Kabuto Episodes
The series is divided into two story arcs[2]:
Episode 01-24 - Story Arc: My Path Is the One that Continues to Heaven (

-天に続くは俺の道- 編

,

Ten ni Tsudzuku wa Ore no Michi Hen

)
Episode 25-49 - Story Arc: Path of Heaven Changes the World (

-世界を変える天の道- 編

,

Sekai o Kaeru Ten no Michi Hen

)
Movies
Kamen Rider Kabuto: God Speed Love (

劇場版 仮面ライダーカブト GOD SPEED LOVE

,

Gekijōban Kamen Raidā Kabuto Goddo Supido Rabu

)
Specials
Kamen Rider Kabuto: Birth! Gatack Hyper Form!! (

仮面ライダーカブト 誕生!ガタックハイパーフォーム!!

,

Kamen Raidā Kabuto: Tanjō! Gatakku Haipā Fōmu!!

)
Other media
Manga
Kamen Rider Kabuto (comic) (

幪面超人甲鬥王

,

Mung Min Chiu Yan Gaap Dau Wong

)
S.I.C. Hero Saga
Novels
Meet You at the End of the World (

世界の果てで君と出会う

,

Sekai no Hate de Kimi to Deau

)

Kamen Rider Kabuto (novel) (

小説 仮面ライダーカブト

,

Shōsetsu Kamen Raidā Kabuto

)
Cast
Guest actors
Suit Actors
Songs
Opening themes
Ending themes
35th Masked Rider Anniversary File
During episodes 23 through 27, this segment called the 35th Masked Rider Anniversary File, acted as a look back to the franchise and an early advertisement for the God Speed Love movie. These look backs are held in a movie theater and the segment is hosted by Soji Tendo (Kamen Rider Kabuto), Arata Kagami (Kamen Rider Gatack), Tetsuki Yamato (Kamen Rider Ketaros), Yuzuki Misaki, and Masato Mishima. During these five segments, they discuss the history of the Kamen Rider franchise, sometimes in a comedic tone, but always with serious background music.
International broadcasts
Kabuto was broadcast in South Korea as Masked Rider Kabuto (가면라이더 가부토 Gamyeon Raideo Gabuto) in 2008. In the Philippines, this show is currently broadcast on Cartoon Network dubbed into English. In Singapore, this show is also dubbed and debut on June 20, 2009, on Okto. In Malaysia,this show was dubbed in malay version on NTV7. In Hong Kong, this show was dubbed in Cantonese as 幪面超人甲鬥王 and was broadcasted on TVB from December 12th 2008 to November 7th 2009. In Taiwan, this show was dubbed in Mandrain as 假面騎士KABUTO and broadcasted on Cartoon Network from January 5th 2009 to March 12th 2009.
Notes
This was the last Heisei-era Kamen Rider series to use only episode numbers in the titles for the entire series. From Den-O onward, the episode number is now includes the title at the beginning of each episode of the series.
Reference
External links