| | |
| --- | --- |
| | WARNING: This movie contains scenes of blood and bloodshed. Viewer discretion is advised! |
Kamen Rider Ghost: The 100 Eyecons and Ghost's Fateful Moment (劇場版 仮面ライダーゴースト: 100の眼魂とゴースト運命の瞬間, Gekijō-ban Kamen Raidā Gōsuto: Hyaku no Eyecon to Gōsuto Unmei no Toki) is a Japanese superhero film that serves as the Summer Movie adaptation of Kamen Rider Ghost, double-billed with Doubutsu Sentai Zyuohger the Movie: The Heart Pounding Circus Panic

. In the film, Takeru chases an evil Kamen Rider who wishes to turn all of humanity into ghosts, while Makoto explores the mysterious disappearance regarding his father. The film features an early-bird appearance from Emu Hojo, the titular protagonist of the series following Ghost, Kamen Rider Ex-Aid.
The catchphrase of this film is "Goodbye, me! Let my life burn bright! Ghost VS Heroes, the greatest last battle in history!" (さよなら、オレ! 命を燃やせ!ゴーストVS英雄 史上最大のラストバトル!, Sayonara, ore! Inochi o moyase! Gōsuto VS eiyū shijō saidai no rasutobatoru!)
Continuity and Placement
Kamen Rider Ghost: This movie takes place between the episode 42 and 43.
Kamen Rider Ex-Aid: This movie is non-canon to Ex-Aid as Emu should not have gotten the Gamer Driver yet in April 2016. Also how Ex-Aid ended up in the Island of Eyecons is never explained.

If ignoring the timeline contrast, this movie would take place after the first episode.
Synopsis
After chasing the mysterious Kamen Rider Dark Ghost, who had suddenly appeared, Takeru Tenkuji arrives at a strange village full of historical figures. Attempting to gather 100 Eyecons, Alain's dead brother Argos - Kamen Rider Dark Ghost - wishes to create the Ultimate Eyecon and turn everyone on Earth into ghosts. Meanwhile, Makoto's father Daigo Fukami is seen in the village. Transforming into Kamen Rider Zero Specter, is Daigo an ally or an enemy?

Plot
to be added
Characters
And Introducing Ex-Aid
Allies
15 Heroes
71 Heroes
For promotion of the movie, Toei organized a contest for Japanese residents to design and submit their own Ghost Eyecon designs based on one out of a list of 71 historical figures. The 71 winning designs were presented in a special brochure for the summer movie on August 6, 2016, with the names of these winners being credited in the end credits of the movie.
Other
Others
Villains
Kamen Riders
Kamen Rider Dark Ghost
Argos
Kamen Rider Extremer
Kamen Rider Dark Necrom R
Jered
Kamen Rider Dark Necrom B
Jebil
Kamen Rider Dark Necrom Y
Jey
Cast
Guest Cast
Suit Actors
Eyecon Used:

Ghost

Ore, Toucon Boost, Darwin, Mugen

Specter

Specter, Houdini, Deep Specter

Necrom
Dark Ghost

Dark, Napoleon, Pythagoras, Ikkyu

Zero Specter
Dark Necrom Red
Dark Necrom Blue

Dark Necrom Blue, Billy the Kid

Dark Necrom Yellow

Dark Necrom Yellow, Nobunaga

Damashii Used:

Ghost
Specter
Necrom
Dark Ghost
Zero Specter
Dark Necrom Red
Dark Necrom Blue
Dark Necrom Yellow
Theme Song
Errors
When Daigo first transforms into Zero Specter, his Persona facemask isn't show to flip up onto this face, but simply appears during a jump cut.
When Dark Ghost prepares to change into Pythagoras Damashii, the Dark Ghost Eyecon doesn't appear to be in the Ghost Driver for unknown reasons before he puts the Pythagoras Eyecon in.
When the Island of Eyecons is crashing towards the Earth, the spiral tower is seen in the landscape despite collapsing in the previous scene.
Notes
Ghost's Ore Damashii only appears in the first fight against Dark Ghost and the Dark Necroms.
This is the only time Ghost wields the Gan Gun Saber when assuming Toucon Boost Damashii.
When the Sanzo and Grimm Eyecons are knocked away from Necrom at the beginning, they are the original solid colors seen through episode 11 instead of the transparent colors used in all later appearances.
Many features from Ex-Aid's appearance in this movie is different the actual show:

"Game Start" announcement is used in-universe, while it is only used in the title scene of Kamen Rider Ex-Aid and never heard in-series.
The Energy Items that appear float around in abundance, instead of being hidden in chocolate blocks. Also, all of them are green-colored and blank, and when Ex-Aid collects one, the effect that appears is in a style similar to the medals found in Kamen Rider Buttobasoul.
Ex-Aid doesn't say "Item Get" when collecting Energy Items.
A "VS" split screen is used, which is not seen in the show.
A "Fight" announcement is heard. It is never used in the show, though it is heard in the Ex-Aid & Zyuohger Super Hero Time bumpers.
The "HIT" text is different.
The "Critical Strike" split scene is different.
During the finisher, a "Mighty Strike" text is seen instead of "Great" or "Perfect".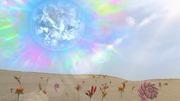 References
External Links