Kamen Rider Ghost: Legendary! Riders' Souls! (仮面ライダーゴースト 伝説! ライダーの魂!, Kamen Raidā Gōsuto: Densetsu! Raidā no Tamashī!) is a web-exclusive series of Kamen Rider Ghost, which is released on TOEI's official YouTube channel to commemorate the 45th anniversary of the Kamen Rider Series, with installments for each of Ghost's six Heisei Kamen Rider Series Phase 2 predecessors releasing each Friday every fortnight up to the day before the premiere of the 45th anniversary movie, Kamen Rider 1.
It features the debut of six Legend Rider Damashii, namely Ghost's Drive Damashii, Gaim Damashii, Wizard Damashii & Specter's W Damashii, Fourze Damashii and OOO Damashii, which are all reprised in the aforementioned Kamen Rider 1 movie.
Two more Legend Rider Damashii, namely Ghost's Ichigou Damashii and Heisei Damashii, debuted in the seventh chapter which is exclusive to the DVD released on April 28, 2016. The DVD also came with the DX Kamen Rider 45 Ghost Eyecon as a gift.
Continuity and Placement
It take place between episode 20 and 21[1].
Episodes
Characters
Kamen Riders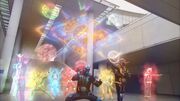 Allies
Villains
Cast
Guest cast
Notes
The Legend Rider forms introduced in this web series (plus the Ganbarizing-exclusive Kuuga Damashii) all represent Riders who have died (or have been critically injured to near death) at least once and have been revived.
The Legend Rider forms (while not in order) are also the riders Ghost succeeds as the 7th titular Phase 2 Heisei Rider.
With the conclusion of Kamen Rider Ghost, many aspects of this special are left vague:

As Frey and Freya are revealed to be avatars of the omnipotent Great Eye, it becomes unclear why they were forced to run away from a Gamma Ultima like Xibalba.
Xibalba's goal and his relationship to the Gamma royal family are never explained.
External links
References
Community content is available under
CC-BY-SA
unless otherwise noted.