Jurassic World: Dominion Dominates Fandom Wikis - The Loop
Play Sound
For the series' main character, Ghost, see Takeru Tenkuji.
Kamen Rider Ghost (仮面ライダーゴースト, Kamen Raidā Gōsuto) is a Japanese tokusatsu drama in Toei Company's Kamen Rider Series. It is the seventeenth series in the Heisei period run and the twenty-sixth series overall. The series started on October 4, 2015, joining Shuriken Sentai Ninninger

 in the Super Hero Time line-up after the finale of Kamen Rider Drive. After Ninninger concluded on February 7, 2016, the series was joined by Doubutsu Sentai Zyuohger

in the Super Hero Time line-up. After the finale of Kamen Rider Ghost, Zyuohger was joined by Kamen Rider Ex-Aid in the Super Hero Time line-up.
The average ratings of the series was 5.0%.[1]
Story
Takeru Tenkuji is a teen who aspires to be a Ghost Hunter just like his late father. On his eighteenth birthday, he is murdered by two monsters who are part of a race known as the Gamma. He is miraculously revived, however he must gather fifteen Ghost Eyecons based on fifteen historical figures within 99 days, otherwise he will permanently cease to exist. Along his quest, he battles more of the Gamma monster race, who also seek the Eyecons for an unknown evil purpose. Takeru must defeat the Gamma and at the same time, find a way to save himself in time.
Characters
Kamen Riders
TV Show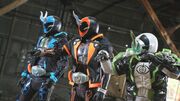 Movie/Special-exclusive
Kamen Rider Dark Ghost
Argos
Kamen Rider Extremer
Kamen Rider Zero Specter
Daigo Fukami
Kamen Rider Dark Necrom R
Jered
Kamen Rider Dark Necrom B
Jebil
Kamen Rider Dark Necrom Y
Jey
Kamen Rider Kanon Specter
Kanon Fukami
Novel-exclusive
Stageshow-exclusive
Debatable Riders
Allies
| | |
| --- | --- |
| Gamma Ultima Ebony | Edith (Sennin) |
Others
Ministry of Health
Villains
Gamma
Main article: Gamma
Others
Episodes
Main article: Kamen Rider Ghost Episodes
The series is divided into three story arcs[2]:
Episode 01-12 - Story Arc: The Hero Dies and Once Revives (

「英雄(ヒーロー)は一度死んで蘇る」編

,

Eiyū (Hīrō) wa Ichido Shinde Yomigaeru Hen

)
Episode 13-33 - Story Arc: The Heart of a Connected Hero (

「繋がる英雄の心」編

,

Tsunagaru Eiyū no Kokoro Hen

)
Episode 34-50 - Story Arc: Human Possibilities, Infinite Possibilities (

「人間の可能性、無限の可能性」編

,

Ningen no Kanōsei, Mugen no Kanōsei Hen

)
Much like some of Gaim's earlier episodes, the episode titles for this season are all in the form of two exclamatory sentences, with the first one being exactly two kanji long, much like Kuuga's episodes.
Movies
Specials
Kamen Rider Ghost Special Preceding Video (

【カイガン!】仮面ライダーゴースト 特別先行動画【バッチリミナー!】

,

Kaigan! Kamen Raidā Gōsuto Tokubetsu Senkō Dōga Batchiriminā!

)
Kamen Rider Ghost: Batchiri Transformation Lessons (

仮面ライダーゴースト バッチリ変身講座

,

Kamen Raidā Gōsuto Batchiri Henshin Kōza

)
Kamen Rider Ghost: Ikkyu Eyecon Contention! Quick Wit Battle!! (仮面ライダーゴースト: 一休眼魂争奪 とんち勝負!!

,

Kamen Raidā Gōsuto: Ikkyū Aikon Sōdatsu Ton Chi Batoru!!

)
Kamen Rider Ghost: Ikkyu Intimacy! Awaken, My Quick Wit Power!! (

仮面ライダーゴースト: 一休入魂! めざめよ、オレのとんち力!!

,

Kamen Raidā Gōsuto: Ikkyū Nyūkon! Mezameyo, Ore No Ton Chi Ryoku!!

)

Ametalk! Kamen Rider Entertainer, Episode 2

(

アメトーーク! 仮面ライダー芸人 第2回

,

Ametō̄ku! Kamen Raidā Geinin

)
Kamen Rider Ghost: Legendary! Riders' Souls! (

仮面ライダーゴースト 伝説! ライダーの魂!

,

Kamen Raidā Gōsuto: Densetsu! Raidā no Tamashī!

)
Spring Vacation Combining Hero Festival (

春休み合体ヒーロー祭り

,

Haruyasumi Gattai Hīrō Matsuri

)
The Legend of Hero Alain (

アラン英雄伝

,

Aran Eiyū-den

)
Commemoration! Short Stories (

公開記念!ショートストーリー

,

Kōkai Kinen! Shōto Sutōrī

)
Kamen Rider Ghost: Truth! The Secret Of Heroes' Eyecons! (

仮面ライダーゴースト: 真相!英雄眼魂のひみつ!

,

Kamen Raidā Gōsuto: Shinsō! Eiyū Aikon no Himitsu!

)
Kamen Rider Saber × Ghost (

仮面ライダーセイバー×ゴースト

,

Kamen Raidā Seibā × Gōsuto

)
Kamen Rider Specter × Blades (

仮面ライダースペクター×ブレイズ

,

Kamen Raidā Supekutā × Bureizu

)
Stageshows
Other media
Novels
Kamen Rider Ghost: ~Memories of the Future~ (

小説 仮面ライダーゴースト 〜未来への記憶〜

,

Shōsetsu Kamen Raidā Gōsuto 〜 Mirai E No Kioku 〜

)
Games
The following video games feature characters from Ghost.
Cast
Suit Actors
Production Staff
Songs
Main article:

Kamen Rider Ghost Original TV Soundtrack
Opening Theme
Insert Themes
Notes
The series aired its 25th episode on the 45th anniversary of the Kamen Rider franchise on Sunday April 3, 2016.
This is the first Heisei Rider season to use stock footage transformation sequences, much like the majority of the Super Sentai seasons. It still features the usual "on-location" transformations in many episodes, though.
Like the first 2/3 of Hibiki, Ghost's episodes each begin with the main character narrating what happened both at the beginning of the series and the most recent events.
Like Drive, the first 3/4 of Ghost's episodes begin with the theme song before the "Previously on…" scene.
This is only the second Neo-Heisei Rider season, the other being Wizard, to have 50+ regular-season episodes (not counting specials).
This is the first Rider series since Hibiki, and the only Neo-Heisei series thus far, to not include any insert songs in the show (except for the intro theme in three episodes), as well as the first series in the Heisei Era not to have any insert themes period, as Hibiki had insert songs not included in the show.
Together with the reform of the Gamma World, all villains and monsters in the series have turned good, with the exception of the semi-sentient Gammaizers.
First series since Wizard to not have a Spring Vacation special. Although, one of the characters appeared in one episode.
This is the first Kamen Rider series that does not appear in any media (including manga) in Hong Kong, most likely due to cultural conflict. However, some Zi-O episodes that have Ghost still aired.
This is the first series since Kamen Rider 555 to have 50 episodes, and the first since Kamen Rider Wizard to reach this number.
External links
References