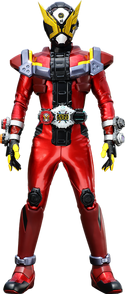 Kamen Rider Geiz (仮面ライダーゲイツ, Kamen Raidā Geitsu) can refer to the following identities:
Forms
Like Zi-O, Geiz transforms by inserting the Geiz Ridewatch into the right-hand side of the Ziku-Driver and rotating the Driver 360 degrees. He accesses Rider Armor (ライダーアーマー, Raidā Āmā) forms based on previous Kamen Riders by inserting Ridewatches into the left-hand side of the Ziku-Driver.
Kamen Rider Geiz's ending theme is entitled "FUTURE GUARDIAN".
Equipment
Devices
Weapons
Handheld weapons:
Suit-equipped weapons:
Legend Rider weapons used by GeizMajesty:
GM-01 Scorpion
GG-02 Salamander
GS-03 Destroyer
GA-04 Anthares
GX-05 Cerberus
GK-06 Unicorn
Dark Visor
Wing Lancerd
Dark Blade
Wing Wall
Dark Arrow
Ongekikan Reppuu
Ongekibou Yamase
ZeroGasher
Denebick Buster
Meteor Galaxy
Meteor Storm Shaft
Banaspear
Mango Punisher
Sonic Arrow
Apple Reflecter
Gan Gun Hand
Deep Slasher
Beat Closer
Twin Breaker
Cross-Z Magma Knuckle
Vehicles
Rider Cards
KamenRide: Geiz: A Rider Card containing the power of Kamen Rider Geiz. Used by Diend to summon Kamen Rider Geiz.

Appearances
References
Community content is available under
CC-BY-SA
unless otherwise noted.