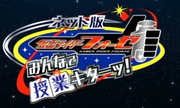 Kamen Rider Fourze the Net Edition: Everyone, Class is Here! (ネット版 仮面ライダーフォーゼ みんなで授業キターッ!, Nettoban Kamen Raidā Fōze Minna de Jugyō Kitā!) is a series of net movies released by Toei to promote the Kamen Rider Fourze summer movie, Kamen Rider Fourze the Movie: Everyone, Space is Here!, with a total of 28 webisodes. Toei Tokusatsu BB and TV Asahi began distribution on July 13, 2012.
Webisodes
Notes
As used in the show's title, Kitā! can be literally translated as "is here." However, this word is also used idiomatically as an exclamation of excitement (as, for example, when Gentarou calls out after his henshin, "Uchū kitā!" or, "Space is awesome!"). Hence, the title could also be translated as "Everyone, Class is Awesome!"
Community content is available under
CC-BY-SA
unless otherwise noted.