Spider-Man: No Way Home Trailer Dropped - The Loop
Play Sound
For the original Kamen Rider Femme who appeared in Kamen Rider Ryuki, see Miho Kirishima.
Kamen Rider Femme (仮面ライダーファム, Kamen Raidā Famu, Masked Rider Femme) is a Rider who fights in the Kamen Rider Trial in the World of Ryuki. 「Battle Trial: Ryuki World」
History
Kamen Rider Decade
Battle Trial: Ryuki World
She is only seen on a screen, along with other Kamen Riders, that participate in the trial of Natsumi.

Kamen Rider Femme
Kamen Rider Femme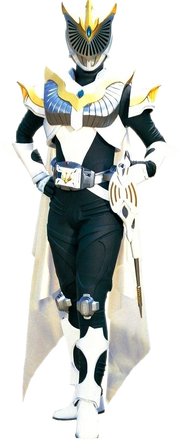 Rider Statistics:[1]
Rider Height: 175 cm
Rider Weight: 60 kg
Ability Parameters:[1]
Punching Power: 150 AP (7.5 t)
Kicking Power: 300 AP (15 t)
Maximum Jump Height: 15 m
Maximum Running Speed: 100 m per 5 seconds
Eyesight: 8 km
Hearing: 8 km
Special Abilities:[1]
Advent: Blancwing: 4000 AP (200 t)
Wingslasher: 2000 AP (100 t)
Wingshield: 2000 GP (100 t)
Misty Slash: 5000 AP (250 t)
One can transform into Kamen Rider Femme using a Card Deck and V Buckle upon forming a contract with Blancwing. Her Visor, the Blancvisor (ブランバイザー, Buran Baizā), is a rapier that also functions as her personal weapon. Femme's kicking power and running speed are average, but her punching power is the lowest out of all of the 13 Riders and she is tied with Zolda for the lowest jump height.
Through the use of her Sword Vent Advent Card, Femme can arm herself with the Wingslasher (ウイングスラッシャー, Wingu Surasshā), a double-bladed staff derived from the edges of Blancwing's wings combined together. Her Guard Vent equips her with the Wingshield (ウイングシールド, Wingu Shīrudo), a shield derived from Blancwing's wings and back. It is able to summon a gust of white feathers and allows her to teleport within short distances so as to confuse and evade enemy attacks. In addition, Femme is always seen with Blancwing's torso mounted on her back, equipping her with a cape.
This form is exclusive to Decade Episode 6.

Contract Monster
Main article: Blancwing (Ryuki)
Equipment
Notes
Like other A.R. Ryuki Riders that appeared in Kamen Rider Decade, neither her real identity nor full name were revealed by Toei, she only appeared with the other Riders on the trial monitor and magazines.
Appearances
References