Jurassic World: Dominion Dominates Fandom Wikis - The Loop
Play Sound
| | |
| --- | --- |
| | WARNING: This series contains scenes of blood and graphic violence. Viewer discretion is advised! |
For the series' main character, Ex-Aid, see Emu Hojo.
Kamen Rider Ex-Aid (仮面ライダーエグゼイド, Kamen Raidā Eguzeido) is a Japanese tokusatsu drama in Toei Company's Kamen Rider Series. It is the eighteenth series in the Heisei period run and the twenty-seventh series overall. The series started on October 2, 2016, joining Doubutsu Sentai Zyuohger

 in the Super Hero Time line-up after the finale of Kamen Rider Ghost. Starting on February 12, 2017, the series was joined by Uchu Sentai Kyuranger

 in the Super Hero Time line-up. After the finale of Kamen Rider Ex-Aid, Kyuranger was joined by Kamen Rider Build in the Super Hero Time line-up.
The motif of the series is retro video gaming, as the Riders of the show utilize game cartridges called Rider Gashats and have gear and form motifs inspired by retro video games. The series also integrates medical drama into the story because one of the main settings is a hospital and some of the main Riders are doctors. The tagline of the show is "Game Start!".
The average ratings of the series was 3.94%.[1]
Story
Several years ago, the Bugster Virus infected humanity and turned its victims into monsters known as Bugsters. To combat this, the Japanese Ministry of Heath worked with the gaming company Genm Corp. to form CR, a team of young doctors with the ability to transform into Kamen Riders that can effectively eliminate Bugsters. However the CEO of Genm Corp. has his own ulterior motives for collaborating as he later becomes an antagonist to our heroes.

Characters
Kamen Riders
TV Show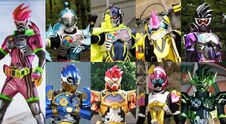 Movie/Special-exclusive
Ganbarizing summons
Stageshow-exclusive
Novel-exclusive
Debatable Riders
TV Show
Other media
Allies
Game World
| | |
| --- | --- |
| Zyuoh Tiger | Amu |
Game World
Villains
Bugsters
Main article: Bugsters
Minor Bugsters
Other Bugsters
Other
Other characters
Episodes
Main article: Kamen Rider Ex-Aid Episodes
The series is divided into four story arcs[2]:
Episode 01-12 - Story Arc: Doctor Gamer (

「ドクターゲーマー」編

,

Dokutā Gēmā Hen

), this arc features most of the main riders and their initial fight against the Bugsters and the Kamen Rider Genm, using the Riders as Test-Players.
Episode 13-24 - Story Arc: Secret of Emu (

「永夢の秘密」編

,

Eimu no Himitsu Hen

), this arc features Genm as the main antagonist, reviving Bugsters to obtain data for the Kamen Rider Chronicle, and revealing a secret about Emu Hojo.
Episode 25-40 - Story Arc: Kamen Rider Chronicle (

「仮面ライダークロニクル」編

,

Kamen Raidā Kuronikuru Hen

), this arc features the riders working to put an end to Kamen Rider Chronicle while fighting against Masamune Dan as the legendary warrior.
Episode 41-45 - Story Arc: Gamedeus Advent (

「ゲムデウス降臨」編

,

Gemudeusu Kōrin Hen

), this arc features the main riders fighting against Gamedeus and Masamune Dan to end Kamen Rider Chronicle in order to restore the lives lost in the game.
Half of each episode's title is written in English and the other in kanji, usually ending in a question mark or exclamation, akin to most Japanese video game covers.
Movies
Specials
Kamen Rider Information Program: Poppy Pipopapo's Room (

仮面ライダー情報番組「ポッピーピポパポの部屋」

,

Kamen Raidā Jōhō Bangumi `Poppī Pipopapo No Heya'

)

Ametalk! Kamen Rider Entertainer, Episode 2

(

アメトーーク! 仮面ライダー芸人 第2回

,

Ametō̄ku! Kamen Raidā Geinin

)
Kamen Rider Ex-Aid "Tricks" (

仮面ライダーエグゼイド [裏技]

,

Kamen Raidā Eguzeido [Urawaza]

)

Kamen Rider × Super Sentai: Chou Super Hero Taisen: Movie Release Anniversary Special (

仮面ライダー×スーパー戦隊: 超スーパーヒーロー大戦: 映画公開記念スペシャル

,

Kamen Raidā × Supā Sentai Chō Supā Hīrō Taisen Eiga Kōkai Kinen Supesharu

)
Kamen Sentai Gorider (

仮面戦隊ゴライダー

,

Kamen Sentai Goraidā

)
Kamen Rider Genms (

仮面ライダーゲンムズ

,

Kamen Raidā Genmuzu

)

Kamen Rider Genms -The Presidents- (

仮面ライダーゲンムズ ─ザ・プレジデンツ─

,

Kamen Raidā Genmuzu ─ za Purejidentsu ─

)
Kamen Rider Genms -Smart Brain and the 1000% Crisis- (

仮面ライダーゲンムズ-スマートブレインと1000%のクライシス

,

Kamen Raidā Genmuzu ─ Sumātoburein to 1000-Pāsento no Kuraishisu ─

)
Stageshows
Other media
Manga
Kamen Rider Ex-Aid: Video Game Salvation Chapter (

幪面超人EX-AID【電玩救世篇】

,

Mung Min Chiu Yan Ex-Aid Din Wun Gau Sai Pin

)
Novel
Kamen Rider Ex-Aid: ~Mighty Novel X~ (

小説 仮面ライダーエグゼイド 〜マイティノベルX〜

,

Shōsetsu Kamen Raidā Eguzeido ~Maiti Noberu Ekkusu~

)
Games
The following video games feature characters from Ex-Aid.
Cast
Guest cast
Suit Actors
Songs
Main article: Kamen Rider Ex-Aid Original TV Soundtrack
Main article: Kamen Rider Ex-Aid: Best Song Collection

Opening theme
"EXCITE

Lyrics, Composition & Arrangement: Kanata Okajima and Daichi Miura
Artist: Daichi Miura
Insert Songs
"Stormy Story"

Lyrics,
Composition & Arrangement:
Artist: Kamen Rider Girls
"JUSTICE"

Lyrics, Mio Aoyama
Composed, Natsumi
Arranged, Takehito Shimizu, Toru Watanabe
Artist: Hiroyuki Takami
"Time of Victory"

Lyrics, BOUNCEBACK & kenko-p
Composition: Hirofumi Hibino
Arrangement: ats-
Artist: Kamen Rider Girls
Release
Broadcast
The show premiered on TV Asahi on October 2, 2016, and aired its final episode on August 27, 2017.
The show aired in 2019 on RTV in Indonesia, the first time a Kamen Rider show had been aired in the country since Kamen Rider OOO on Indosiar in 2014.
The show aired on the North American Japanese-language channel TV Japan.
Home Media
Kamen Rider Ex-Aid was released on four separate Blu-Ray collections throughout 2017 on April 12, July 12, October 4, and December 6 in order.
Notes
Most of the Riders of this series have four multi-colored "Buttons" on their chestplates. This is a possible gaming reference to the popular Super Famicom controller, as that had similarly colored buttons on its controls.
The show's title is a multiple form of word play, as the "aid" in Ex-Aid is an allusion to First Aid. Another hidden pun is the Japanese pronunciation in katakana is "E-gu-zei-do", which has a close similar sound to the English word "Excite" when pronounced in Japanese, "E-ku-sai-to". This is even referenced by the title of the show's opening theme. The final wordplay contains the Japanese pronunciation of the .EXE file extension ("E-gu-ze").
Similarly, the Bugsters' nature as sentient viruses, is a play on the concept of computer viruses as well as biological pathogens, hence the heroes' civilian identities as doctors.
This is the first season where there are two female riders taking a central part in the show.
Ex-Aid is the final Rider series to entirely air at 8 am. Starting in October, Kamen Rider Build moved to 9 am, airing before Uchu Sentai Kyuranger and its successor.
This is the final Kamen Rider series to premiere in October, starting with Kamen Rider Build, the Kamen Rider series return to premiere in September.
With a total of 45 episodes, Ex-Aid is the shortest Kamen Rider series in the second phase of the Heisei Era.
This series celebrates the 45th anniversary of the Kamen Rider Series, as well as the 60th anniversary of the video games.
Kamen Rider Ex-Aid Chief Producer Takahito Omori stated in an interview that he is the one who came up with the idea of having Video Games as the main concept for Kamen Rider Ex-Aid, although the designer team did not initially agree with his idea.[5]
References
External links