Kamen Rider Caucasus (仮面ライダーコーカサス, Kamen Raidā Kōkasasu, Masked Rider Caucasus) may refer to:
Rider Statistics
Rider Height: 199 cm
Rider Weight: 102 kg
Ability Parameters:
Punching Power: 4.5t
Kicking Power: 8t
Maximum Jump Height: 42 m
Maximum Running Speed: 100m/5.0s
Weapons/Gear
Used by Issei Kurosaki, this Zecter allows the wearer to transform into Caucasus. The design is a golden atlas beetle. Rider Beat is performed with this Zecter is used to initiate a tachyon-charged punch or kick.
Rider Brace
Installed onto the right arm, this is the transformation tool used for the Kabutick Zecters. The Caucasus Zecter flies onto the Brace and automatically shifts into a vertical position, starting the transformation.
Installed onto the left waist buckle of the Rider Belt, this Zecter features the Hyper Clock Up function and the Maximum Rider Power function. Hyper Clock Up allows the Rider to freely control time, and Maximum Rider Power pulls out the power of the Masked Rider System to the highest possible level. It is used to initiate the Rider Punch or Rider Kick attack. On a side note, while Kabuto activates Hyper Clock Up by slapping the button on the Hyper Zecter, Caucasus uses it by slapping the right waist-pad instead. For unknown reasons, Caucasus is the only user of this Zecter who is not granted a Hyper Form by using it.
Kamen Rider Caucasus
Kamen Rider Caucasus transforms using the power of his gold Kabutech Zecter, the Caucasus Zecter. His power easily exceeds the power of all the other Riders.
Masked Form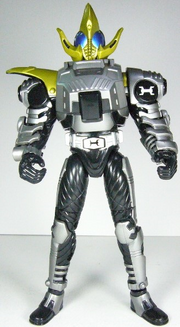 Though Caucasus was not shown to have a Masked Form on-screen, toy versions of a possible Masked Form for Caucasus and the other two Kabutech Riders was made for the Cast-Off Rider line.

Equipment
Devices
Weapon
Vehicle
Rider Cards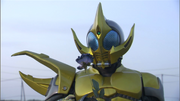 Appearances
Community content is available under
CC-BY-SA
unless otherwise noted.