Wiki Targeted (Entertainment)
Play Sound
For his original counterpart, see Ryotaro Nogami.
Kamen Rider Bujin Den-O (仮面ライダー武神電王, Kamen Raidā Bujin Den'ō) is one of the Bujin Riders of the Gaim and Sengoku Movie Battle portions of Kamen Rider × Kamen Rider Gaim & Wizard: The Fateful Sengoku Movie Battle. Serving under his lord as Bujin Rider of the Den-O Army.
History
During the Sengoku Rider War, Bujin Den-O clashed with Bujin Agito. Along with the rest of the fourteen Bujin Riders, Bujin Den-O was defeated by Kamen Rider Bujin Gaim and consumed by the Nepenthes Inhumanoid.
When Wizard and Gaim were consumed by the God Tree, which Bujin Gaim had now infused himself on top of, they were met by the fourteen Bujin Riders whose final act was to infuse them with their powers via their Rider Kicks, with Bujin Den-O providing his Den-Rider Kick, allowing Wizard and Gaim to escape and destroy Bujin Gaim with their combined powers.

Forms
Sword Form
"Sword Form!"
―Transformation announcement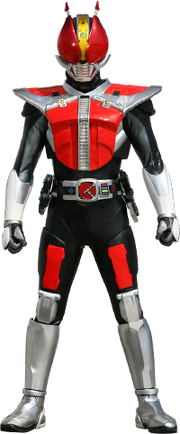 Height: 190cm
Weight: 87kg
Punching power: 5t
Kicking power: 7t
Maximum jump height: 35m
Maximum running speed: 100m/5.2s
When possessing Ryotaro (or anyone else) or by himself, Momotaros can assume Den-O's Sword Form through the Terminal Buckle, the first and most used form in the series. When in Sword Form he uses the DenGasher as a standard sword-style weapon. This form is the most balanced among Den-O's forms, probably due to Momotaros' prominence among the other Imagin. He occasionally forms different finishers for defeating enemies, despite parts 2, 3, and 5 being similar to each other. He also uses a Special Version in I'm Born which resembles the aforementioned parts, the only difference is that Full Charge is used twice. There is also a Final Version used against the Death Imagin which uses energy from the other Taros, Sieg, and Kamen Rider Zeronos. In the Cho Den-O series Sword Form also has a triple Roundhouse Rider Kick that Momotaros dubs his "Super Finishing Attack." The DenKamen Mask resembles two halves of a peach, which is based on the story of Momotaro.
This form is exclusive to The Fateful Sengoku Movie Battle .
Behind the scenes
Portrayal
The first fourteen Bujin Riders were voiced by Tatsuya Takagi (高木 達也, Takagi Tatsuya) and Yūma Uchida (内田 雄馬, Uchida Yūma); which one voiced Den-O is unclear. Bujin Den-O was portrayed by an unidentified suit actor.
Notes
Appearances
Community content is available under
CC-BY-SA
unless otherwise noted.