| | | |
| --- | --- | --- |
| | This article is about a/an rider form used by several identities in Kamen Rider Build. | |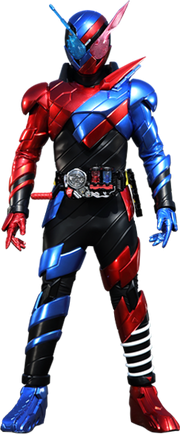 Kamen Rider Build (仮面ライダービルド, Kamen Raidā Birudo) may refer to one of the following characters.
Derivations
Hologram
After completing the Build Driver's construction, Takumi Katsuragi then did a video demonstration of his experiments on a secret computer file record, including a holographic combat simulation of Build's capabilities and showing its possibly limitless form changing potential. He show hologram Build as Rabbit Tank Form to defeat two Guardians.
Forms
To transform into Kamen Rider Build, a user sets two different Fullbottles into the Build Driver and turns the crank. Kamen Rider Build, like Kamen Riders Double and OOO before him, can assume a variety of different forms, called Trial Forms (トライアルフォーム, Toraiaru Fōmu), using different combinations of Fullbottles. However, each one has a Best Match (ベストマッチ, Besuto Matchi) with another Fullbottle that creates an especially powerful form. Best Matches usually have unique names in comparison to other mismatched forms, and the caps of Fullbottles indicate what Fullbottle is its Best Match. The additional use of the Hazard Trigger upgrades a Best Match into a Super Best Match (スーパベストマッチ, Supā Besuto Matchi).
Build initiates a finishing attack by turning the Build Driver's Vortex Crank again. The finisher of all Trial Forms is called the Vortex Attack (ボルテックアタック, Borutekku Atakku), while the finisher of the Best Matches is called the Vortex Finish (ボルテックフィニッシュ, Borutekku Finisshu). The finisher of the Super Best Matches is called the Hazard Finish (ハザードフィニッシュ, Hazādo Finisshu).