Spider-Man: No Way Home Trailer Dropped - The Loop
Play Sound
"I need to collect more data to complete my research."
This article is a stub, meaning it needs more info. You can improve this Kamen Rider Wiki article by expanding it.
"Kamen Rider Build! (RabbitTank Form transformation music)"
―Activation announcement
"Gashat! Let's Ride! Metcha Ride! Mutcha Ride! What's your Ride? I'm a Kamen Rider!"
―Level 1 transformation announcement
"Gachan! Level Up! RabbitTank! Usagi to sensha! Best Best Match! Yay!"
―Level 2 transformation announcement
"A Gatcha! RabbitTank! Usagi to sensha! Best Best Match! Yay!"
―Level 3 transformation announcement
Kamen Rider Build (仮面ライダービルド, Kamen Raidā Birudo) is a Gashat video game based on the Kamen Rider of the same name.
History
Origin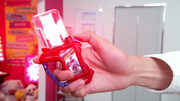 Following his encounter with Kamen Rider Build, 「The Last Smile」 Kuroto Dan, having produced an assembly of Rider Gashats based on Ex-Aid's seventeen Heisei Rider predecessors compiled into Ganbarizing in the past, 「Kamen Rider Ex-Aid "Tricks": Kamen Rider Genm」 created a Gashat based on this new Rider. 「Endless Game」
Enigma
This Gashat would later appear in Kamen Rider Heisei Generations FINAL: Build & Ex-Aid with Legend Riders, allowing the doctor Riders to transform despite the Enigma energy disabling their ability to transform. Originally, there was only one copy of the Gashat, but Onari managed to convince Kuroto to create more copies for the other doctor Riders to use in combat. After the battle, it is unclear what happened to these Gashats.
Build Gamer
Instead of transforming the user into a new base suit or summoning armor, the Build Gashat instead allows Riders to bypass Enigma's block on them, allowing Brave and Snipe to access their Level 2 forms, Lazer Turbo to access Level 0, and Genm to access Level X-0 without the need for Proto Mighty Action X Origin. Uniquely, these "forms" are not associated with a Level and official materials do not treat them as being distinct from the Riders' normal forms.
Kamen Rider Build Gashat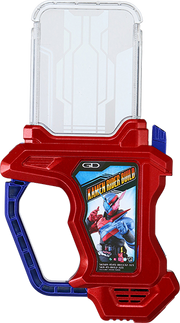 When activated, the Gashat reformats the battlefield into a Game Area. It doesn't seem to spawn any Energy Item containers.

Behind the scenes
The Kamen Rider Build Gashat was introduced on-screen in the final episode of Kamen Rider Ex-Aid and later features in the film Kamen Rider Heisei Generations FINAL: Build & Ex-Aid with Legend Riders. Unlike preceeding Rider Gashats, its associated Build Gamer has yet to be visualized either on-screen or via Ganbarizing.
Notes
Like the Build Driver, the Kamen Rider Build Gashat is voiced by KORBY.
The Level 1 jingle is similar to those of other Legend Rider Gashats, but it ends with Kamen Rider instead of Legend Rider. This may be due to Build being a succeeding Rider to Ex-Aid, rather than a preceding Rider.
The Level 2 and 3 jingles are a remix of Mighty Action X's Level 2 jingle.
The Gashat for this game is the only Gashat to have identical Level 2 and Level 3 jingles that isn't a Proto Gashat.

It is also the only Gashat that is completely named after its Rider counterpart.
Rabbitan Bugster
See also: Rabbitan Bugster
Appearances
References